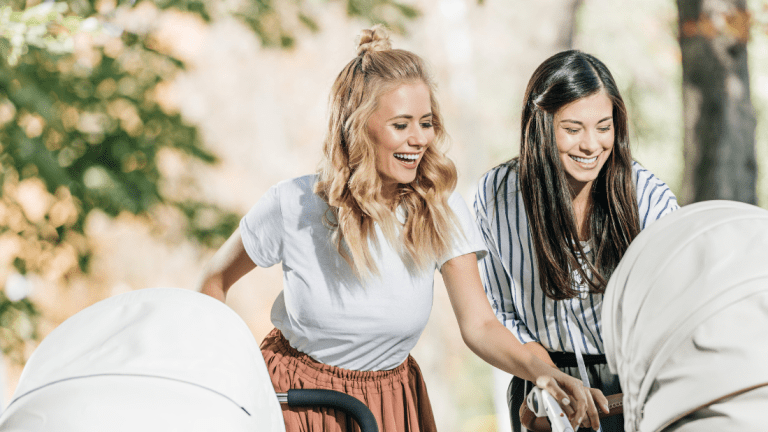 Baby's First Outing
After a few days at home baby is ready to leave the nest here are friendly new mom tips.
Charge up the camera and put on your walking shoes, after a few days at home baby is ready to leave the nest. Baby's First Outing is a cause for celebration and a bonding moment for mom and baby. Since a newborn's immune system is still building up his strength, we don't recommend a crowded restaurant or germ-filled airplane. Instead, start small with a jaunt to let your little person take a peak at the great big world. 
Related: The best baby wraps, slings and baby carriers
Baby's First Outing Checklist
Who: You and baby (maybe your partner too).
What: 5+ minute walk after you've been home from the hospital for a day or two.
Where: Someplace quiet and close to home.
Why: Everyone is bound to go nuts being cooped up inside for too long.
When: Once a day, every day weather and health permitting.
You've got to start somewhere. I used my daily jaunts as a bit of bonding time. As I walked and stretched my legs I'd talk to baby and tell her about the little things (that the local florist shop had daffodils) and the big things (how thrilled I was to be her mom).
The great thing about these first outings is the spontaneity. Unlike a planned playdate, you don't have to worry about snacks, diaper changes and crying jags. In fact, when my infants seemed super fussy, it often was the PERFECT time to get them outdoors for some air. Simply changing the geography put my baby and me in a new frame of mind. You'll find that after a few weeks of these you'll be ready for the first official playdate or new moms meet up.
Here is a list of Dos and Dont's to guide you:
Do keep it simple. Check in with your needs and with baby. You're both figuring out a schedule and you don't need the pressure of punctuality so skip the coffee date with you pals until you and baby are better acquainted.
Do get into the habit of escaping. Perhaps it's lore, but I kept to the belief that all babies need a bit of air everyday (of course if mine were sick I used common sense). Even a quick walk around the block was enough to fend off cabin fever after my winter baby was born.
Do skip the stroller. Hands free baby carriers and slings are best for the first outings. Everyone will feel safer close to mom (or dad) warmly snuggled into your chest.
Do protect baby. You're the boss and it's up to you to keep dirty hands off your babe. In this instance it's perfectly ok to say, "Back off! we don't want any germs." You'll also want to make sure the sling or carrier has full neck support for baby. Brand new babies have trouble regulating body temperature. Make sure you've got a cover-up for baby in winter months and sun shield in the summer.
Don't lug that diaper bag. A jaunt with baby doesn't require a ten pound piece of luggage. When baby gets hungry or needs a change, simply head home. Save the diaper bag for bigger/longer adventures.
Don't forget the keys. Blame it on mommy brain, but I did lock myself out once or twice.
MOMTRENDS BEST BABY GEAR
PIN IT!
Save your fave baby gear and ideas on Pinterest and follow along with our Gear for baby and kid board!