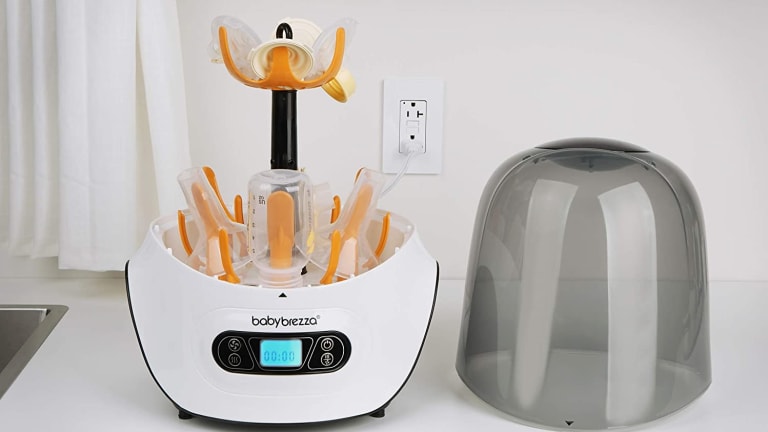 Publish date:
Baby Brezza Bottle Washer
Testing the Baby Brezza sterilizer and dryer for all our feeding gear including pacifiers and bottles.
Testing the Baby Brezza sterilizer and dryer for all our feeding gear including pacifiers and bottles.
Washing baby bottles is such a time suck. I was thrilled to test our the Testing the Baby Brezza sterilizer and dryer to see if it would give me back some time (and sanity). Spoiler alert: Baby Brezza bottle washer is a product that many new parents might just want to invest in. We think it's worth the counter space!
How to Clean and Dry All That New Baby Gear
When you have an infant, all you want to do—when you have a spare moment to breathe—is sleep and rest and stare at your bundles of sweetness. Not to mention fold the laundry, make a non-frozen dinner (for once), pee in private, and maybe catch up on an email or two. Scrubbing parts and pieces and nipples does not top the list of mom-time priorities.
Get your bottle washer on Amazon here.
Alas, Baby needs to eat... And so out comes the brush, the baby-safe dish detergent, and the drying rack. And then there's the sterilizer... because your precious little newbie should have a totally hygienic feeding experience, right?! Perhaps you're able to throw your bottles and parts in the dishwasher, but those of us in smaller living situations may need to get creative... or just rely on good old-fashioned manual scrubbing.
How the Baby Breeza Works
The Baby Breeza automatically sterilizes and dries bottles, pump parts and other accessories in 1 easy step. Load it up with your baby's used gear and natural steam does the work to kill 99.9% of the germs out there. After cleaning, products stay sterile for up to 24 hours when left in the unopened sterilizer.

5 Pretty Ways To Organize Your Jewelry
I admit - I'm guilt. Despite my best efforts, my "jewelry drawer" has become a tangled mess of necklaces, bracelets and earrings. This cluttered collection not only makes it hard to see what I have, but difficult to untangle the pieces I do want to wear! This summer, I'm ...read more
This Year's Coolest Jumbo Pool Floats
Pool season is almost here! I can't wait to relax, read a book, and sip a cocktail while lazily drifting in an oversized float. (Just kidding, I have two toddlers--but a swim mama can dream, right?). If you've got a staycation planned, check out this year's coolest jumbo pool ...read more
Crystal Clear and Pristine: Pool-Cleaning Tips
Tropical Storm Isaiah gave us quite the midsummer surprise here in the suburbs of New York City. We just got our power back on after a whole week of darkness! With trees down, debris everywhere, and lots of uncertainty, one thing we forgot to check on: our above ground Intex ...read more
Why do you need this device?
NYC-apartment-dwelling parents rejoice! The Baby Brezza Bottle Washer is the first and only automatic, counter-top option on the market. It can hold up to four bottles and accessories, and washes, rinses, sterilizes, and dries with a simple push of a button. Plus, it eliminates the potential for cross contamination with other dishes, glasses, cups, and utensils.
You've got a lot of work to do keeping a new human alive. Keeping things clean can take a lot of time, when you find a helpful device, use it! This universal 4-in-1 machine can really help in the first few years. 
Get your bottle washer on Amazon here.
WANT MORE NEW MOM ADVICE FROM MOMTRENDS?
PIN IT!
Use Pinterest to save your favorite baby items. Be sure to follow our Baby-things-to-love board here.
This is not a sponsored post. All opinions are our own.