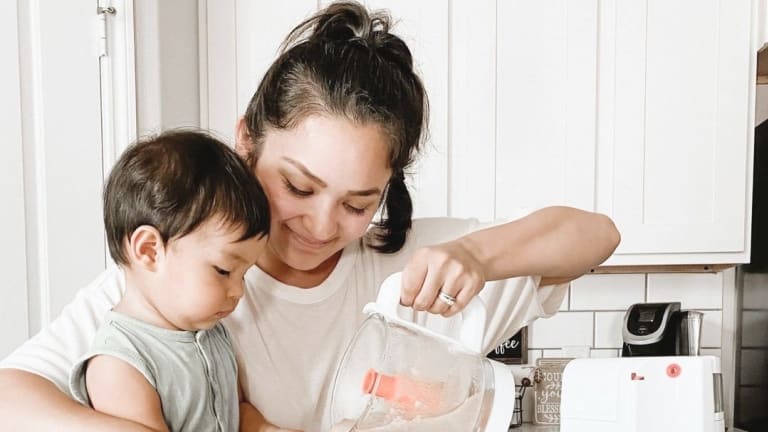 Momtrends MVP'S: Baby and Toddler Feeding Favorites
Come see which baby and toddler feeding tools and accessories we're using to get our kids excited about eating! From bottles to breast pumps, sippy cups and more!
We know that many of the moms in our audience have kiddos ranging from babies to toddlers and beyond, as well as first-timers, and that is why today's Momtrends MVP;s baby gear edition is all about baby AND toddler feeding favorites.
If you have more than one child, like me, you probably tried a slew of contraptions over the years in the effort to convince your wee ones that meal time is a pretty fabulous thing and not the dreaded task they make it out to be, haha.
I can tell you that you don't have to talk me into eating a great meal, bwah! I only wish I tried some of the tricks I have for you today back when my kiddos were smaller.
The Best Baby and Toddler Feeding Supplies
I remember when my nephew was tiny, for instance, he had a very delicate palette and preferred his mama's homemade baby food to anything more convenient. My toddler daughter felt similarly when she was a baby, then once she hit about two, she couldn't be bothered take the time to sit down at the table and actually consume a meal EVER without serious motivation, like super cool bowl which I definitely have for you today, bwah!
Luckily, there are lots of new gadgets, gear and accessories that you can add to the equation these days that are making meal time easier for babies, toddlers AND their mamas...
On that note, what are the best baby and toddler feeding supplies? Well, I have a bunch of ingenious pieces of baby and toddler feeding gear starting with bottles and ending with the perfect training bowl! So, let's get to it shall we? Mamas need a break and we know it...Let us help you find the best, most helpful pieces of baby gear and accessories out there!
The Best Baby Bottle
Baby bottles just keep getting better, but there is one thing that remains the same. If glass is your preference, the best bottles still offer that as an option. Like many of you, I continue to try to reduce the amount of plastic my family uses.
My current pick baby bottle pick Evenflo Balance+ Baby Bottles come in glass or and are equipped with incredible features like naturally sloped nipple for a healthy wide latch, venting designed to reduce colic, gas and fussiness and a slowed down flow to prevent gulping.
I love how Evenflo honed in on so many issues that bottle feeding babies have and fixed them one smartly designed bottle!
Get the Evenflo Balance+ Baby Bottles on Amazon here. (Note: This is an Amazon Affiliate link)
The Best Baby Bottle Warmer
Only one of my kids used bottles since one went straight from the breast to a cup. But the one who weaned after six months and went to bottles loooooved his bottle. I still clearly remember the last one he had right after he turned one. Toward the end he only had one in the morning that he would drink while I held him. Gulp.
Well, apart from that bittersweet memory of my baby growing up, one of the things I remember most about bottle feeding was hating the bottle warming/sterilization process.
I was forever exhausted, not much has changed, haha, and those steps just felt daunting even if they're relatively simple. That's probably because I did it the old fashioned way by heating up water on the stove versus using a bottle warmer like the Grownsy Portable Bottle Warmer 5-In-One Bottle Sterilizer.
I love how fast and easy the Grownsy bottle warmer is! It heats up a baby bottle in as little 3-5 minutes to the perfect temperature so you don't have to worry about burning your baby. AND you can sterilize the bottles with this gadget too! Bye bye icky germs!
Get the Grownsy Portable Bottle Warmer 5-In-One Bottle Sterilizer on Amazon here. (Note: This is an Amazon Affiliate link)
The Best Breast Pump
Now if you're going the breastfeeding route, chances are you will need a breast pump at some point. Whether you need to pump to fill bottles for when your partner helps out with feeding etc. or your baby doesn't empty you, high-quality, effective breast pumps are a must!
It used to be that you needed to you had to spend an arm and a leg to get the kind of quality I am talking about, but with the Bellababy Double Breast Pumps. It's price point makes it perfect to have on had as a travel pump. Or even just an extra in the living room when you don't want to disturb your bedroom pump setup, haha!
This portable breast pump has four modes, 9 different section levels and the batter is rechargeable (but lasts 4-6 pumps a charge). Essentially I am saying that it is very customizable...which is clutch because everybody's different!
Get the Bellababy Double Breast Pumps from Amazon here. (Note: This is an Amazon Affiliate link)
The Best Baby Food Maker
Once my kids passed the breastfeeding and bottle feeding stages they moved on to cups and solids and while one would happily gobble up whatever jar of food I fed him, the other wouldn't touch anything but my homemade baby food. Back then I used a food processor that was a bit of a pain to haul out.
Luckily, now there is no shortage of smaller profile baby food makers out there and Baby Brezza is one of the best! In under 10 minutes you can make 3.5 cups of food. Talk about a time saver!
And I love how the Baby Brezza One Step Homemade Baby Food Maker Deluxe steams AND blends your baby's food in one seamless process. I used to have to cook the food on the stove THEN puree it. Ugh!
Get the Baby Brezza One Step Homemade Baby Food Maker Deluxe on Amazon here. (Note: This is an Amazon Affiliate link)
The Best Baby Bib
We can't have a baby and toddler feeding roundup without at least one bib on it right? The Tommee Tippee Conf-Neck Bib landed top on this list because it's so darn absorbent!
And what do we need a bit to be most? That's right...ABSORBENT! Not only is it soft and gentle on baby's skin, but there is a built-in dribble catcher that soaks up all those spills!
Plus, these bibs work for everything from teething to feeding. So, you can really get some miles out them!
Get the Tommee Tippee Confi-Neck Bibs on Amazon here. (Note: This is an Amazon Affiliate link)
The Best Baby Spoons
I know I called these baby spoons, but the correct term is pre-spoons. They're called that because their design makes them a great start to self-feeding!
These pre-spoons are flat so they're easier for your little one to use. They can turn it whichever way is comfortable for them at the time because they don't have worry about balancing it etc. The textured design also helps them grab a little taste of food as they get used to handling their own business.
I am all for baby gear that encourages independence and exploration hence Gootensils are always my vote for baby's first spoon!
Get the NumNum Pre-Spoon Gootensils on Amazon here. (Note: This is an Amazon Affiliate link)
The Best Baby Cup
Finding the right cup for baby, almost toddler, is tough. You don't want them to get so attached to their sippy cup that they refuse a regular cup.
Ola Baby has the solution with their Training Cup with Lid+Straw. It's both sippy and open cup in one. That means your child can transition between the two with ease and you don't have to worry about buying a million and one different cups!
Not only do I love the multi-purpose action of this baby cup, but the super soft toxin free silicone is worth talking about too! It's all kinds of flexible which means it's gentler on your baby's delicate mouth and gums!
Oh and did I mention the weighted base? That means way less spills my friends!
Get the Ola Baby Training Cup with Lid+Straw on Amazon here. (Note: This is an Amazon Affiliate link)
The Best Baby Bowl
Remember when I said my daughter needed to be "inspired" to sit down and eat? Well, a suction bowl was one of my favorite tricks. She was fascinated by how it stuck to the table and, bonus for me, she couldn't throw it. Haha!
I love all the lovely hues the Lalo suction bowl in, the fact that it's made from non-toxic, BPA-free food-grade silicone AND that it's microwave and dishwasher safe.
Tell me I can throw something in the dishwasher and this busy mom is immediately on board!
Get the Lalo Suction Bowl here. 
Now that you have a slew of baby and toddler feeding favorites to sift through, I think this is a good place to stop. I look forward to hearing which of these baby gear must-haves you and your baby like best!
More Momtrends MVP Picks
Don't forget to stay tuned for our next Baby Momtrends MVPs list…
For even more of our favorites, follow the links below:
Pin It!
Save our top baby gear favorites and ideas on Pinterest and follow along with our Gear for baby and kid board!
Momtrends MVP's is a non-sponsored series. Brands must meet our strict standards to be included. When naming winners we take several factors into account, including expense, convenience, and style.
We make our picks annually based on editors' research. In some instances, we may request and receive samples so that we can more thoroughly assess products. Our opinions are our own, and our goal is to help our community of moms make more informed decisions on everything from baby gear to beauty products to vacation destinations and more. We scour the abundant options and painstakingly hand-pick our favorites, so you don't have to. Our hope is that our most valuable players become your most valued purchases.