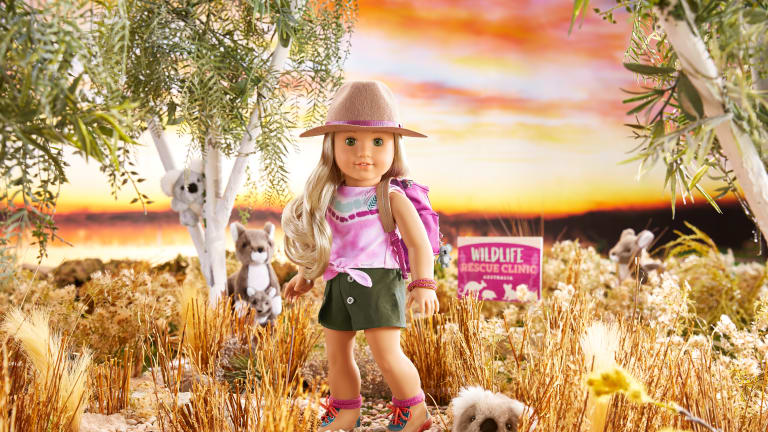 2021 American Girl Doll of the Year Kira Bailey
The newest American Girl character, Kira Bailey, takes fans Down Under to explore wildlife protection and climate change
American Girl, the beloved brand known for helping girls grow up with confidence and character, has announced the latest Girl of the year, and we couldn't be more excited to meet her. The 2021 American Girl Doll of the Year is Kira Bailey. Kira is a nurturing and inquisitive 10-year-old who cares deeply for animals and the environment. Your girl is going to love her and learn a lot about Australia and the environment along the way. To celebrate this big news, we are giving one lucky reader a new doll! Entry information is provided below.
Related: STEM subscription boxes
Meet 2021 American Girl Doll of the Year Kira Bailey
We've been fans of American Girl for more than a decade. I love the positive messaging and how the brand encourages girls to think, act and stand up for what's right. Kira is emblematic of all of this. She's a passionate animal lover and climate change activist. She's working to help save her great-aunts' wildlife sanctuary in Australia.
Like all American Girl characters, there's a book to give the doll a backstory. Author Erin Teagan holds a master's degree in science. She traveled to Australia to gain a deeper understanding of Kira's experiences. She visited the Magnetic Island Animal Hospital, a wildlife rescue and rehabilitation facility for sick, injured, and orphaned koalas in North Queensland, Australia and did research at a wildlife preserve on the central coast of New South Wales.
In the two-book series, Kira is excited to leave her home state of Michigan and spend her summer abroad at her great-aunts' Mamie and Lynette's wildlife sanctuary and vet clinic in Queensland, Australia. There she learns to care for injured or orphaned animals with her new friend Alexis. But when a roving predator and a raging bushfire threaten the sanctuary, Kira must rise to the challenge to protect her family and the animals she loves. In the end, Kira learns you can't let the fear of the worst keep you from living your best.
Bringing the stories to life is a beautiful 18-inch Kira doll, featuring green eyes and long, wavy blonde hair, that comes dressed in a tie-dye tank, sporty skirt, and lace-up boots perfect for bushwalking. Kira's signature accessories include an outdoor backpack with koala keychain and a wide-brimmed hat to protect her from the Australian sun. Girls can choose from several other Australian-inspired outfits, including Kira's girl-and-doll koala PJs, as well as adorable plush animals like a kangaroo and joey, koala, and a wombat (part of Kira's Wildlife Rescue Set). To extend the play further, there's Kira's Animal Exam Table and Comfy Platform Tent—both with over 20 authentic accessories—to fuel girls' imaginations.
A Girl with a Mission
The leaders at American Girl said, "As we all witnessed the bushfires rage in Australia last year and start up again this September, and the devastating wildfires in the western United States, we knew it was important to focus Kira's story on the major conservation and climate challenges facing our planet today—causes that are extremely important to today's youth. Through Kira, we hope our fans will learn that we all have a part to play in taking positive action for our planet."
To further support Kira's message, www.americangirl.com/kira
Get More Information on Kira
To celebrate Kira's debut, fans can participate in the following activities and events:
Watch Kira-inspired videos on American Girl's popular YouTube and YouTube Kids Channel, including a six-week "Meet Kira" stop-motion series, plus Kira music videos, DIY crafts, and other Kira-inspired content throughout the year.
Learn more from the experts involved in Kira's development and other amazing girls who are making a positive difference for our planet by tuning into our "Making of Kira" video and reading about "Why Kira Matters."
Have fun on Kira's free dedicated play site and explore her wildlife sanctuary and play Kira-themed games.
Win it!
The Kira collection is available December 31, 2020, at americangirl.com and at all American Girl retail locations nationwide and, starting January 1, 2021, at American Girl specialty boutiques at select Indigo™ and Chapters™ locations in Canada and online at Indigo.ca. The Kira doll and book retails for $110 and the Kira books ($7.99 each) can also be purchased through retail and online booksellers. You can enter to win via our rafflecopter entry system. 
MORE SUMMER FUN IDEAS FROM MOMTRENDS
PIN IT!

Need more ideas on what to do with the kids? Be sure to follow our Activities to Do with the Kids board on Pinterest here.
Momtrends was not paid for this post. Images from American Girl.