American Girl Place New York just had a bit of a makeover. For 14 years they've been our favorite shopping spot in NYC (we've had more than a few birthday parties in the café), to keep things fresh and modern the brand opened some new doors. The American Girl Flagship Store New York City is now at 75 Rockefeller Plaza (very close to where they put the Rockefeller Christmas Tree)
The 40,000-square-foot flagship store is stunning. While I had few complaints about the old store, I was blown away by this new location. It's easy to shop, well-lit and so very family friendly. Bravo to the design team!
Tour the New American Girl Store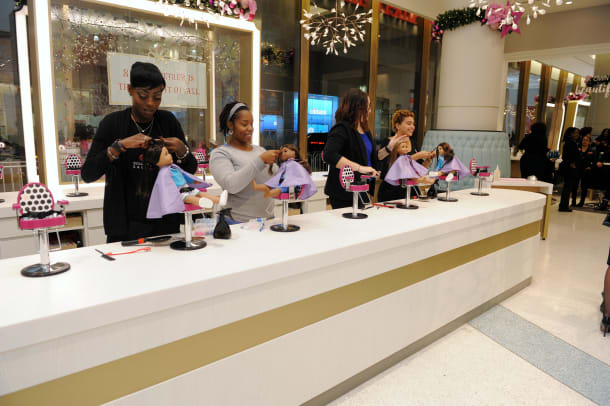 Our First Visit 
My lucky girls joined me for the Grand Opening Benefit Party in Rockefeller Center. The party was a chance to showcase the store and also give back. My girls dressed in new American Girl outfits (my older daughter wore the Celebration Dress in cream and my younger daughter was in the Bright Blooms dress.
In addition to dressing up, I treated the girls to a visit to the salon. They loved all the pampering.
So much to Love at the American Girl Flagship Store New York City
Of course we swooned over the windows and all the perfectly merchandised product, but we especially love a few things. Like getting to sit in Julie's chair!
As expected, American Girl Flagship Store New York City is filled with all the popular products girls love—from the signature American Girl dolls and accessories to the brand's hundreds of best-selling fiction and advice books.
On this special night my daughter also got to meet some of the stars from the American Girl Movies on the red carpet. The girls were simply in heaven.
Lots of the Mattel team was on hand for the party. Katy Dickson, president of American Girl says, "Our new store celebrates the joy of girlhood—a place that nourishes a girl's spirit and fosters her strength of character. We look forward to American Girl Place New York remaining a treasured place where girls can simply be girls, while creating unforgettable memories with their families and friends for decades to come."
Giving Back to NYC
To celebrate the debut of its newest location, American Girl is partnered with the New York Public Library to support its mission of inspiring lifelong learning, advancing knowledge, and strengthening communities. In November, American Girl is donating $1 million worth of its best-selling character books to the library in celebration of National Family Literacy Month. Any child can receive a FREE American Girl book (while supplies last) at any of the New York Public Library's 89 children's branches to foster a love of reading and promote library card applications and renewals. 
American Girl also donated all ticket and silent auction proceeds, as well as 10% of sales that evening, to the New York Public Library's children's programming.
10 Things to Do at the New American Girl Flag Ship Store
Don't worry if you didn't make the Gala - ever visit to this sparkling new store will be special. Here are some tips to help you prep for your visit.
1. Have Lunch in the Cafe: or better yet, plan a customized party at the chic new Café. Yes, your American Girl doll still sits next to you! The updated menu is a treat (with the favorites still on it!).  To enhance theAmerican Girl party experience, guests can now customize birthday celebrations and other special events in the Café's private dining rooms with personalized touches and digital projection features.
2. Preview some AG Movies: settle in to the "Content Hub" showcasing the company's award-winning movies and videos.
3. Ear Piercing for You and You Doll: For many girls ear piercing is a rite of passage. Now it can happen alongside the dolls! 
4. Snap a Selfie! There are so many great backdrops in the store, be sure to follow @americangirlbrand on Instagram!
5. Spa Treatments: You and your doll can get mini manicures. Make salon reservations in advance or day-of, and special packages are available with plenty of options for personalization.
6. Hairstyling: Get your glam on at the exclusive Girl-and-Doll Salon. This is the first time girls can join their American Girl dolls in getting matching hairstyles
7. Grab a Book and Read: We love all the books in the American Girl catalog. Located on the lower level, there is a cozy nook to settle in and get lost in the AG stories. 
8. Create Your Own Design Studio:  Girls can step into the role of doll designer, using a new online experience that takes personalization and customization to a whole new level. In a collective workshop atmosphere, girls can design the American Girl doll of their dreams from more than one million possible design combinations—an unprecedented level of choice available today. Girls can also create one-of-a-kind doll outfits and girl-sized products at the design studio, which can be printed and ready to take home the same day.
9. Update Your Wardrobe: You'll find all the latest fashions at this store. And I adore that American Girl gives moms and daughters tasteful options that are still right on trend.
10. Put together your holiday wish list.  
#CharacterCounts Celebration
In addition to a grand tour of the store, I was honored to join the Character Counts awards. There were plenty of famous moms on hand for the Gala, including Jamie Lynn Spears, Hilaria Baldwin, Daphne Oz, Sheinelle Jones (and their daughters). But I was MORE excited to meet the four Character Counts honorees that night. These amazing changemakers exemplify strength of character—something American Girl has championed and encouraged for over 30 years. 
The strong girls and women honored:
Mariska Hartigay, actress & founder of the Joyful Hearts Foundation. The mission of the Joyful Heart Foundation is to heal, educate and empower survivors of sexual assault, domestic violence and child abuse, and to shed light into the darkness that surrounds these issues.
Jessica Seinfeld, author & founder, Good + Foundation. GOOD+ Foundation partners with a national network of leading programs to break the cycle of family poverty through the power of donated goods and and transformational services. 
Scarlett James, cancer survivor & Memorial Sloan Kettering Advocate. Scarlett was diagnosed with T Cell Lymphoma, a rare form of pediatric cancer, at age 6. Aware of the sacrifices children and their families had made before them to make Scarlett's treatment possible, the James Family is inspired to help children that follow behind Scarlett with the hope that their treatment is less lengthy, less intense and less toxic. The money raised is being used to research novel targeted therapies which have great potential. Scarlett is the Foundation's face and biggest advocate. Find out more at http://www.thescarlettfund.com/
Amaya Scheer, advocate for children entering the foster care system and co-founder of Comfort Cases.  At Comfort Cases they believe that every child deserves to feel a sense of dignity. Every child deserves to pack their belongings in a special bag that they can call his or her own. A Comfort Case is a small duffel bag or backpack that holds personal care items and is easy to transport
On any given day, nearly 428,000 children are in the foster care system in the United States. Of the thousands of children who enter the system each year, most arrive carrying little more than the clothes on their backs. If they are afforded the opportunity to collect any personal belongings, many are then given a trash bag in which to place and carry their personal items. 
Jessica Seinfeld from the Good + Foundation had this to say, "I come from a long line of strong women. My grandmother was a single, working mother and my mom was a social worker in the prison system for over 30 years. Their courage and strength inspired my own efforts to give parents the tools they need to raise their children, and I hope to pass these values on to my own daughter," said Jessica Seinfeld, founder of GOOD+ Foundation. "I'm pleased to support American Girl in their efforts to build character in young girls so they have the foundation to inspire change in themselves and in the world." 
I was especially moved by Mariska Haritgay's emotional speech. Her beautiful young daughter was there to see her mom honored.
Mariska says, "the brave thing, the strong this is not necessarily the easy thing." As parents, we've got to celebrate the girls who take the route of being brave and strong.
She also quote this from e. e. cummings "A Poet's Advice"
To be nobody but yourself in a world which is doing its best, night and day, to make you everybody else - means to fight the hardest battle which any human being can fight; and never stop fighting. 
I'm so happy that American Girl is there for my daughters! I hope you visit soon. Please let me know your thoughts if you do!
This is not a sponsored post.  We were given tickets to the Gala, but our purchases made at the event went to the charity.