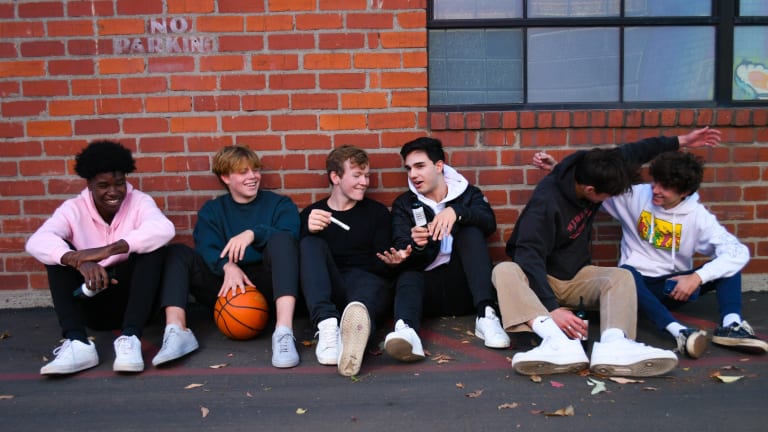 Acne Solutions that Work for Boys
Stryke Club skincare helps teen boys feel more confident and develop good grooming habits for life.
When it comes to skincare, many teen boys run the opposite direction when moms try to offer help and guidance. Lots of the products we offer seem complicated to them and our advice isn't always appreciated. Luckily, Stryke Club is a brand made for teen boys that is simple and can help them achieve skin they feel great about.
Skincare essentials for teen boys
Having clear skin can go a long way to help a teen boy feel more confident. But convincing boys to try skincare products isn't that easy. 
The founders of Stryke Club are moms with 11 children between them. They surveyed the bathrooms and made an astounding discovery. Their daughters' bathrooms were overflowing with skincare products, while their boys had virtually nothing.
A recent survey of teens (defined as ages 15-19 who are high school juniors/seniors or college freshmen/sophomores attending a school in the US) reveals that acne has a negative impact on their body image and self-esteem, and that translates into anxiety. Get the full details here. 
In the current selfie generation, their teens felt pressure to look great but didn't have the cool tools to use. In fact, frequently boys feel embarrassed about engaging in self-care at all (we've got to work on that!).
Acne Solutions that Work for Boys
Stryke Club skincare is simple to follow and will help your teen develop good grooming habits for life. All the products are formulated by our co-founder, Dr. Sheilagh, a board certified pediatric dermatologist. Here's what the line includes:
Everywhere Wash: Shower cleanser for your body and face. 
Face First Wash: A powerful cleanser for your face.
Stryke Stick: Fast acting acne spot treatment.
I'm a big fan of the formulas and what they DON'T have. They formulate without parabens, sulfates, phthalates, and their formulas are proudly cruelty-free — because safety is non-negotiable. Keeping skincare simple is the answer. The products are designed to succeed. For example, the Everywhere Wash is meant to sit in the shower, where a teen boy is likely to use it. Convenience matters! And the stick is like a strategic strike--leave it by the toothbrush for the flair ups.
Stryke Club Products
It's not just about packaging. These products go to where the problems start. They kill bacteria associated with breakouts without dryness or irritation.
And let's face it, the packaging DOES matter. Thanks to the simple sleek design, this brand is "Locker Room Worthy." With scents (or no scents), packaging, and branding designed just for guys, they're making skincare less embarrassing.
Win it!
To get you excited about this new skincare brand, we're teaming up with Stryke Club to give away a  Club Kit: The Club Kit ($42.99 value) contains everything you need for clearer skin everywhere. 
Face First: Power wash to fight skin freakouts
Everywhere Wash: Keeps face + body looking good
Stryke Stick: Fast-acting acne zapper
Hypoallergenic + dermatologist tested
Free from SLS, parabens, cruelty
You can find Stryke Club skincare at Target and of course at StrykeClub.com.
MORE IDEAS ON PARENTING TEENS FROM MOMTRENDS
PIN IT!
Use Pinterest to save your favorite ideas from Momtrends. Be sure to follow our Parents of Teens & Tweens board here.
This is a sponsored contest.