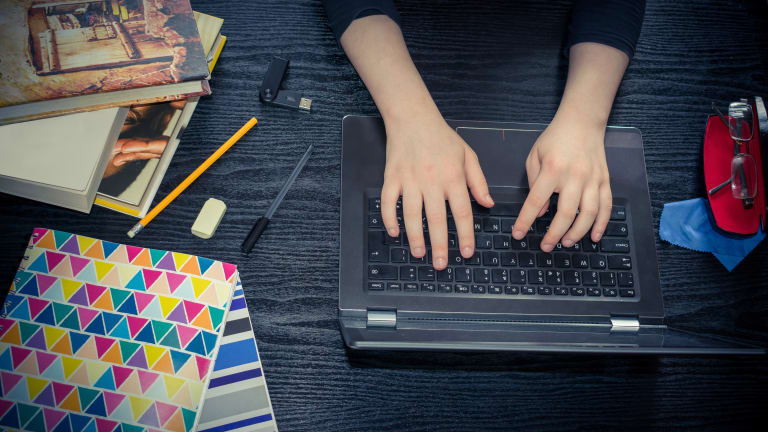 7 Ways to Keep Your Kids Healthy and Learning at Home During School Closures
As COVID-19 sweeps across the country, these tips might keep us sane and safe while schools are closed.
Deep breath. It's your job as mom to keep things running at home even with a health crisis. Here at Momtrends HQ we are acutely aware of your pain. Both kids are out of school indefinitely and all activities are called off. To keep sane, I'm sharing my top 7 ways to keep your kids healthy and learning at home during school closures.
7 Ways to Keep Your Kids Healthy and Learning at During School Closures
Please share your ideas as this will be updated regularly.
Start with meditation. Headspace is our go-to app.  The app has kid-friendly content and is the ideal mindful way to start the day.
Word of the Day. Grab a stack of sticky notes. Look the word of the day up online and then have everyone write a sentence using the word. Make a word challenge. Every time a child uses a word of the day organically, give them a point, at the end of the week reward the winner. FYI, today's word is ambidextrous. And yes, there's an app too.
Exercise. There are many online resources available and local studios like YogaVida are offering classes online instead of in the studio. Even toddlers can mimic the poses in yoga. 
Learn a language together. Yes, there will be school lessons, but why not take on a family fun project. We use the free Duolingo app on our phones. 
Craft. My plan is to do something crafty each day. Could be just 10 minutes of coloring, but I also have more ambitious plans, like rekindling my love of water colors. You can also get craft boxes mailed to you. We love Ann Williams crafts Deal Alert: Ann Williams is offering 10% off right now and Kiwi Crate (Save 30% off with code Share30)
Recipe challenge. Let your kids search Pinterest (start with out kid-food board) and pick a recipe each day. Momtrends Tip: You might be limited on ingredients so start your search with what you have on hand. For example, try "canned sweet potato recipe." 
Get a penpal. Since it's unlikely you will be making trips to see the grandparents, have your kids start writing letters. Maybe they can even use some new fancy words from the  "word of the day" project! 
15 More Ideas to Stay Sane While School Are Closed
Consider a new hobby. If you've got binoculars, your kids can become budding ornithologist.
With libraries across America closing or already closed, this is the perfect opportunity to join the #ReadYourBooks challenge and read more of the books you already own. Get the details + free printables here from TheMomCreative.
Amazon's Free Time Unlimited is an all-in-one subscription that gives kids access to thousands of kid-friendly books, movies, TV shows, educational apps, Audible books, and games on compatible Fire, Fire TV, Android, iOS and Kindle devices. Plus, kids can enjoy hundreds of hours of fun with ad-free radio stations and playlists, Audible books, and a growing list of premium kid's skills available on compatible Echo devices. Get it here for $69.
New England Aquarium is posting live each day at 11:00 a.m. Content includes videos with educators, a behind-the-scenes look at animal care, and fun activities for children.
PBS Kids has a daily email of activities for kids. Each day the newsletter is filled with activities that can be done online and offline. Sign up for it here.

National Wildlife Federation Offers Free Access to Ranger Rick, Digital Magazines to Help Families Connect with Nature Get it here rangerrick.org

Daily FREE etiquette classes from Socialsklz at 2pmEST.Get the schedule here.

Since you can't travel now, work on your past travel albums. Here are some ideas to keep those memories alive.

Billings farm in Vermont has a variety of virtual farm experiences produced by Billings Farm & Museum. Check it our here billingsfarm.org/billings-farm-at-home
Set a Schedule
Take a page from Black Parenting Magazine and grab whiteboard and get the day/week/month some structure.
Keeping things positive
When it comes to the mental health in the house, there are a few things you can do to help your kids and yourself. In addition to the meditation mentioned above, it helps to control the things you can control. In general, kids respond well to structure and want to know parents have a plan. 
I like this schedule I found from a tweet from Black Parenting Magazine. Tweak it to work for your family. When kids know what to expect, they will respond in a positive manner. 
Related: 5 Tips to Rein in Your Anxiety in Times of Total Uncertainty
Healthy Home Reminders for your Family
It's the right time to become a germaphobe, here are some ways to reduce the impact of viruses in your house. This break might be the perfect time to give your kids more chores and get them involved. 
Wash and wipe hands. Get kids and yourself in the habit of washing hands before snacks and meals. Use warm water and scrub with soap while counting to 10. If you can't get to a sink, use hand wipes or sanitizer. Make sure you carry one or the other in your bag. Once someone gets sick, double up your hand washing and resist all urges to touch your face with unclean hands. Your eyes, nose and mouth are the biggest germ entry points.
Disinfect dirtiest areas. What are the germiest areas of your home? Doorknobs, sink faucets and toilet seats and handles, for the most part. Also, make sure to sanitize the remote control, computer keyboard, and favorite cups. 
Teach prevention. Kids are taught in preschool that they should cough into their arms and resist the urge to share cups. Keep this in good practice at home as well.
Get your rest. The best way to prevent these bugs is to get your rest before they strike. Build your immunity by getting lots of sleep. And if you're feeling run down, go to bed as soon as the kids do. Explain to kids that sleep helps keep them healthy.
Boost the Vitamin C and zinc-rich foods. Healthy eating is important all year long, but during the sick-season, it's extra important. Zinc and vitamin C are immunity-building ingredients. For kids, talk to them about the importance of eating their fruits and veggies. Kids under 6 should have 3 servings of veggies and two servings of fruit each day. Kids over 6, get even more (3-5 veggie servings and 2-4 fruits).
MORE KID-CENTRIC FUN FROM MOMTRENDS
PIN IT!
Need more ideas on what to do with the kids? Be sure to follow our Activities to Do with the Kids board on Pinterest here.
This is not a sponsored post.
.