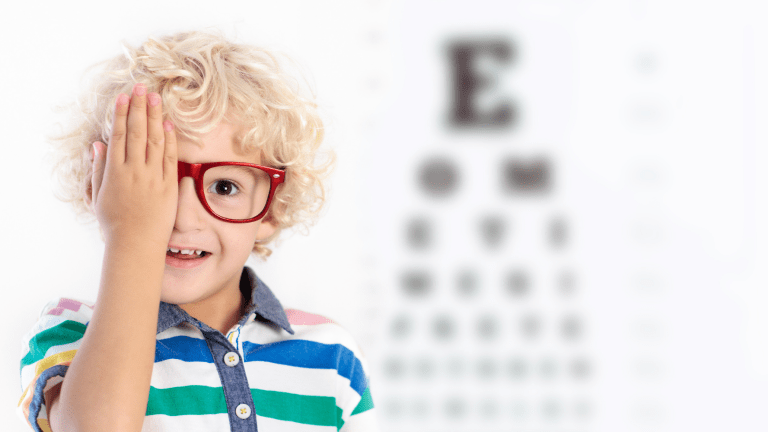 7 Tips to Prioritize Your Family's Eye Health
We've all had lots of things on our individual and collective plates. But keeping up with routine doctor's appointments? Well, that's one priority that many of us have bumped to the back burner in light of more pressing circumstances. But, regardless of the ongoing pandemic and lots of accompanying stress, it's important that we all make sure that our health is, once again, at the top of our list in 2021 and beyond. 
If it's been a while since you've had your eyes checked, there is no time like the present. We talked with Dr. Andrew Neukirch, board-certified ophthalmologist at Carillon Visioncare, for his top healthy eye tips to help you and your family maintain the best eyesight all year long.
Go in for yearly eye exams – Annual comprehensive exams with an eye care professional can help identify any problems and potentially aid in preventing further complications. For example, an eye exam can catch if your child has myopia, or nearsightedness. This is important because if left untreated, myopia can lead to eye health complications later in life. Your doctor can recommend ways to help including special contact lenses designed to control myopia and FDA approved to slow the progression of it when initially prescribed for children 8-12 years old.
Understanding your family eye health history – Often times parents who have an eye condition, such as myopia, have children who are also at risk for that same condition. It's important to discuss eye health history with your eye doctor in order to know if you or your child is at risk.
Maintaining good nutrition – While it may seem obvious, a well-balanced diet can go a long way in helping to keep your eyes healthy. A diet that is rich in foods with nutrients, such as vitamin C and E, zinc, lutein, and omega-3 fatty acids can have a positive impact on the eyes.
Wear sunglasses outside – An appropriate pair of sunglasses can help block out 99-100% of the sun's harmful UV (ultraviolet) rays and prevent damage to the eyes.
Avoid excessive screen-time – Excess screen time can result in symptoms such as: blurry vision, dry, itchy, or red eyes, double vision, headaches or neck strain. These are all common symptoms of Digital Eye Strain, also known as Computer Vision Syndrome. The most obvious solution is to cut down on your screen time, but since that is not an option for most, your eye doctor can recommend other solutions, such as key contact lenses. These lenses keep your eyes comfortable by using Aquaform Technology to lock in moisture and to help eyes feel less dry. The contacts also feature proprietary Digital Zone Optics lens design to help with eye tiredness so you can easily shift from online to offline events with less strain.
Avoid excessive eye rubbing – Avoiding this habit can prevent damaging parts of your eye, such as the cornea. Plus, our hands (if not washed) are covered in germs, which can lead to infection.
Protect your eyes in the wintertime – Indoor heat can dry out eyes and cause discomfort. Two ways to combat this is by using a humidifier and hydrating eye drops.
Want more from Momtrends?
1. Prioritizing My Family's Health and Wellness
2. 8 Heart Health Tips for Mom
This is not a sponsored post. All opinions are our own.