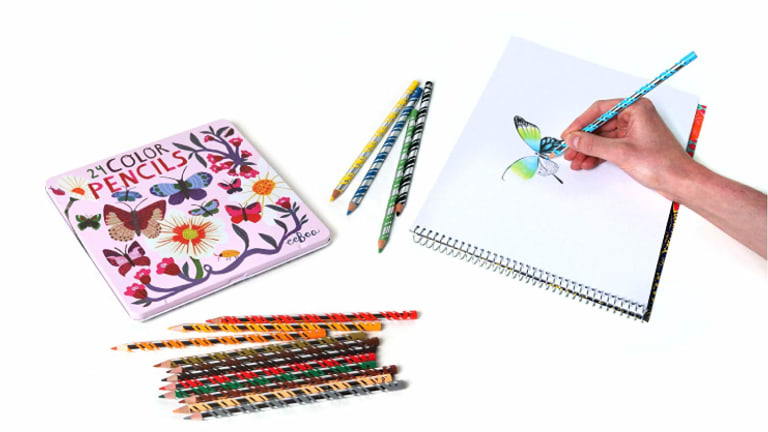 7 Low-Tech Toy Favorites from eeBoo
In our heavily tech and digital world, we love the simplicity of games and crafts that don't require any batteries.
In our heavily tech and digital world, we love the simplicity of games and crafts that don't require any batteries. One of our favorites is from eeBoo, a boutique toy company based in NYC. I've found 7 low-tech toy favorites from eeBoo that will foster creativity and learning.
This includes a collection of games, activities, and crafts - all which encourage learning, storytelling, and imaginative play. On top of that we love the beautiful design of the products that gorgeously fuse cheerful artwork and contemporary design (and there are things for grown-ups too, like these coloring books). Here are some of our low-tech toy favorites from eeBoo for your family. 
Get Little Hands Busy with Eeboo Stacking and Lacing Toys
I can't take credit for unearthing this terrific toy from Eeboo. A few months ago, my daughter and I enjoyed a play date with a French Mommy and her daughter. The chic French mom shared a nifty find--the Eeboo Lacing Card--during the date. Just leave it to the French to not only look stylish through pregnancy and motherhood, but to also discover the coolest toys.


Here's the idea with the Eeboo Lacing Toy. The set comes with five large (9" x 11") laminated cards and five colorful laces. Each card contains a playful illustration with a few dozen holes punched into the card. Kids string the laces through the holes in the cards in a sewing motion. These award-winning lacing toys are advertised for ages 3+, but my two-year-old could definitely muster the dexterity required to play with these toys. 
Read-to-Me Tot Towers: What baby doesn't love building a tall tower and then knocking it down? My son loves to stack the blocks with me and talk about all the shapes, numbers, animals, colors, and questions—and then my 18 month old daughter gets impatient and kicks it over. It's become a bit of a comedy routine, but I love how we're able to play together as a trio. Plus, my littlest one is gaining important motor skills and language comprehension. It's a win-win-win (because we're all having a good time). Get it on Amazon here.
Puzzles and Games
Puzzles are all about problem solving and games are a way to develop social skills for your kiddos. These colorful favorites are ideal to getting your playroom set up for learning and fun.
United States Geography Bingo: Newly redesigned for 2014, this twist on classic bingo teaches United States regions, states, landmarks and industry. Flip the pieces to find fun facts about each state! Images by award winning illustrator Dan Yaccarino. Buzz continues to grow for US Bingo, after being featured on the TODAY Show as an Oppenheim Toy Portfolio choice for "Best Educational Toys." Get it on Amazon here.
Life on Earth 20 Piece Puzzle: This charming 11" x 15" puzzle is adorned with vibrant imagery of flowers, berries, beavers, bees, and more. The jumbo-sized pieces and cute carrying rope make this a perfect puzzle for little hands. Artwork by acclaimed children's book illustrator, Melissa Sweet. Buy the puzzle here on Amazon here.
Art Supplies
Keeping art supplies in your home is a wonderful way to foster imagination. It doesn't have to be complicated. Eeboo has some fun color pencils that can inspire your little Georgia O'Keefe.
Butterflies & Flowers Colored Pencil Tin: You're never too old or too young to color. This set of 24 colors is ideal for the budding artist. Shop on Amazon here.
Matching Games for Kids
According to the Montessori school of thought, sorting games are really important for developing cognitive skills. Kids learns visual, auditory and tactile discrimination. It can also teach shapes and colors and help perfect fine motor skills.
Alphabet & Numbers Puzzle Pairs Matching Game: eeBoo best-seller and Oppenheim Toy Portfolio Best Toy Award winner, Alphabet & Numbers Puzzle Pairs re-launched in 2014 with a brand new design. Emerging readers match letters A-Z with pictures, and dots to corresponding numbers. With 36 puzzle pairs and 6 different ways to play, this acclaimed activity offers endless learning and enjoyment. Get it on Amazon here.
We love this twist on a traditional game-favorite. The eeboo "Trucks and a Bus" matching set features matching pairs of super cute cardboard cut-outs of food and delivery trucks . The designs are adorable (and kinda trendy too!... I mean a cupcake truck?! Yes, please!) which makes this fun for mamas and little ones alike! It's a colorful and sweet learning game that helps preschoolers work on their identification and memory skills... and, yes, I've played with it too--because, "mommy-brain" is real. Get it on Amazon here. 
More Great Toys from Momtrends
Pin it!
Be sure to follow our Parenting Tips & Tricks board on Pinterest.
Momtrends was not paid for this post.