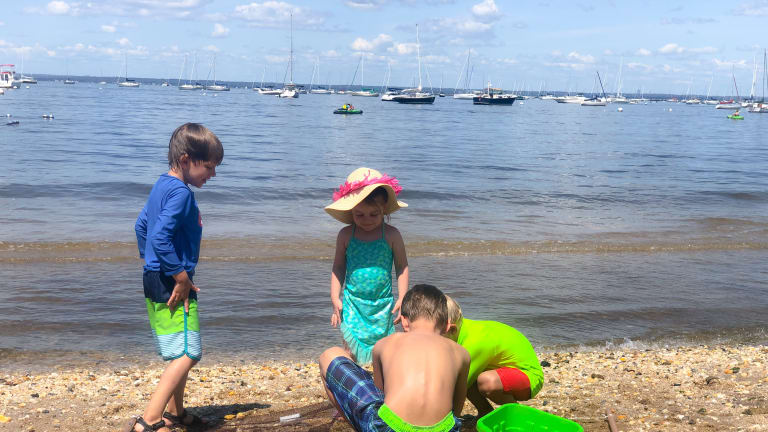 7 Behaviors to Help Kids "Play Well"
All kids are different. When meeting new people, my son is quiet and reserved. It takes him a little while to warm up, but once he feels comfortable, he is true self: loud and out there and smart and silly. He is better in small groups and gives his all to one to two close friends. My four-year-old daughter, on the other hand, is a total social butterfly. She is besties with virtual strangers and could definitely school me on how to expand my network! 
This past summer, my littles saw some kids on the beach. Even though, they were closer to my son's age, my daughter was the one who facilitated an instant connection. My shy guy remained on the fringes of their fun--until it was almost time to go home. (Typical!)
Despite a child's innate penchant for making friends, teaching them how to "play well" together is a whole other story. Strong personalities can clash and bad behaviors can thwart good intentions. According to Caroline Maguire, PCC, M.Ed., author of the new book, Why Will No one Play With Me, parents need to foster the right behaviors in kids to promote healthy, happy social interactions.
7 essential behaviors everyone needs to succeed socially and beyond
1. Manage emotions rather than let them manage you. The ability to realize when you are experiencing "big emotions" and adapt, rather than expecting everyone to change for you.
2. Read the room. Scanning the situation and then adjusting your behavior to meet the demands of the situation.
3. Meet people halfway. This could mean introducing yourself, starting a conversation, or answering a question when you're asked.
4. Understand social cues and unspoken rules and be ready to change your behavior in response to them. This involves reading people's facial expressions and body language, and being aware of your own.
5. Learn to walk in someone else's shoes, or see things through their eyes. To understand someone else's perspective means to understand, to some degree, their motives and reactions. This includes their reactions to you.
6. Be flexible and adaptive. Understand that part of your social role is to compromise, and recognize that at times it's appropriate to place friendship or the larger group ahead of being right.
7. Know your audience and adapt your communication to be appropriate. You may also need to adapt your tone, stories, and other information you choose to share, depending on the age and interests of those around you.
Want more from Momtrends?
1. How to Get Your Child Socially Ready for School
2. How to Help Your Child Avoid the Negative Side of Social Media
This is not a sponsored post. Tips by Caroline Maguire, PCC, M.Ed.