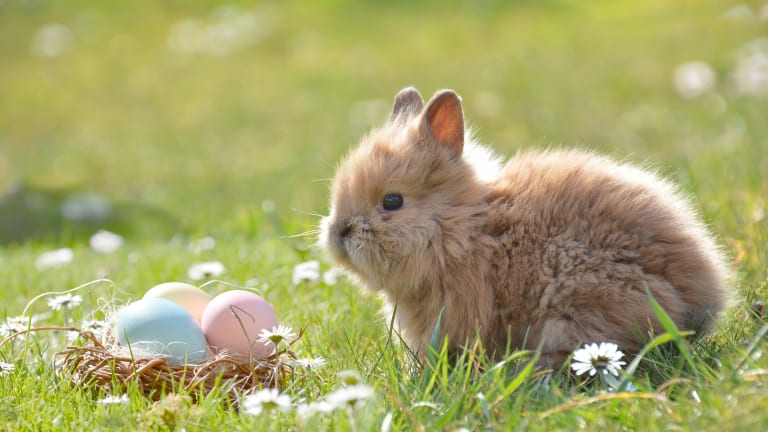 Publish date:
6 DIY Sweet Bunny Crafts for Your Family
If you are the crafty type, we've rounded up a few favorite Easter crafts to keep the kids busy.
If you are the crafty type, we've rounded up a few favorite Easter crafts to keep the kids busy.
Here are some of our favorite Easter Crafts and Goodies. Where does Momtrends go for sugar free Easter goodies? We check out our favorite blogs to come up with ideas. We've rounded up 7 DIY sweet easter crafts for your family.
For Easter we love to get crafty and think up ideas for the kids to get creative and celebrate the arrival of spring.
Related: Easy Centerpieces for your Easter Table
6 DIY Sweet Easter Crafts for Your Family
1.Easter Basket and Bunny Game. Our team made up this fun game that gets kids moving. It combines crafting with a family game. Get all the details here diy-easter-bunny-basket-and-carrot-hunt-game/
2. Bunny envelop via idigpinterest.com this is ideal for a party at pre-school or a family get-together. It's a great alternative to a basket and doesn't require as much candy as a basket. Crafting supplies are minimal.
3. This Bunny Banner is Peeps inspired and a Momtrends original project. This Easter Banner require minimals supplies. We love it on a mantle.

Five Tips To For a Girl's First Leg Shave
Do you remember your first time shaving? Mine wasn't pretty. I snuck my dad's razor and shaved my legs dry. It wasn't pretty. Get your daughter ready for this rite of passage with the right tools and a quick education. We've got five tips to help you navigate your daughter's ...read more
Why You Should Add Wild Blueberries to Your Diet
Do your New Year's goals involve healthier eating? Adding more fruits and vegetables to your diet? Or even adding tasty new recipes to your repertoire? We've got five reasons for you to add wild blueberries to your diet. Our friends from the Wild Blueberry Association have ...read more
Why Moms are Loving This Blueberry Couscous Salad
It's blueberry picking time. And while most blueberry recipes revolve around baked goods, we've got something different to share. First, a few sentences singing the praises of this lovely fruit. Blueberries are high in antioxidants, improve memory function and reduce the effects ...read more
4. Felted Candy ouch via mermag.blogspot.com. Isn't this the sweetest? Fill it up with jelly beans and you've got a great treat from the Easter Bunny.
5. Bunny Puppets. We adore these Felted finger puppets via PurlSoho. This one requires a bit more skill, but the results are adorable. Sewing required.
6. Paper Bunnies. I saw this on Pinterest but the link was broken. I think you could create this with googly eyes, glue and construction paper.
Now you've got some great Easter ideas. It's a fabulous holiday--celebrating family and the renewal of life. You don't have to spend a ton on this holiday. It's about food, family and fun. I hope you get crafty. Let me know if you try any of these ideas.
MORE EASTER IDEAS FROM MOMTRENDS
PIN IT!
Use Pinterest to save your favorite entertaining ideas. Be sure to follow our Easter Pinterest board here.
This is not a sponsored post.