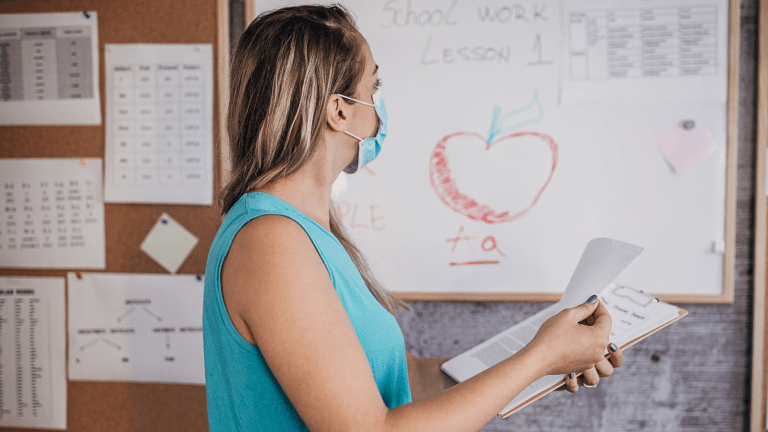 5 Ways to Thank a Teacher Today
No, It's Not Teacher Appreciation Week. But, These Days, We Should Be Especially Grateful
When I switched majors in college my sophomore year, I hemmed and hawed between communications and education -- ultimately making the call to go with journalism and public relations.
A few years later, after a couple of not-so-great media and publicity gigs, I thought about going back to school to switch careers. Of course, that didn't happen; I happily found my niche as a lifestyle writer and, well, here we are. 
Still, sometimes I have envied teachers -- especially those in my suburban area. I know it's incredibly nuanced and not this simple across the board, but our local educators make very good money, are usually home by 5 for family dinner, and have the summers to spend with their families. Most importantly, they make an incredible difference every single day in the lives of our youth.
Again, I don't mean to simplify their role. They stay up late grading papers and bring an emotional load home daily. There are definitely two sides to the coin. But, still, my point is, despite all of this: I don't envy teachers any more. Not even a tiny bit. 
The 2020 pandemic has made it abundantly clear how hard our teachers work and how much they are willing to sacrifice. They are balancing curriculum with the equally important job of addressing our children's social-emotional needs. They have to meet state standards and grade papers and juggle demanding parents and administrative bureaucracy, while also wearing a mask, making sure our children wear masks, instilling social distancing, supervising hand-washing and sanitizing, and keeping everyone safe and healthy and protected. Or, they are teaching kids IRL and recording videos and Zooming and shuffling and managing their own kids who may be home whilst doing ALL OF THE THINGS. It's so beyond the job description they signed up for -- and even the well-compensated teachers in my area are currently underpaid. 
Teacher's Need Love Too
My kids are learning in-classroom right now (thankfully), and my daughter's Kindergarten teacher emailed me to let me know that Penelope is desperate to hug her. My heart hurts to hear this. The children want to be nurtured, and the teachers feel like they need to apologize for not being able to do it all. 
What I'm trying to say is that I've never appreciated teachers more than I do right now. So, no, I'm not waiting until Teacher Appreciation Week to make my kids' educators feel special. I want the to know how grateful we are today and every day. And nothing says "thank you for all you do" like a random, unexpected, spontaneous shout-out. 
If your kids are going back to school in-person soon, or going back to remote learning for a while, or still adjusting to this new normal with the help of a great teacher, there's no time like the present to show your appreciation. Here are a few ideas.
An Apropos Gift
I had a friend give her kid's teacher a high-quality triple-ply mask with a package of filters and a personalized beaded mask-chain on the first day of in-person learning. I thought this was such a clever and creative way to say "stay safe" and "thank you." 
Of course, disinfecting wipes, baby wipes, paper towels and hand sanitizer are also always appreciated. Bundle it up with a bow, and your child's teacher will be immensely grateful -- of this I am sure.
Email a Gift Card
Want to do something contactless for your kid's teacher? Consider emailing a gift card -- just because. Any amount will be appreciated; a $5 Starbucks card ("thank you a latté), $15 for a book, $20 for supplies, $10 to order in lunch. It's the thought that counts.
Record a Video
If you're remote, consider putting together a video with your child's classmates and families to show your appreciation for all the extra hours they're putting in. Or have all the kids work on a project together -- send it from house to house to allow everyone to contribute.
Organize an Upbeat Drive-By
If you happen to able to get ahold of your teacher's personal address -- and it isn't a privacy issue -- turn the tables of them. Remember all those fun drive-by's the teachers did for the kids that went viral online? Drive by your teacher's house as a brigade with signs, honk your horns, and parade them with gratitude and joy.
Go Easy, Show Patience, and Say Thank You
We are all dealing with so much right now, it's hard not to get frustrated over the littlest things: the inability to log into a google classroom hangout, the malfunction of a pre-recorded lesson, a disagreement over in-person instruction. Everyone is doing their best right now-- and your child's teacher is most likely working overtime to make this year special for your kid, despite all the restrictions or whether school is in-person or via a computer. 
So before shooting off an email complaint, take a deep breath (and maybe sleep on it first). Approach every form of communication with grace and gratitude -- and, whatever you do, don't forget to say thank you. It won't go unnoticed. 
MORE LOVE FOR TEACHERS FROM MOMTRENDS
PIN IT!
Use Pinterest to save your favorite ideas. Be sure to follow Momtrends here. 
This is not a sponsored post.