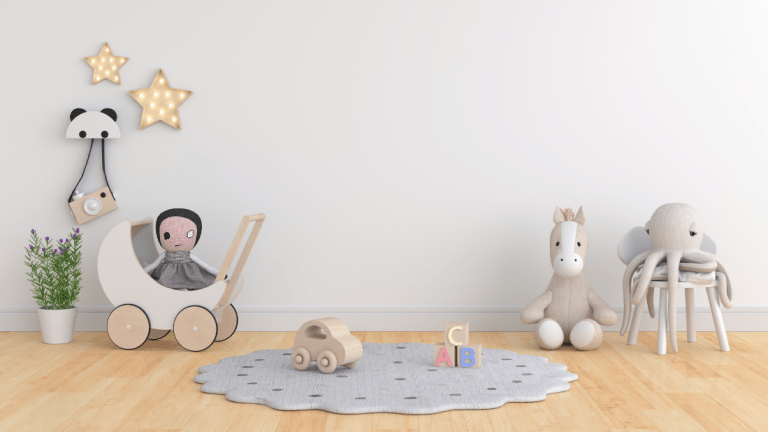 Five Wall Decorating Ideas for the Nursery
Five affordable wall decorating ideas for the nursery for the DIY parent.
We've got five affordable ways to make a focal wall in your child's nursery. We got these ideas from Nicole Abbot and thought they were awesome for today's DIY decorator.
Related: 10 chandeliers for girl's
Five Wall Decorating Ideas for the Nursery
Decorating a nursery for baby can be loads of fun — but four bare walls to decorate on a small budget can sometimes be a daunting task. Don't panic! There are lots of things you can do in baby's room to decorate the walls without spending a fortune. Get inspired — and get your nursery decorating on! — with these 5 nursery wall decor ideas.
An Alphabet Wall
The ABCs take center stage in this creative Alphabet wall feature. Purchase wood alphabet letters, and paint and decorate them to watch with your nursery decor. It's a fun project for a DIY beginner — or have friends help by having them decorate a letter at the baby shower!
Gallery or Collage Wall
One nursery wall decor idea that works no matter what your budget is! Creating a gallery display in your nursery is an easy way to fill up a wall. You can frame prints, photographs, paintings — and even itty bitty bikinis. Just remember to have a common element that threads them all together. In this example, white and gold are tying all the pieces together.
 Embroidery Hoops
Embroidery hoops have found new life in nursery decorating by serving as fabric frames to be hung on baby's walls. Simply purchase several embroidery hoops in a variety of sizes and frame coordinating fabrics. You can use leftover remnants of your nursery sewing projects or hit the fabric store and purchase a few swatches. This easy peasy idea can make a big impact on baby's nursery walls!
Framed Scrapbook Paper
Decorating a nursery wall doesn't get any easier than this. Find — or print! — and frame scrapbook paper that coordinates with your nursery color scheme. Remember to find a common element to tie them all together — in this case, the white frames.
Book Covers as Art
A wall decorating idea that's creative and functional! Children's books is something that a new mama will never be in shortage of. And the books just keep piling up as baby starts to grow. Install several rows of gutter shelves and let your little one's library shine! After all, children's book covers are colorful and beautifully illustrated. The best part about this idea is that it will also give your kiddo's books a home, keeping your nursery uncluttered.
image source: Elizabeth Sullivan Design
MORE DESIGN TRENDS FOR KIDS FROM MOMTRENDS
PIN IT!
Use Pinterest to save your favorite recipes. Be sure to follow our Cool Kids Rooms board for more tips.