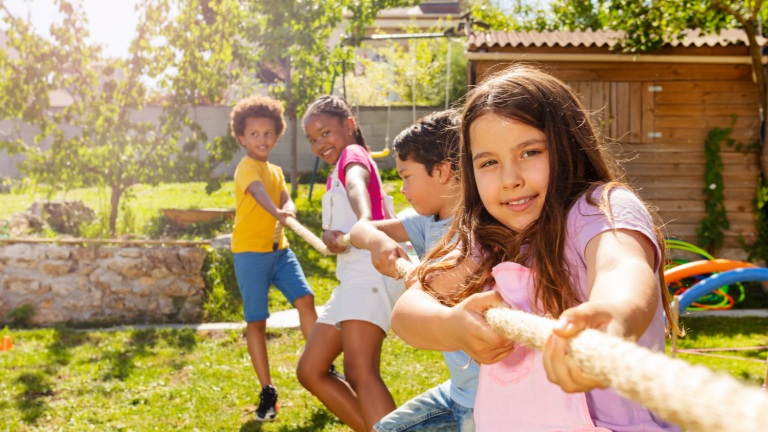 5 Tips to Prepare Kids for Their First Time at Summer Camp
Now is the time to get ready for a great camping experience for your kids.
So you've decided to send your kid to their first summer camp. You're probably a little nervous, they're probably a little nervous but you've got this. Summer camp is a great experience for kids to have! We've got 5 great tips to prepare kids for their first time at summer camp.
Related: Labels for summer camp
Go Shopping

Make preparing for summer camp a fun experience. Take your child with you to pick out some new items for summer camp like fun pajamas or a new swimsuit. Shop for a fun accessories like a letter writing kit, book, sunglasses or water misting fan. Don't go too overboard though. Even with all the name labels in the world, you aren't guaranteed to get back every item you send to camp. 
Something is bound to go missing, or get borrowed by a friend and never returned. So, don't only send new items. Those socks that are almost too small? Yep, send those. They won't fit by September anyways.
Pack Smart
Pack smart and don't overpack. Make sure they have their basics toiletries - toothbrush, toothpaste, shampoo like Vamousse Lice Defense, soap and a hair brush. Make sure you pack a swimsuit and towel and clothes that you don't mind them getting dirty. Keep in mind that they'll probably be doing a lot of outdoor activities and games and will want to be comfortable. Don't forget sunscreen and insect repellant. Let them pack one stuffed animal for snuggling at night.
Prepare Their Hair
Many summer camps, especially ones with overnight stays, require a lice check upon registration. Take your kids to get a haircut the week before summer camp starts and have them check for lice. The fear of lice is real when it comes to summer camp. Fend off lice before they are even present with a defensive shampoo such as Vamousse Lice Defense. 
Did you know that lice can be present before there are any symptoms such as itching? Exponential growth of an infestation and transmutation of lice to others can occur before there are any tell tale signs. Vamousse Lice Defense is non-toxic and a safe daily shampoo for the whole family to defend against lice during outbreaks such as summer camp.
If they do get lice while at summer camp, don't fret. Vamousse Lice Treatment is proven to kill lice and eggs in one treatment. Vamousse Lice Treatment is an easy to use mousse that stays in place. It's non toxic and proven to kill even super lice. Vamousse Lice Treatment mousse is easy to apply and rinses quickly.
Additional information on lice prevention and treatment can be found at www.vamousselice.com
Communicate Beforehand
Tell your children as much as you know about the camp beforehand. Remind them to be themselves, have fun and to always be kind. Prepare them to spend the night away by having a sleepover with friends beforehand. Be sure to talk to them about homesickness. Reassure them that it's common and it's okay if they miss home. Packing a family picture or small stuffed toy from home might help.
Help them brainstorm a list of "summer goals". Maybe they want to try the zipline this year, make up a song with their friends, or try to get a bullseye with the bow and arrow. They can take their list with them and you can check in on their progress during their time at camp. Try to keep things upbeat but be honest.
Take a Trip to Fiji
Ok, maybe not Fiji, but plan a trip somewhere or plan something for yourself. Try not to stress too much while the kids are gone. There is an end date and it's probably not that far off. Enjoy your kid free time while you have it. Plan a girls trip, a romantic getaway, a day at a spa - something, anything. Go to the movies! Remember that!? Whatever you decide, indulge in a little guilt-free "me time". Your kiddo is having fun, you should too!
Just remember, sleep away camp is a safe place where kids can gain some independence. They will come back taller, tanner and happy, and hopefully lice free!
This post is sponsored by Vamousse. All text and opinions are our own.