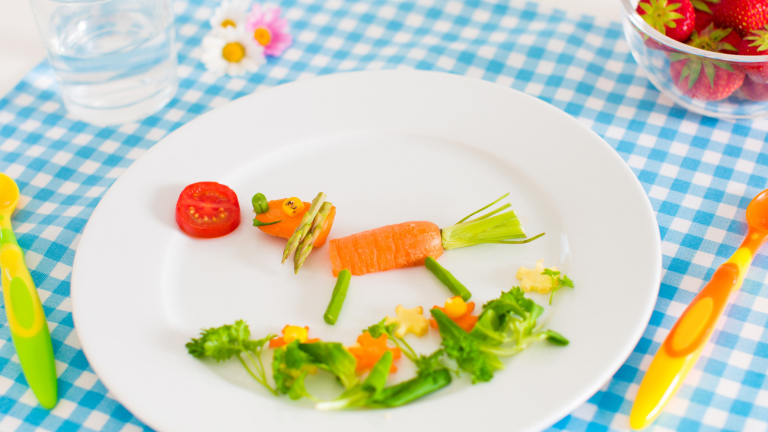 5 Tips to Get Your Child Eating Healthier
Yes, October might best be known among kids as the "spookiest" time of year, but it also just so happens to be Children's Health Month, serving as a great opportunity and reminder for parents to balance out all the candy eating with nutritious foods and active exercise. 
We're all super slammed nowadays. Whether the kids are learning at school or from the living room, parents are feeling the pressure. Something's gotta give, but it doesn't have to be your health and wellness or that of your kids. It's more important than ever to encourage our little ones to be healthy, strong, and active -- and it doesn't have to be a battle.
We reached out to Dr. Nicole Avena, Ph.D. Nutrition Expert and author of What to Feed Your Baby and Toddler, for her advice to help us give our kids something "good to eat" instead of sugary sweets this season. No tricks, all (healthy) treats!

Avoid Food Traps. Halloween is just the start to the holidays, and it's easy to overeat at this time of year. Avoid holiday food traps; plan and have healthy foods and snacks easily available – if attending a Halloween party, bring a fruit or veggie tray with you. It is okay to celebrate – just celebrate for the day, not the entire month!
Get the Kids Involved. One way to make lasting changes to children's eating behaviors is including them in the decisions surrounding food and educating them along the way. Have kids help with meal planning, shopping, and preparation so that they can feel empowered to try new foods and feel proud of the food they have helped to make.
Try a Children's Supplement. It is not always easy to get all the micronutrients needed to stay healthy – especially for picky eaters like kids – that is where a vitamin supplement comes in. A great pick is L'il Critters Gummy Vites which are chewable, adorable, and taste great – transforming daily multivitamin supplements from a chore to fun treat.
Hydrate. Children do not always recognize they're thirsty and may forget to drink water. Parents should look out for symptoms like headaches, lack of concentration, dry lips or mouth, constipation, or lethargy. For children under 8 years of age, the recommended amount of water is at least 4-6 glasses of water which increases to a minimum of 6-8 glasses for children older than 8 years. If they don't like water, add slices of fruit and let them choose their own special cup to make it more exciting.
Use Alternatives to Halloween Candy. If still trick-or-treating this year, instead of giving away Halloween candy, consider a healthier alternative. Some fun and festive ideas are glow sticks, string bracelets, or even temporary tattoos. Another nutritious option is giving out clementine's, oranges, or tangerines and decorating them like Jack-O-Lanterns using non-toxic ink.
Make Sure Kids Get Enough Sleep. Without enough sleep, children can feel tired and cranky, even foggy. Many children get about 9.5 hours of rest a night, but experts agree that most need ten or eleven hours each night. 
Want more from Momtrends?
1. Mom Hacks for Getting Your Kids to Wear Masks
2. How to Mitigate the Risk of Covid-19 When Visiting Family
This is not a sponsored post.