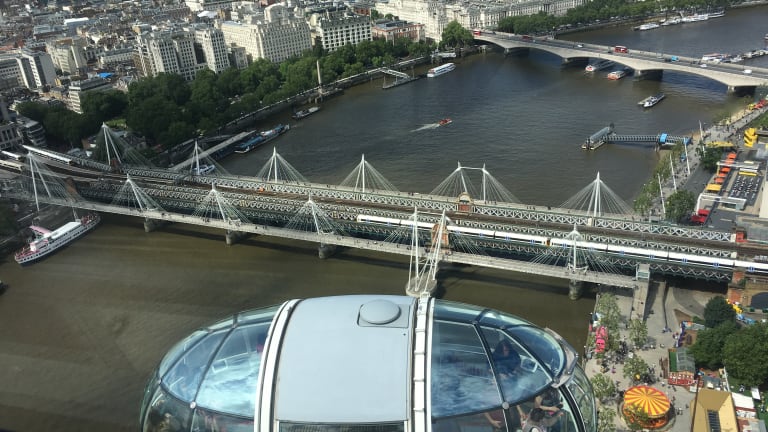 Publish date:
Top 5 Things to Do in London with Kids
Top 5 things to do in London with kids, including Natural History Museum, Science Museum, Diana Memorial Park and more.
Top 5 things to do in London with kids, including Natural History Museum, Science Museum, Diana Memorial Park and more.
In March we had a last minute opportunity to travel to London. My husband was attending a conference for work, with centrally-located hotel and his travel paid for, so the kids and I tagged alone to explore London for five days. It was a unique circumstance that we couldn't pass up, even though it meant I would be spending most of our time exploring the city alone - with 3 kids in tow.
I'll admit that I was very intimidated by the idea of traveling around the city with 3 kids by myself so I made an itinerary of very kid-centric destinations and excursions. Here's a run down of five must-see destinations with kids in London and - bonus! - four of them are FREE.
5 must-see destinations with kids in London
1. Natural History Museum. The Natural History Museum is free and enormous, making it a great destination for exploring with kids. We spent an entire day here, only taking a break to eat lunch at The Restaurant. The museum was tremendously kid-friendly with large animal exhibits - our favorites were the Dinosaurs, Mammals and Creepy Crawlies. First thing we did upon arriving was check out the Explorer Backpacks - a free service with explorer gear and an activity booklet to engage kids in the museum. Check out the Parents' Survival Guide for tips before visiting.
2. Diana Memorial Playground. If the temperature had been warmer, we could have easily spent an entire day here. The enclosed play area has a large pirate ship, swings, teepees, sensory trail and sand for hours of play. There is a very kid-friendly bathroom and snack bar inside the playground. Entry into the park is free and it is located within Kensington Gardens so you can explore outside the park and visit Kensington Palace. This is a great alternative to indoor museums as kids can run, play and get out all their energy!
3. Science Museum, London. This is another free, huge museum complex comprised of hands-on exhibits, historic collections and galleries. The Energy Hall and Making the Modern World (photo below) were interesting for my 7 year old. Exploring Space has rockets and satellites that delight even the preschool set. We spent the most time in the very toddler-friendly area called The Garden, located in the basement. The Garden has a water play table, large blocks for building and a sound room to make music.

Get Ready for Summer Tea Collection Sale
Even if we all have to stay local, summer is going strong. As you head to the pool or day camp you might have noticed your kids GREW during the past year. Just in time for summer, Tea Collection is rolling out a big deal on swimwear and graphic tees for kids. I've enlisted some ...read more
The Key to a Great Overnight Oat Recipe
Working moms know the importance of meal planning. I'm getting ready for busy few weeks and I've been perfecting my fast breakfast options. I've been using Bob's Redmill Organic Steel Cut Oats to prepare my overnight oats for a nice, cold breakfast in the morning and I'm going to ...read more
Morning Sickness Relief with Sea-Band Mama
While pregnancy is this amazing and beautiful time in a women's life, it is also one that can wreak havoc on the body. From morning sickness to discomfort to cravings, the body that you once knew so well becomes this vessel for your baby. Of course, this is all worth it but ...read more
4. Changing of Horse Guards Parade or Inspection. This alternative to the Changing of the Guard at Buckingham Palace, located at the Household Cavalry Museum, makes a nice stop along the tourist stroll between Big Ben and Trafalgar Square. The crowd is smaller and there are no gates between observers and the horses, allowing a good view for even small tourists. We caught the Friday afternoon Inspection and all three kids were mesmerized by the horses and the pomp and circumstance of the ceremony.
 5. Sea Life Aquarium. Ticket prices make this stop a bit of a splurge, but it was well worth it for the kids. All three of them were entertained watching fish, sharks, sting rays and more swim through the large aquariums. The active penguins were a fun stop, too.
Savings tip! We found "buy one child admission, get one adult admission free" coupons on snack bars at the grocery store so our family of five was able to visit the aquarium for only the price of two children's tickets.
Happy traveling!
WHAT ELSE IN LONDON?
Cheers! Let me know if you go and be sure to give me your favorite spots in London.
PIN IT AND PLAN IT!
Are you ready to head to the theater in London? Pin this post to your Pinterest travel page for inspiration. Be sure to follow our Travel with Kids board here.