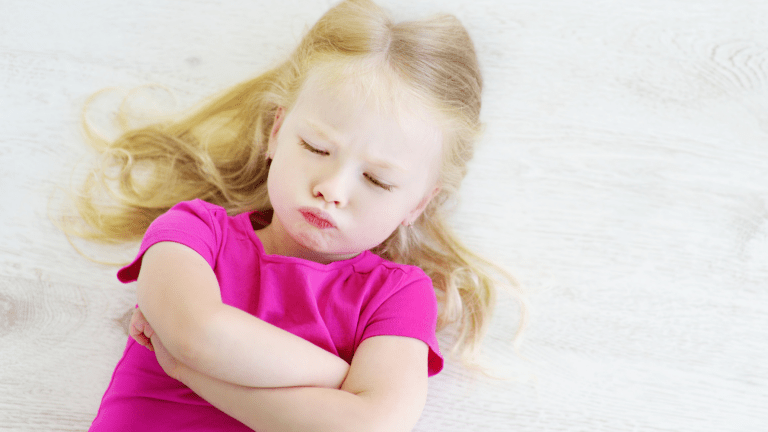 5 Steps to Calm Kids and Overcome Tantrums for Good
We've gone to the experts for help on this stressful part of parenting, learn how to create more calm in your home.
Parents are spending a lot of time with their children these days. With parks, classes, and even playdates off the table, moms and dads are finding themselves at home all day facing bored, under-stimulated, and tech-addicted kids who are showing their own frustration with behaviors parents may have never seen before. We've gone to the experts for help and they provided five steps to calm kids down and overcome tantrums for good.
What is a Tantrum?
But here is the thing: All behavior is communication.

Speech-language pathologist Marci Melzer should know -- and that's why she's sharing her tips for diffusing, calming and overcoming tantrums. 
Tantrums are a normal way for kids to communicate big feelings. If we are honest, all of us are triggered to throw our own "tantrums" as adults when we are overwhelmed by our emotions. A mindset of understanding will empower caregivers with the tools necessary to overcome tantrums for good.
Tantrums are stressful for both the parent and the child. This anxiety and stress blocks conscious problem-solving ability. A calm emotional state is necessary to make good decisions on how to react to the situation and support the child. The child also needs to be calm in order to learn.
5 Steps to Calm Kids in a Tantrum
Step 1: Acknowledge and react as if the child was injured.
Tantrums are like little personal fires. When they spark up, your first reaction should be to stop, drop, and roll with them. Your response will put out the fire. Immediately stop talking and get on your child's face-to-face level to show them you are prepared to help them. It's important to give every little tantrum the same kind of response as if it was a major accident or illness. This is because in the child's heart, in their feelings, they feel the same when they want a cookie and they can't have it as they do when they are running and skin their knee and get hurt physically. The child feels equally distressed because both situations are out of their control. Your first step is always to establish calm, then you can roll into problem solving the situation.
Step 2: Understand the message the child is trying to tell you.
In this step, the parent is calm and can access their intuition and observation skills to understand the child's exact problem. While you are comforting the child with cuddles and kisses, ask yourself the question "What exactly triggered this child to become so upset?" The answer will become obvious in your mind.
Step 3: Be a language facilitator and translate the message.
The parent now becomes the language facilitator for the child by modeling the words to express their exact message. Most parents are very good at translating their child's behavior into messages in their heads (Oh…he is hungry). It is important to say your interpretation of the child's problem out loud. This helps the child know you understand their problem (even if it is not reasonable to you) and you care enough to understand why they are upset. "You really wanted to go to the park because you miss riding climbing and your favorite swing". Your words will automatically give your child a sense of relief because they know you "get" them.
Step 4: Tell your child exactly how you will solve their problem.
Talk slowly and describe the reality of the situation. "It is a bummer that we can't swing at the park and I know you need that swing time to feel happy. We need to find another way to have fun here at home because the park is closed." This lets your child know that you are interested in taking action to help them find a real solution to their problem, and triggers them to focus 100% of their attention on listening to you because they are calm and know you are trying to help them feel better.
Step 5: Make sure the child is ready to move on.
Parents empower kids to make good choices by offering options that meet their needs. Offer suggestions that you intuitively know will give your child satisfaction and make them feel better than they do right now. Always check in with a high-5 or thumbs up to make sure the child is feeling confident to try.
Language Facilitator parents put out fewer fires.
Many parents are tempted to redirect or distract kids to stop tantrums without going through and acknowledging all five steps. This process will help kids learn how to handle the big emotions they feel inside and talk about them using speech. Language facilitation shows the child that it is okay to have big feelings we all are feeling during this challenging time. The process helps kids learn how to communicate effectively to get the help they need to feel happy and supported every day.
Want more from Momtrends?
PIN IT!
Use Pinterest to save your favorite parenting articles to help inspire your next trip. Be sure to follow our Crafts & DIY board here.
This is not a sponsored post. Expert tips of courtesy Marci Melzer, M.Ed./SLP, an Intuitive Speech-Language Pathologist Consultant who has been helping people develop the ability to use spoken language functionally for three decades. Marci is the author of If It Isn't Fun, It Isn't Fun: Teach Your Child to Talk Faster than Speech Therapy. Visit her website or connect with her on Facebook @wavesofcommuncation.