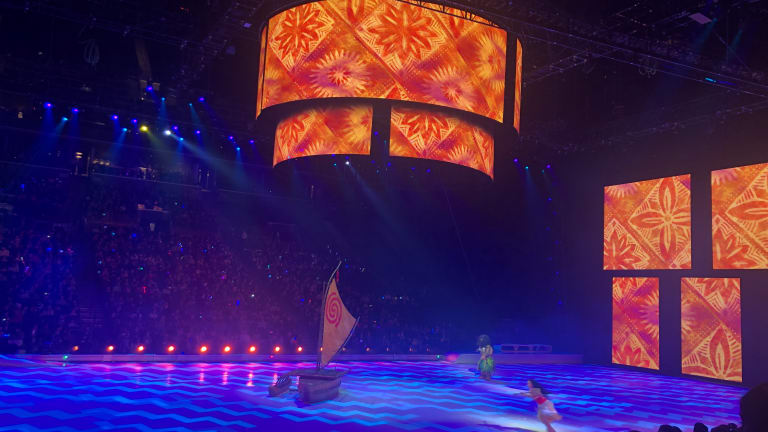 5 Reasons to Take Your Kids to See Disney on Ice
We kicked off the holiday season a few weekends ago with a family outing to see Disney on Ice. The 2019 show was themed around "Road Trip Adventures," with Mickey, Minnie, Donald, and pals heading out of town to visit a few recognizable (if not realistically driveable) destinations to see some more iconic Disney friends. 
I'm an avid Disney consumer, but this was my first time at a Disney on Ice production and I was completely blown away. Like all things Mickey--it was a magical experience. 
You'll Be Enthralled
If you love the movies and the theme parks and all things Disney, then you and the kids will be completely and totally entertained from start to finish--even the little ones! My four year old was singing along and dancing in her seat... and so my was my husband.
You Can Experience Extra Magic
If you book extra magic seats, you can be a part of the show! You will be pulled up to the side of the rink to be an interactive audience member and participant. It's every kid's dream--ice skates not required!
These Are the Moments & Memories You'll Remember 
I'm a big proponent of gifting experiences instead of more "things," so consider taking your family to see a Disney on Ice performance this holiday season. I love that it extends the holiday celebration into January, and gives the kiddos something else to look forward to beyond Dec. 25. And trust me--they won't remember all the toys and trinkets and things, but they'll never forget snuggling on your lap and seeing Elsa twirl in action.
You Can Find Affordable Tickets
It's Cyber-week! Now through Dec. 8, you can get 35 percent off when you book select Disney on Ice Dream Big tickets. Use code CW2019. This is a great deal and an awesome opportunity to save big on an epic experience. (Hey, you can use the money saved to buy overpriced but beloved light-up mementos and $20 snow cones!)
Check out the schedule and find out when Disney on Ice's Dream Big will come to a venue near you. In the 2020 show, Dream Big, Coco's Miguel aspires to be a musician and journeys through the Land of the Dead to unlock his family's history. Moana and Maui bravely restore the stolen heart of Te Fiti. Anna and Elsa save their kingdom while the Disney Princesses inspire with stories of strength, determination and kindness. 
Want more from Momtrends?
2. Who Should See Come Away From Me
This is not a sponsored post. Momtrends editor and family was hosted at a Disney on Ice production.