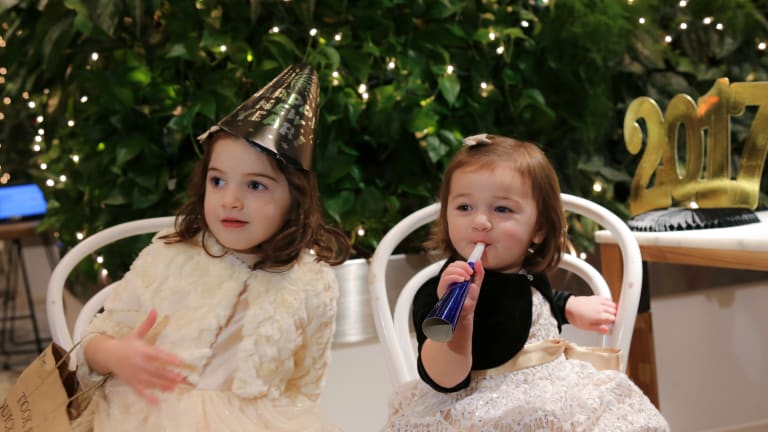 5 Kid-Friendly New Year's Eve Plans
3... 2... 1... The countdown is on. New Year's Eve is quickly approaching, and if you're anything like me you're scrambling to figure out some sort of family-friendly plan to ring in the DECADE. 
I'm not a big NYE fan; I tend to find the holiday anticlimactic, so I shy away from extravagant activities and expensive outings. Instead, we opt for simple, easy plans at home--take-in, a movie, or maybe a casual early dinner out if we're feeling especially ambitious.  
Still, I like to have some kind of theme to the night to make it fun for the family. Here are our top ideas--and don't worry they can all end before midnight.
Movie Night
We are big movie fans in our house. Every Friday night, we put on PJs, order a pizza pie, and cuddle up under big blankets together. It's my favorite way to kick off the weekend; so it's no surprise it's also my choice way to kick off a New Year. Of course, I like to elevate our traditional weekly affair into something slightly more special on Dec. 31. So we pop corn, we put on our best jammies, and we order in a smorgasbord of delicious eats and treats--pizza, Italian, Chinese food, finger apps, you name it... We'll even make our famous Sparkling New Year's Eve jello stars. Then we'll veg out and enjoy a double or triple header. And when the kids pass out, the husband and I put on a movie just for us. That is, if we haven't also passed out with them.
Game Night
Board games, video games, table-top games; nothing brings a family together like time to play, laugh, and bond. We love getting out all our favorites, plus a few new ones accrued over the holidays for an evening of fun and games. The more the merrier; consider inviting come friends or neighbors over for a game night and potluck New Year's Eve. Read more about our Game Night ideas here.
Karaoke Night
My kiddos are mildly obsessed with music. They love to put on performances, to sing, dance, and act like crazy animals. We got them the V-Tech Kidi Star karaoke machine for Christmas and it's been getting a lot of use these last few days. That's why we decided a karaoke party would be an awesome way to spend New Year's Eve. Have the kids practice their favorite song and put together a big family performance. It's your own version of a Rockin' New Year's Eve.
Fancy Night
We might not go anywhere special or fabulous, but that doesn't mean we can't dress up and play pretend. Put on your fanciest dresses and suits, serve hors d'oeuvres (pigs in a blanket count!), and enjoy a more elegant affair. Or at the least, get a photo of the kids all dolled up before changing into PJs and opting for one of these other ideas.
Family Bed Night
My kids beg to have family sleepovers. They just want to snuggle up together. I'm not going to lie, it's equal parts scrumptious and uncomfortable (ha!). But there's something really nice about waking up all together in one room and seeing each other's happy faces first thing. Watch an early faux countdown on Netflix and then get to bed early.
Want more from Momtrends?
1. 3 Tasty New Year's Eve Treats
This is not a sponsored post.