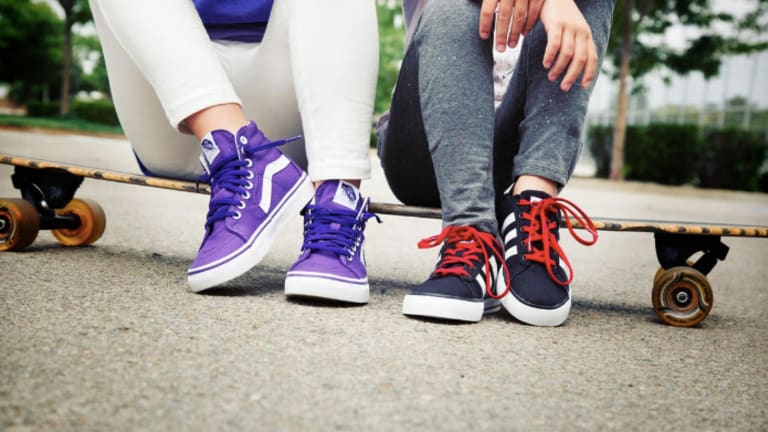 5 Facts About Shoelaces--and How to Teach Your Child to Tie Them
Getting out the door to make it to school every morning is hard enough with three kids; but then add in three individual pairs of lace-up sneakers, and you might as well go ahead and count us tardy right now. We've been working to practice tying shoes with my seven and five year olds; and, while the bigger guy just about has knack, it still takes him about 10 minutes total to meticulously loop and slip and pull. I try to be patient BUT WE ARE GOING TO BE LATE, WHAT IS TAKING SO LONG?!?!?
As adults, we can easily forget how big of an accomplishment learning to tie your own shoelaces actually is. It can be tempting to just do it for them--expedite the process and get out the door! But that's not really doing them any favors; it's an important skill that promotes independence and fine motor movement--so practice, practice, practice! And don't put this daily ablution on the back burner--there are plenty of reasons your child needs to learn to tie his or her own shoes.
Here are six shoe-tying facts to remember as you're going through the motions and trying to make it to school on time every day!
1. AVOID A SAFETY HAZARD 
We see them on playgrounds everywhere, untied laces just waiting to make their move. GERMS are literally everywhere — especially on the ground. Think playgrounds, classroom floors and yikes bathroom floors. Oh, and then there's the risk of tripping as well.
2. RITE OF PASSAGE
Shoe tying is a rite of passage, between the ages of 6-10, kids will develop fine motor skills that are necessary for a good tie. In today's hectic pace it's hard to find the time (ie: rushing out the door to catch the bus) to practice this important life skill. 
3. FIT RIGHT IN
When you have a kiddo who's unable or behind on tying their shoes they can start to feel frustrated. Their other options are velcro shoes, or wearing other elastic laces that look different (hardware, curly laces). Sometimes you just want to blend in with the crowd. 
4. TEACHERS WILL LOVE YOU
Certain teachers will spend a good amount of time tying unsanitary laces. Give them a break. They are so appreciative when parents devise a solution.
5. UNFRAZZLE THOSE NERVES
Every Mom knows that kids can get emotional or frustrated when they are unable to tie their shoes. This is especially trying when you're trying to get out the door in a hurry for school, game, piano practice, etc.! 
6. TURN ALL SNEAKERS INTO SLIP ONS
The Original Stretchlace is a stretch shoelace that turn every shoe into a slip-on, giving kids the freedom to wear whatever shoes they want while elevating comfort, and providing ultimate ease-of-use. They look like classic lace ups and works on all types of shoes and boots and are designed to support any and all movement no matter the activity. It makes learning easier and more fun for kids. They can take their time learning, and still look good in the meanwhile!
Want more from Momtrends?
1. 5 Steps to Get Your Kid Kindergarten Ready
2. How Your Kids Can Be Helpers Around the House
This is not a sponsored post.