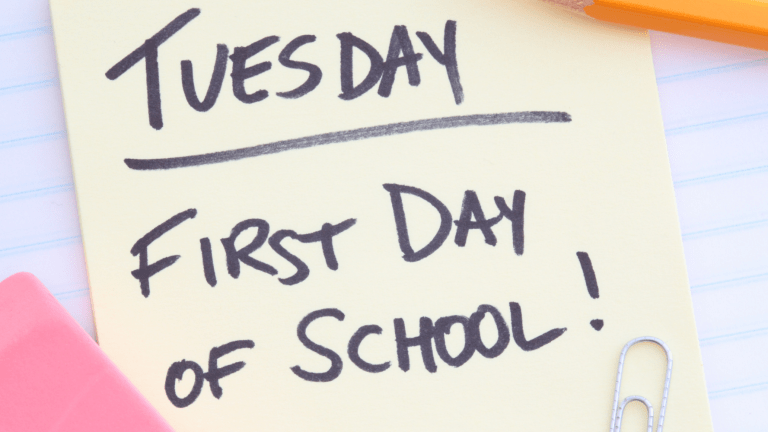 Publish date:
4 Tips to Start the New School Year Off Right
A new school year is right around the corner, and kids are about to exchange their bathing suits and ice cream for textbooks and backpacks. Each new semester inevitably brings new stresses, but this can also be a time to approach your children's education with fresh eyes and start on a clean slate. Try the following strategies to start September right and to make the most of the new school year.
● Assess Summer Work: While summer work can feel like a headache during summer fun, it's meant to make sure students start the new year on the right foot. Sit down with your kids before the first day of class and take stock of what's due. Not all students start their work in June, so be sure to make this conversation a judgement free zone!
● Revamp the School Wardrobe: While this time of year is usually devoted to getting new school materials, taking a moment to update the wardrobe can be an effective new school strategy. Students can feel empowered and rejuvenated walking into school with some new kicks or a fresh jacket.
● Take a Last Minute Vacation: Some students lose their summer enthusiasm when they realize homework and tests are on the horizon. Ear-mark a weekend in September to head to the beach or another favorite place one more time. This can ease the transition between a lazy summer and a hardworking fall.

Lessons I've Learned Traveling to Sebasco Resort Maine
When you think of a summer getaway to Maine, it's likely you are envisioning something akin to the Sebasco Harbor resort. Tucked along Maine's rocky coastline, this family-style resort has been hosting families for nearly 100 years. If you're ready to travel, take a look at the ...read more
Five Tips To For a Girl's First Leg Shave
Do you remember your first time shaving? Mine wasn't pretty. I snuck my dad's razor and shaved my legs dry. It wasn't pretty. Get your daughter ready for this rite of passage with the right tools and a quick education. We've got five tips to help you navigate your daughter's ...read more
Why You Should Add Wild Blueberries to Your Diet
Do your New Year's goals involve healthier eating? Adding more fruits and vegetables to your diet? Or even adding tasty new recipes to your repertoire? We've got five reasons for you to add wild blueberries to your diet. Our friends from the Wild Blueberry Association have ...read more
● Set Some Goals: It's always good for students to take time to reflect and assess their own progress. Make a New Year's Resolution for the New School Year! Ask your kids about what they want to accomplish this year. Start small! It is all right if students don't go for the big stuff first. Getting them engaged and thinking is more important!
Preparing for a new school year can be a bit overwhelming, but it can also be a time for students to take more ownership over their learning and to think critically about how they can move forward. They've had a full summer to rest and recharge; it's time to channel that energy into what comes next. 
Want more from Momtrends?
1. How to Save While Back-to-School Shopping
2. Organizing a Functional and Happy Dorm-Room Space
3. Teaching Kids to Be Self Advocates
This is not a sponsored post. Tips and copy by Thinking Caps Group.