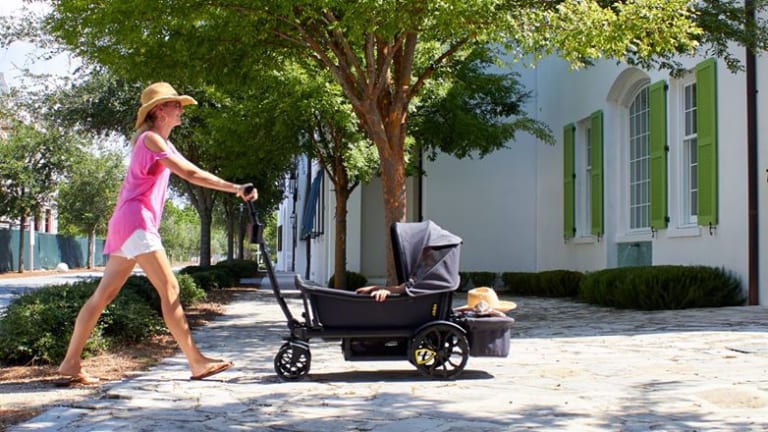 4 Super-Fun Summer Must-Haves for Your Backyard
A round up some awesome outdoor toys at varying price points for family fun this summer.
Last week my sister texted me in a panic. "Buy meat! Freeze meat! Get as much as you can now or you'll be sorry." Ugh, a potential meat shortage. First it was hand sanitizer. Then toilet paper. And now, beef. Listen, I love me some steak, but I can't be hoarding prime rib. And if I have to go vegetarian for a few weeks as a consequence of my inaction, so be it. Because, while my sister was in a tizzy about proteins, my Facebook moms group had a completely different perspective. As New York announced that schools would not be reopening their doors this academic year, my mom "friends" started preaching: get yourself an above ground pool NOW before they're gone.
Related: Get ready for summer tea collection swimwear sale
For some reason this struck a chord. I can go without meat, but I need entertainment for my kids this summer. Camp might be canceled, public parks and pools might be closed, and I have no idea if we can even host play dates. Yeah, I need a pool and all forms of outdoor entertainment--just. in. case. 
If you, too, want to prepare with engaging outdoor items, I'm here for you! I've rounded up some awesome items at varying price points--because, while activities are top of mind right now... so is staying on budget
Veer - I've said it before, and I'll say it again. My daily walks are keeping me sane right now. They're helping my littles too. My 13 month old and I go for at least three longs strolls a day, and her older siblings often join us. They love parading around the neighborhood and waving to neighbors and friends from afar. The Veer is part stroller, part wagon. It's great on lots of terrain (including sand), and you can get multiple accessories to customize it for your family's needs. In fact, you can even get an insert that turns it into a bassinet if you have an itty-bitty babe.  

Kid Pool - For a hot second there, I was in a panic googling how to create a stock tank pool. I really need my kids to be able to swim this summer; it's their favorite activity and the only way I can tear them away from screens. While I'm considering getting an above ground pool for this summer (again, we don't know if our regular public pool will be open), I have, for now, found an inflatable kiddie pools that will suffice. This one even has a seat built in for Mom and Dad.
Blow-ups - Can't go to the waterpark this summer? Bring the waterpark to your backyard. We got one of these blowups last year, and it's paid for itself five times over in playdates and parties and splishing-splashing fun for the kiddos. They're an eyesore, and they can make a mess of the lawn, but the are an investment in entertainment. Here's one that's moderately priced, but majorly fun. 
Trampoline - I'm not a huge fan of big trampolines; they seem a bit dangerous. But they can really help kids work out energy. A personal size jumper might just do the trick for rowdy toddlers. But this one is a happy medium.
Want more from Momtrends?
Pin it!
Use Pinterest to save your favorite ideas for summer fun. Be sure to follow our Activities to do with the kids board here.
This is not a sponsored post.