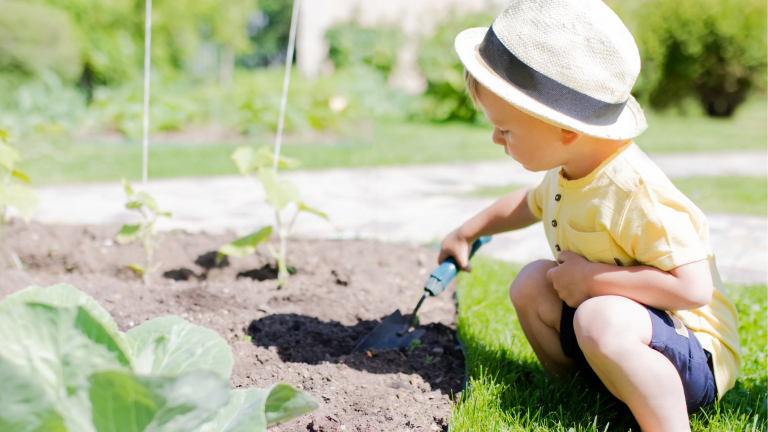 3 Ways to Get Kids Excited About Gardening
Spring is here; time to get out in the dirt, and foster that green thumb! Want to get your kids excited about planting and growing and building beautiful gardens. We're sharing three child-friendly activities!
DO YOU DIG IT: Start 'em young! Kids as young as 18 months love digging in the dirt and mimicking parents with helping in the garden. For little ones, you can give them a small plastic beach shovel to dig with (instead of metal garden shovels) - to help with weeding, planting, etc.
MAKE SEED BOMBS: Seed bombs are an easy and fun way to get kids interested in getting their hands dirty and showing them how plants grow in the garden. By mixing air dry clay with a few wildflower seeds, kids can make and plant the seed bomb; then, watch it turn into flowers. (Detailed step-by-step instructions available.)
PLANT KID-FRIENDLY FLOWERS AND VEGGIES: Choose plants and flowers that grow quickly, like wildflowers. Tomatoes are also exciting for young ones because little ones love watching the colors change from green to red as they ripen; once they do, they can simply pluck and eat! If you don't have outdoor space, herbs are an easy indoor plant. You can often buy a starter basil plant at the grocery store and continue to grow it on your windowsill. Little ones love picking the leaves to add to pizza and pasta!
Want more from Momtrends?
1. How to Make the Most of Your Spring Break Staycation?
2. Fun Outdoor Scavenger Hunt Ideas
This is not a sponsored post. Some tips by Caitlin Kruse and Mandy Roberson, the co-creators of Magic Playbook, the original digital print-and-play activities subscription.