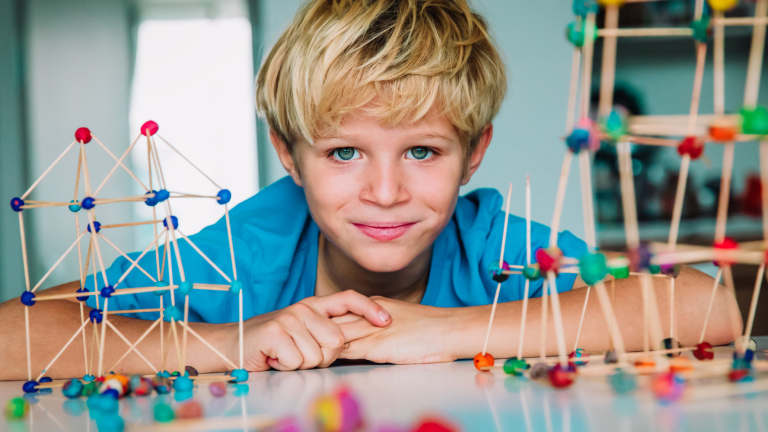 3 New Ways to Get STEAM-y
When I told friend that there was a designated STEAM room at my son's school, she gave me a quizzical look. "No, not a sauna," I replied. "A lab for Science Technology Engineering Arts and Mathematic."
"Oh," she said. "So everything BUT reading."
Ha, touché. STEM/STEAM learning has come to encompass a whole lot, but, hey, if it gets the kids excited about building and creating and coding and solving, then the schools are definitely doing something right.
Tomorrow is National STE(A)M Day, and we're celebrating with three brand new educational items that will get kids engaged and keep them entertained... all while fostering their love of learning.
1. In Math Art and Drawing Games for Kids, you'll find an amazing collection of more than 40 hands-on art activities that make learning about math fun, and engage kids in all sorts of artistically creative challenges.
2. KOOV is made up of blocks, sensors, motors, actuators, and a companion app. The app teaches core concepts about design, coding and robotics, and features step by step guidance on building and coding for pre-designed robots. Great for teachers, KOOV also offers curriculum-aligned lesson plans, step-by-step teacher guides, student progress reports and class management features, making KOOV great for the classroom or home.
3. Kids will love building their very own electric guitar and amp from scratch. The kit enables kids to creatively express themselves through music and learn how electrical charges create sound. They'll even get to record tracks, layer riffs and pump things up by adding wicked effects.
Want more from Momtrends?
2. 3 STEM Building Toys to Prevent Brain Drain
This is not a sponsored post.