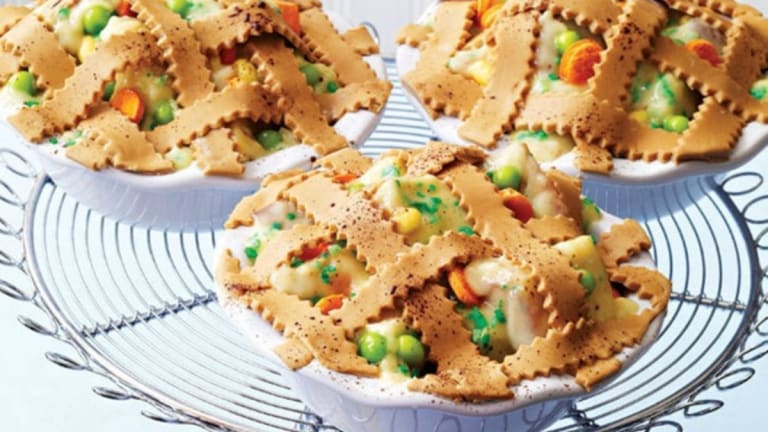 12 Fun April Fools' Day Food to Trick Your Kids!
Get into the spirit of April Fool's Day. We've rounded up some seriously realistic looking foods to feed your kids.
April Fools' Day is a great day to introduce your kids to some fun practical jokes. Here at Momtrends, we're devoted to keeping April Fools' Day family friendly. We've rounded up some seriously realistic looking foods. Just looking at the pictures I'm having a hard time convincing my brain what they really are.
Related: April Fools' Day pranks to try on your kids!
12 Fun April Fools' Day Food to Trick Your Kids!
These fake foods will really trick your kids and are sure to have everyone laughing in their seats! 
Cupcakes instead of spaghetti, no way!
Ha! I can't wait to do these for my family!

Spaghetti and Meatballs...or not! (Seeded at the Table) Help yourself to a big ole plate of spaghetti and meatballs, or cupcakes with squiggly frosting and truffles in strawberry jam!
April Fool's Breakfast (Recipe.com). Pound cake and frosting would be a funny way to trick kids first thing in the morning!
Faux KFC Dinner with Sides (Kitchen Fun With My 3 Sons) Go all out with this KFC dinner with 2 sides! Dessert for dinner! This is the cutest!
Pizza Cake (Taste of Home) Who's ready for pizza and a movie? Wait...
Mashed Potato Sundaes (Bake at 350) Ha! This one is opposite of the others. Instead of dinner that's really dessert, serve them dessert that's really dinner. Mashed potatoes and gravy sundaes! Have a reverse dinner, tell them they get dessert first and then serve them this and the pizza cake next. Double the tricks!
Cupcake Nuggets (Cupcake Project) These look so real! Are these chicken nuggets or deep fried cupcakes?!

Fake Out Grilled Cheese and Tomato Soup (Nellie Bellie) Confuse their brains with this rainy day lunch. Soup? or Cake?

Meatloaf Dinner (Party Pinching) How cute is this? Rice crispy treats for the meatloaf and look at that melted butter, perfection!

Cheeseburger Cupcakes (No Wooden Spoons) These mini cheeseburgers are sure to trick them!

"Poached Egg" and undrinkable juice (Clean and Scentsible) Love this quick and easy breakfast. Yogurt and half of a peach slice as the "egg" and undrinkable juice (jello). I'm totally going to start the day off with this one!

Chicken Pot Pie (Community Table) These pot pies take a little more prep but look at the result! Stunning and so real looking!

Fooled Ya French Fries (Food.com) Stop! These have to be real fries right? Right!
Have a fun April Fools', But Keep it Safe
Momtrends note: never fool around with allergies! Make sure you read all the ingredients before you try these with your kids
Enjoy safe and easy jokes with these fun food ideas this year! What kinds of tricks and jokes do you and your kids pull on each other for April Fools' Day?
MORE KID-CENTRIC IDEAS FROM MOMTRENDS
PIN IT!
Use pinterest to save your favorite family travel destinations to help inspire your next trip. Be sure to follow our Activities to Do with Kids board here.