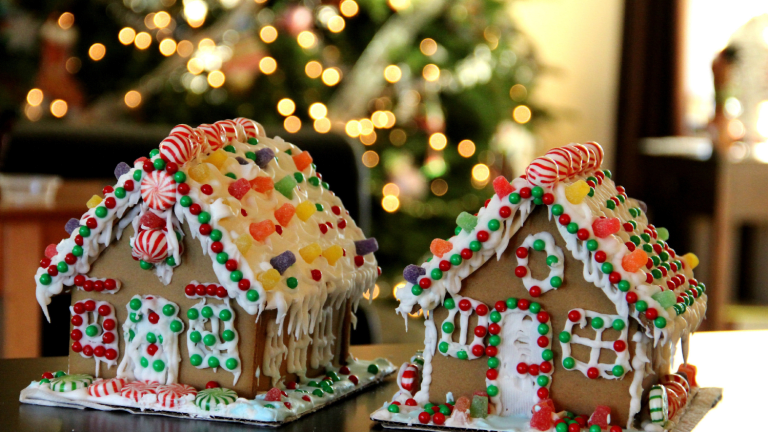 10 Fun and Easy Holiday Treats to Get Kids Cooking
Sweet ideas to get the kids creating holiday memories in the kitchen
We love to cook with our kids, and this holiday season we are excited to share 10 kid-friendly holiday treats from the culinary team at Chef Works, the world's leading supplier of culinary apparel for professional chefs and home cooks alike. Fun and easy to make (with adult supervision, of course), these goodies are sure to be a highlight of their holiday break!
Related: Holiday tea and cookie decorating party
COOKING WITH KIDS: 10 FUN AND EASY HOLIDAY TREATS:
Spend some family time with your kids creating one of these special projects.

Sugar Cookie Cutouts: One of the best holiday cookie traditions is rolling out some homemade sugar cookie dough and cutting out fun holiday shapes with cookie cutters to decorate with different colors of frosting, sprinkles, chocolate candy pieces, and crushed candy canes. Kids can be as creative as they wish and this is equally as enjoyable for young ones as it is for the more artistically inclined older kids.
Holiday Puppy Chow: If you and your kids have never experienced puppy chow, you don't know what you're missing! Put a holiday spin on this sweet snack mix by replacing the chocolate and peanut butter with white chocolate or almond bark. Melt 1.5 cups of the chocolate with ¼ butter, toss with 8 cups Chex or Crispix cereal, then finish with a dusting of powdered sugar and crushed candy canes. Or, if you don't want to alter this Midwestern treat, simply place your favorite puppy chow in a holiday bowl and call it "Reindeer chow."
Gingerbread Houses: Use a gingerbread house pattern to cut and bake the correct sizes of gingerbread needed to create the walls and roof of the gingerbread house. Assemble pieces and use frosting to stick them together. Let kids create their dream gingerbread houses by decorating them with gumdrops, chocolate candies, sprinkles, frosting, cookies, and anything they can think of. Hold a contest for best gingerbread house or make small gingerbread houses to create a gingerbread village (for smaller houses you can cut the work by using graham crackers in place of ginger bread).
Hershey Kiss Pretzels:This treat works for the square, grid-like pretzels. Arrange pretzels on a baking sheet and place one unwrapped Hershey kiss on top of each pretzel. Bake for 2-3 minutes in an oven preheated to 250 degrees Fahrenheit. Remove from oven and place a single (red or green) M&M in the center of each Hershey kiss. Chill in refrigerator until hardened (about 10 minutes).
Hot Chocolate Stir Sticks:Make a variety of stir sticks to dress up your hot cocoa. Simply use plastic spoons and coat the end of the spoon with chocolate, almond bark, or caramel. Before the coating of your choice hardens, be sure to add sprinkles, nuts, or crushed candy cane. Place finished spoons in a clear jar once they are hardened for a decorative display until it's hot chocolate time.
Oreo Snowman Pops:Insert a Popsicle stick into the frosting of an Oreo. Melt an almond bark or a thick white chocolate bar and generously coat the Oreo to act as the snowman's face. Add a candy corn nose and mini chocolate chips for the coal eyes and mouth. Allow white coating to harden on wax paper.
Rice Krispy Treat Wreaths:Simply add green food coloring to your favorite Rice Krispy treat recipe and shape treats into wreath rings (use buttered hands to prevent sticking). Use red frosting dots, dried cranberries, or red M&Ms to create holly berries and a Twizzler string to create a bow. You can also make this same recipe with corn flakes instead.
Indoor Snowmen: When it gets too cold for the kids to make real snowmen outside, break out the marshmallows and create some winter fun inside. Use frosting to stack marshmallows on top of each other and add buttons, eyes, nose, and mouth with different colors of frosting, gum drops, or sprinkles. Use mini pretzels as the arms.
Christmas Tree Cookie Stacks:Create different sizes of your favorite holiday cookie (chocolate chip, sugar, peanut butter, etc.) and stack cookies largest to smallest. Decorate the stacks of cookies with green frosting or sprinkles. Add a star-shaped candy to the top.
Tortilla Snowflakes:Microwave store-bought tortillas for 5-10 seconds until soft and pliable. Fold the tortillas in half and then in half again so that they resemble a pie wedge and have the kids use clean kitchen scissors to cut out shapes as if they were paper snowflakes. Unfold the tortillas and brush with oil. Arrange on baking sheet and sprinkle with confectioners, granulated, or if you don't care about the color, brown sugar and heat in the oven until lightly browned or slightly crisp. Sprinkle with edible glitter for a sparkly effect.
MORE HOLIDAY FUN FROM MOMTRENDS
PIN IT!
Use Pinterest to save your favorite holiday party ideas. Be sure to follow our Holiday Parties, Recipes and Crafts board here.