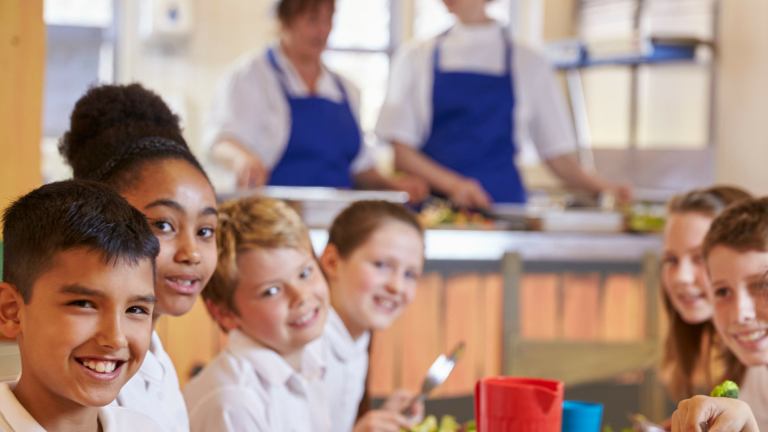 Publish date:
National No One Eats Alone Day
Encourage Your Children to Include Everyone
Encourage Your Children to Include Everyone
As an educator, nothing pulled on my heartstrings more than a student that would find himself alone in the middle-school cafeteria. Mealtime should be about letting off a little steam, making connections, and sharing stories, problems and jokes. No one should have to deal with social isolation. No one should feel alone. My colleagues and I dedicated a lot of time making sure all of our students felt welcome, secure, and, above all, included. On Friday, February 9. join students all across America as they stand (or sit) together on National No One Eats Alone Day.
The social stress, isolation and bullying that occurs in schools is on the rise and Beyond Differences is dedicated to helping teens and schools make social inclusion the new reality.
This year we celebrate "No One Eats Alone Day" on February 9. 
No One Eats Alone is a lunchtime school event that seeks to reverse the trends of social isolation by asking students to engage in a simple act of kindness at lunch – making sure that no one is eating alone; and students are making an effort to eat with new classmates and peers.
Participating in No One Eats Alone offers a catalyst to help change the culture of your middle school to one where all kids feel included, valued and accepted by their peers.

Amazing Breastfeeding Accessories for Mom
As a breastfeeding mama I'm always on the lookout for stylish and functional accessories. Chewbeads and NuRoo offer moms products that pull double duty! Add an extra layer of style while also keeping it functional with Chewbeads necklaces and NuRoo nursing scarves. Both of ...read more
Gender Neutral Nursery Color Schemes
Your family is about to bring a new person into the world, and you want to share a bright, open and welcoming world with your little one. Leave the stereotypes and generalizations behind and let your child enjoy a warm, loving nursery decorated thoughtfully by you and your ...read more
Create a Farm Themed Gender Neutral Nursery
The farmhouse chic trend is taking over nursery design and we couldn't be more thrilled. I'm over the overtly showy rooms filled with glitz and glam. This return to sweetness and simplicity feels just right. One of our favorite homewares shop, West Elm, has created the ultimate ...read more
No One Eats Alone Day works because of three simple ideas:
Students Can Improve Their Own Communities: No One Eats Alone allows students to make a tangible change in their own community by making sure that everyone is included at lunch.
Inclusive Communities: Inclusive school communities create happier and more successful students while also empowering youth to be agents of change.
Stopping Social Isolation Helps to Stop Bullying: Social isolation is oftentimes the precursor for bullying. School communities with a culture of inclusion have far fewer instances of bullying.
National No One Eats Alone Day is just one of the three components of the Initiative and it's likely their most popular national program! It is a student-led lunchtime event and in 2018 will be celebrated in over 2000 schools across the United States. TogGet your school involved, sign up HERE! 
Beyond Differences is carrying a simple message to cities across this nation: We believe that a new day is dawning. A new day in which all kids feel included, valued and accepted by their peers. 
Get your community involved, talk to your families and support No One Eats Alone. Learn more at NO ONE EATS ALONE. 
This is not a sponsored post.