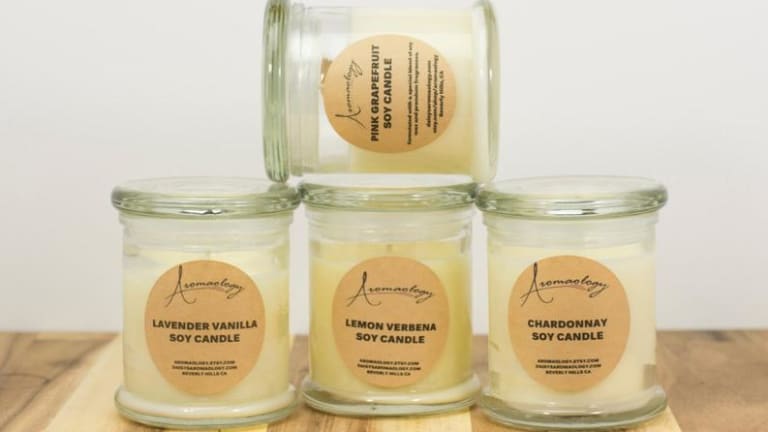 Publish date:
Why Your Home Needs More Candles
Fall is here and you need to stock up on candles, here's a cool resource of designs made by black-owned businesses.
Fall is here and you need to stock up on candles, here's a cool resource of designs made by black-owned businesses.
Right now my home is also my office and a school. It's more important than ever that I make it beautiful and smelling good. I've always been a candle girl, and I'm delighted that there's and entire month devoted to candles. Here's why your home needs more candles and a cool resource of candles made by black-owned businesses. 
Related: Fall mantle decor ideas
As the days get longer and the nights get cooler, the National Candle Association has some illuminating facts (sorry couldn't resist) about World Candle Month. Held every September, World Candle Month is an opportunity to recognize the not-so-humble candle, it's impact throughout history, and the role it plays in our own lives today.
This year's theme is "Illuminate Your Life" and is dedicated to the ways candles light up our world and fragrance our lives. Candles contribute to our health and mental well-being, especially during these trying times.
"There's no question that these are stressful times we're living in," said Kathy LaVanier, President of the National Candle Association. "Many are out of work, many are sick, and we're all living in a state of quarantine that no one could have predicted. It is during these times that we look to the constants in our lives to relieve our stress and keep us calm and thoughtful in order to endure. And there are few products in the world as constant and calming as candles. World Candle Month is a time to benefit from the calming nature of candles at a time when we could use it most."
Momtrends Tip: Before burning, always trim the wick to ¼ inch. You can use a wick trimmer, nail clippers, or scissors. Long or crooked wicks can cause uneven burning, dripping or flaring.
Did you know: U.S. retail sales of candle products are estimated at approximately $3.14 billion annually. 
Five Black-Owned Candle Makers to Shop
Aromaology: ecologically conscious candles. Owner Daisy Kimbro designs to help save our planet.

Five Tips To For a Girl's First Leg Shave
Do you remember your first time shaving? Mine wasn't pretty. I snuck my dad's razor and shaved my legs dry. It wasn't pretty. Get your daughter ready for this rite of passage with the right tools and a quick education. We've got five tips to help you navigate your daughter's ...read more
Why You Should Add Wild Blueberries to Your Diet
Do your New Year's goals involve healthier eating? Adding more fruits and vegetables to your diet? Or even adding tasty new recipes to your repertoire? We've got five reasons for you to add wild blueberries to your diet. Our friends from the Wild Blueberry Association have ...read more
Why Moms are Loving This Blueberry Couscous Salad
It's blueberry picking time. And while most blueberry recipes revolve around baked goods, we've got something different to share. First, a few sentences singing the praises of this lovely fruit. Blueberries are high in antioxidants, improve memory function and reduce the effects ...read more
Southern Elegance: Founder and CEO, D'Shawn Russell is a true southern belle and sources her materials in North Carolina.
Forvrmood.com: FORVR Mood is a lifestyle brand founded by Nigerian-American beauty content creator, US Army veteran, and makeup artist Jackie Aina. These candles sell out fast, be sure to follow on social media for the next shipment.
Gilded Body: These elegant candles are stunning even when they aren't lit. 
The 125 Collection: Quote candles by The 125 Collection are created to inspire, motivate and make you laugh. 
Seven Rules of Candle Safety
A study by the U.S. Consumer Product Safety Commission suggests that 85% of candle fires could be avoided if consumers followed three basic safety rules:
Don't walk away. Never leave the room with a lit candle.
Secure the area. Never burn a candle where it can catch fire. Be aware of curtains, drapes, throw pillows, bedding and carpets.
Keep away from pets and children.
Avoid drafts and vents
Don't move a burning candle. If you need to adjust the placement, blow it out first.
Keep candles 3" apart.
Never use a candle as a night light or while you may fall asleep.
MORE FALL TRENDS FROM MOMTRENDS
PIN IT!
Use Pinterest to save your favorite ideas from Momtrends. Be sure to follow our Home Inspiration board here.
Momtrends was not paid for this post.