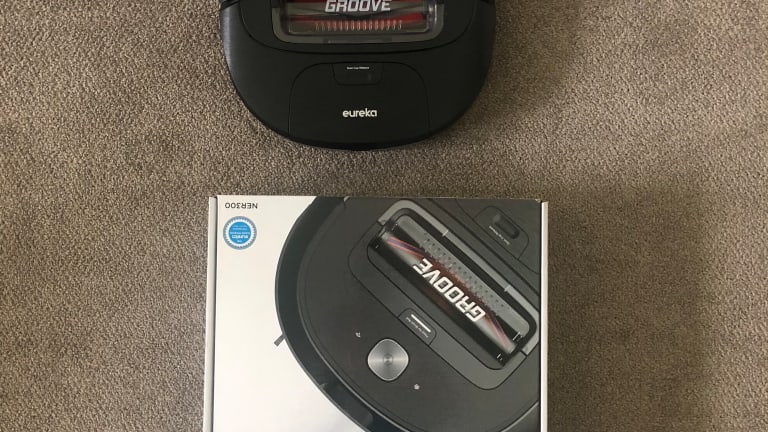 Why Your Family Needs a Robot Vacuum
Everyday cleaning made easy with an Eureka robot vacuum that can help stay on top of the messes.
Like you, I'm home all the time. I've never cooked more in my life. I also have the whole family around ALL THE TIME. Don't get me wrong, I want to do my part to keep everyone safe. But I also want a tidy home and to not become the family maid. This is why I love easy cleaning tools and it's why your family needs a robot vacuum.
Related: How to keep the household running smoothly
I got my first "robot" a few years ago and we were sold. When Eureka told me they had a new model, I was eager to test it and see the improvements in the world of robot cleaning tools. Like it or not, cleaning has become a big part of my life. I need function and reliability. I want a tool that will do its job without me monitoring it. 
How the Robot Vacuum Works
Eureka has been a trusted cleaning brand for over a hundred years. The latest vacuum they've developed is the Groove. When I did my research, I knew I wanted a model with a high efficiency HEPA filter. My daughter and I have allergies and we need to stay on top of the pollen, dust and dander that accumulates. The Eureka filtration system and 2000Pa of powerful suction, gets up even tiny particles. 
I have a mix of carpet, hardwood and tile. The GROOVE effortlessly runs from one surface to the next. It gets into the cracks and crevices you often gaze over in my home and saves me hours of work each week, but better yet, my home looks good, which allows my brain to think more clearly.
One area of improvement: the GROOVE does get stuck on chair legs all the time. To deal with this, we put the kitchen chairs up on the table after breakfast. This system works for us!
See the Eureka Groove in Action
There are four ways to operate the vacuum. 
Use the Eureka app on your phone
Use Alexa and Google Assistant voice control. 
Remote control (is included)
Push the on button. 
We use the push button 90% of the time. Our unit lives in the kitchen and after breakfast, I push the on button and let our little robot friend work. In about 30 minutes, I return to the kitchen and empty out the "tank," Groove is then ready to go for the next day.
The GROOVE is available on Amazon for $199.99
Groove Vacuum Features
Excellent suction. Works on  dust, dirt, pet hair and crumbs on both hard floor and carpets. 
Four ways to control. 
Three cleaning modes: Auto mode for a whole home clean, Edge mode for corners and under kitchen counters and Spot mode for entryways and around litter boxes for a concentrated clean.
Anti-scratch brushroll: Specially angled soft bristle brushes and flexible rubber blades protect more delicate surfaces.
WANT MORE FROM MOMTRENDS?
PIN IT!
Need more ideas on what to do with the kids? Be sure to follow our Home Inspiration board on Pinterest here.
Momtrends was not paid for this post.