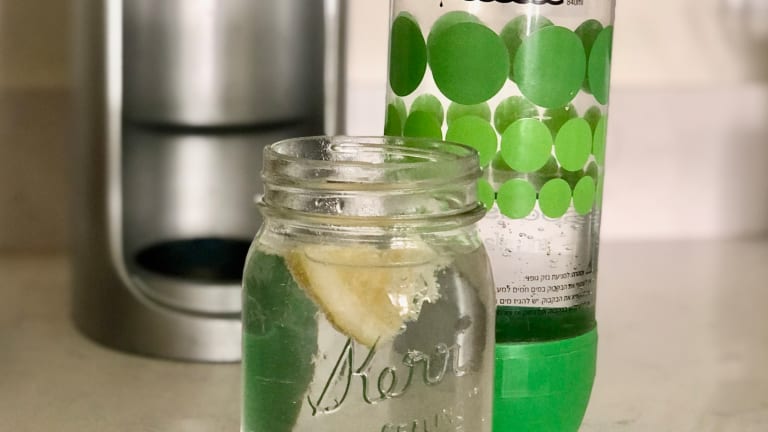 Why We Love the Easy Soda Stream Carbonation System
This is the greener solution for bubble lovers. SodaStream is the easy way to get sparkling water in your home.
We've been using SodaStream for a decade and the love affair continues. Did you know that Americans drink over 40 gallons of fizzy drinks per capita each year, and we spend about $40B annually on packaged soda? Since our love affair with fizz isn't going away anytime soon, it's time to start making bubbles the smart way, at home. 
Shop SodaStream Sparkling Water Makers today and receive free standard ground shipping
Make Your Own Sparkling Water
SodaStream is a convenient and environmentally friendly way to make your own seltzer and soda water at home. By now you've likely seen this device in action already. How the device works is really simple. You simply fill an attached carbonating bottle with water and then attach it to the SodaStream and press what type of carbonation that you want via its 3-level indicator (I'm a max bubbles kind of girl). The kids really love this part as they hear the water start to bubble and finish within minutes. 
If you want more flavor, you can get creative by adding your own flavors to your drinks with their SodaStream sodamix. This includes varieties like Root Bear, Apple, Lemonade, Green Tea and much more. This can also be a great idea for entertaining for both non-alcoholic and alcoholic drink options. At our house we're mostly a straight up "bubble water" kind of house. 
Check out how we turn wine into sparkling wine with SodaStream here.
Greener Bubbles for Everyone
Now that you understand how easy it is to use, let's talk about the environmental impact.  One SodaStream reusable bottle can make thousands of liters of sparking water from the tap, eliminating thousands of single-use plastic bottles. Since we are all about reducing waste and being smarter consumers, SodaStream makes perfect sense for my family lifestyle.
Mail Gas Exchange Service
Part of this green lifestyle is keeping yourself in bubbles. You can exchange your SodaStream CO2 almost anywhere in the US the SodaStream website lists local spots were you can recycle you canisters. Since we are staying at home more, I use the National At Home Delivery and Exchange of SodaStream CO2. 
Note: Due to high demand during COVID-19, they are temporarily limiting orders of CO2 canisters to a quantity of 2 per consumer. 
How it works:
Receive full CO2 cylinders and a pre-printed USPS shipping label inside the package
Pack your empty cylinders into the exchange box and adhere the shipping label
Leave the package in your mailbox, give it to the postman, or drop off at any USPS branch
Note: Each unreturned cylinder will be charged $15 + tax in 60 days from order date. To avoid charge, I recommend returning your used cylinders within 7 days of receiving your order.
Head here to start your at-home exchange of SodaStream CO2
RECIPES FROM MOMTRENDS
PIN IT!
Use Pinterest to save your favorite recipes. Be sure to follow our Healthy Eats board
Momtrends was not paid for this post.