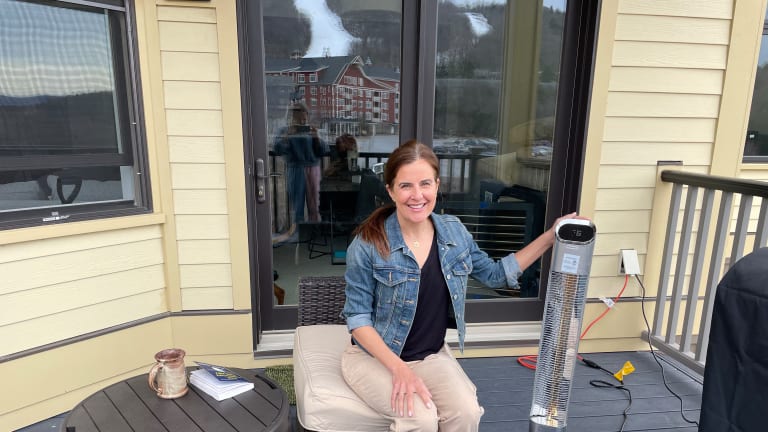 Why I Love This Small Outdoor Electric Heater
Invest in a small portable heater to help you enjoy your outdoor space even when it's chilly.
I love spending time outdoors. Even on the coldest days I try to soak in some Vitamin D. But here in Vermont the cold can keep even the heartiest folks inside. That's why I love this small outdoor electric heater. It gives me the warmth I need to stay outdoors longer. 
Related: 4 super fun summer must haves for your backyard
Why I Love This Small Outdoor Electric Heater
This winter we didn't start using our deck, Our small outdoor space had a beautiful view of Sugarbush and was a quiet place to sip tea or watch a sunset. We even safely gathered friends outside on the deck during social distancing rules.
While we did pile on blankets to keep warm, we also used this nifty little heater I found on Amazon. it was enough to keep two people warm while enjoying the outdoors. It doesn't take up much space and generates a lot of warmth. 
It's also the perfect tool to keep my husband warm when he grills outdoors on the coldest days of winter. Just plug it in and in a few moments you'll be in business.
Check out Our Video Review Here
PATIOBOSS Electric Patio Heater
I found this heater on Amazon and thought the price was right. This is a quiet heater, you won't hear a thing from the heating unit. Once it's plugged in, you can dial up the heat with the remote or the display on the heating unit. 
There are nine levels in all and the F9 generates quite a bit of warmth. Normally we use the touch controls, but the unit can also be controlled with a timer. It's sturdy and doesn't fall over in windy conditions. We keep ours outside and find it to be well made and reliable.
Get the PatioBoss Electric Outdoor Heater here ($165.99) 
MORE Outdoor Fun FROM MOMTRENDS?
PIN IT!
Use Pinterest to save your favorite ideas for summer fun. Be sure to follow our Summer Fun board here.