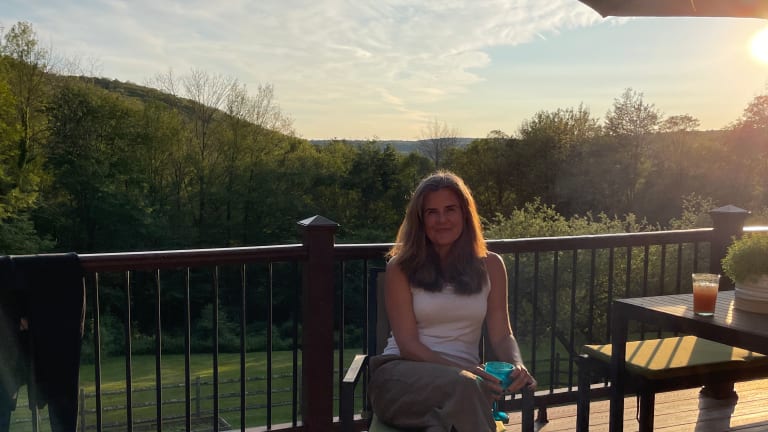 Why I Love My Solo Stove
This easy-to-use campfire is perfect for families who love the outdoors but don't want any hassles.
I love these long nights of summer. We've been enjoying our deck and life in Litchfield County, CT. There's been a streak of gorgeous weather and we've been eating all our meals outside. This summer we added Solo Stove to our outdoor setup and I want to share why I love my Solo Stove. 
Related: 4 super fun summer must haves for your backyard
Better than a Fire Pit
When we did some landscaping a few years ago, we had the contractor build a fire pit. It was made from stones and embedded in the grass. It was a complete bust. 
Starting a fire was tricky since there wasn't enough air flow. If we did succeed in starting a fire, the clean up was a disaster. It was hard to shovel the ashes out of the pit. We gave up on it after a few tries and eventually filled it in. I wanted the fun of a fire pit, but I didn't want it to be a hassle.
Last year I started seeing the Solo Stove ads pop up online. They looked great (who doesn't love shiny chrome!) and easy to set up. For Father's Day this year, I bought the Solo Stove Bonfire with Stand for Mr. Momtrends and it's been a huge hit. 
Get it on Amazon here ($259) (note: this is an Amazon Affiliate Link)
Setting up the Solo Stove Bonfire
It's really as easy as opening the box. The stove measures 19.5x14" and was in three parts in the LARGE box. The stove comes practically fully assembled. All I needed to do was place the base down, put the stove on top and then add the top ring. It took about 30 seconds. I never broke a sweat.
Starting Your First Fire
To get your Solo Stove going you'll need wood an a bit of kindling or cardboard. Just like with a regular fire, you'll want to build a little teepee of sorts to allow air flow and to tuck in your fire starting material. I built a tented base with a few pieces of wood, then I added some old egg cartons and a bit of paper I was going to recycle. I lit the paper and in just a few minutes my fire was roaring. The clever design maximizes airflow and optimizes the burning process. I am no outdoor expert and I was never a Girl Scout and I'm here to say this is a can't miss design. It's so much easier than getting a traditional fire going.
Once it was lit, we just added more logs as needed. The flame stayed consistent and was very easy to manage. 
Why I love the Solo Stove
The enjoyment of this fire was immense. It looks fantastic and the design makes the campfire a lot less smokey. We got the ambiance without any of the downsides. 
How the Solo Stove Works
The Solo Stove camping stove has a double wall design. Bottom vent holes allow oxygen to the feed the fire from below while simultaneously channeling warm oxygen up between the walls of the stove and back into the fire. It's for all of us who love flames but don't want a fight.
I loved that at the end of the night, we simply stopped adding wood. The wood burns very completely (not a lot of wood stumps left). The stove is designed to catch loose ash in the bottom of the stove below the airholes and prevent it from clogging vital airflow. The ash pan also acts as a heat shield and reduces the heat transfer from your Solo Stove to the ground beneath it. 
Note: But we also like that this one came with an additional Bonfire stand to lift it up off of our deck. They do not recommend putting this directly on a wood deck (or any decking) without protection.
The stove does get REALLY hot. Be careful with pets and little kids. But I think that goes for any open flame.
Cleaning Up the Solo Stove
We let the stove cool overnight and then in the morning we dumped the ashes into the woods in our backyard. It's light enough that I could carry it easily. There was no mess, I toted it down to the edge of the woods and flipped it over and I was done.
After it was cleaned out, we put it into the carrying case and stored it until we are ready for our next fire. You don't want to leave it uncovered in the rain as it will rust.
What Wood to Use
Any firewood will burn, but for the best efficiency we recommend dry hard woods. Hardwoods such as birch, maple, hickory and oak will burn longer than softwoods. I spend $6 and get a "campfire" bundle at the local hardware store. I have no idea what kind of wood it is. But it went it up and gave a good glow.
Solo Stove Accessories
We bought the set with the Bonfire stand to allow us to use the stove on more heat-sensitive surfaces. There are also other accessories like grill kits and s'mores kits.
Bottom Line on the Solo Stove
These are REALLY easy to use and set up. If you want the joy of a fire and the camping experience without any hassles, this is for you. It's light, convenient and the fire is incredibly pretty. It turns a night outdoors into an event.
It would be perfect for a rental home, a beach vacation or simply to make your backyard a little more awesome.
Get it on Amazon here ($259) (note: this is an Amazon Affiliate Link)
WANT MORE FROM MOMTRENDS?
PIN IT!
Use Pinterest to save your favorite ideas for summer fun. Be sure to follow our Activities to do with the kids board here.
Momtrends was not compensated for this post.