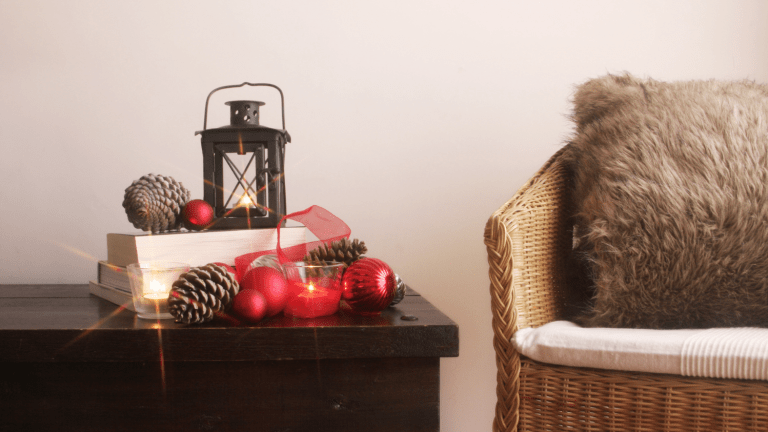 Ways to Make Your Holiday Guests Feel Welcome
Easy, yet thoughtful ways, to welcome your holiday guests this season.
As we prepare for Thanksgiving and beyond, it's likely that we'll be welcoming holiday guests into our homes. I just love all the quality time opportunities this time of year provides and that includes having loved ones come stay with us. I'm sure many of you already have plans for a holiday guest or two as well, so I thought I would round up some ideas to help you welcome them into your home. And it's all in the details...These thoughtful little details will help ensure that your guests enjoy your space!
Related: Creamy coffee cocktail
Don't neglect the nightstand
You want to make the place your guests retire to in the evening as comfortable as possible. Something as simple as placing a water pitcher and a glass on their nightstand will go a long way. You certainly don't want your holiday guests to have to go fumbling around in the kitchen in the middle of the night. Add a few of your favorite books too, in case they need some reading to wind down.
Decorate the Guest Room
You decorate most areas of your home right? Don't neglect the guest room! Holiday guests will surely appreciate a little holiday magic sprinkled about where they lie they're heads down at night. And what a cheerful way to wake up! Even if you don't want to go all out and put up a tree in your guest space, for instance, just a few holiday throw pillows and decorative accents will go a long way. It doesn't have to take a ton of time or money to decorate your guest room, just a little bit of effort. And that effort definitely lands you on the how-to-make-guests-feel-welcome winning list!
Wi-fi password printable
And speaking of the nightstand, even though we may try to unplug when we're on vacation, you know most people want to be able to at least get their Instagram fix at night. Haha! So, a framed wi-fi password displayed on your guest room nightstand would be a most welcome addition I'm sure!
Set up a coffee bar
I assume you're a picture perfect hostess so you'll be offering your guests something to drink regularly, but wouldn't it be nice if they could just sidle up to a DIY coffee bar and help themselves to some refreshments? I like to keep out some tasty snacks and coffee fixings at all times during the holiday season, especially when I have guests in the house!
So, as you make your holiday plans I hope these easy ideas help you welcome your holiday guests to your home!
Bring Back Cocktail Hour
I don't know where cocktail hour went, but I'd like to see it brought back into regular rotation. If there was ever a time to serve up cocktails at home it's when you're hosting holiday guests. Switch things up by throwing together a different signature cocktail, like mulled wine or warm cranberry citrus punch, each night your guests are with you. I guarantee you'll go down in the books as the hostess with the mostess! In fact, I think I'm going to bring back holiday cocktail hour even when I don't have guests. 
BE SURE TO CHECK OUT THESE OTHER DELICIOUS WINTER COCKTAILS:
PIN IT!
Use Pinterest to save your favorite ideas from Momtrends. Be sure to follow our Holiday fun parties recipes and crafts board here.
We were not paid for this post.