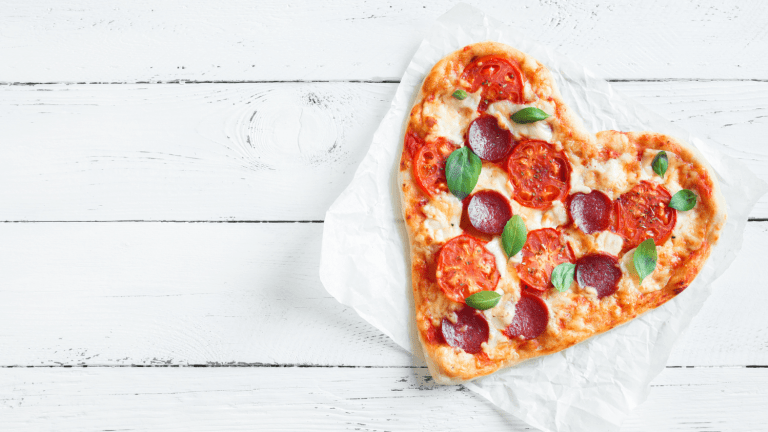 We HEART Pizza!
Seven delightful ideas that are perfect for National Pizza Day and Valentine's Day.
Raise your hand if you love pizza... Me! Me! Me!
Yeah, pizza could totally be my Valentine... Sorry, husband and children, but I'm spending Feb. 14 with a bottle of wine and a large pepperoni pie. (Actually, that sounds kind of incredible.) Alas, I can have my pizza (and eat it too!) and still have a romantic evening with the hubs or a sweet dinner with the fam.
Related: Easy mini pizza recipe for kids
It's National Pizza Day (today!) and Valentine's week, so I'm making heart-shaped mini pizzas for dinner. I have to be honest—I'll probably cheat with pre-cooked pizza and a cookie cutter (meal-time hack!) as I've done in the past! Of course, I always prepare a green vegetable for my kids, and a broccoli bouquet makes an adorable side dish. This meal is always a guaranteed hit with the kids, and I can't wait to see the look on their faces when I serve it with love.
To celebrate two of my favorite holidays (in one jam-packed week!), I've rounded up a few more delightful ideas that are perfect for National Pizza Day, Valentine's Day, and, well, ANY day of the year—because, there's never a bad time to eat a slice... or two. Or three. Or eight.
We Love These Pizza ideas for Valentine's Day
Why not wear your love with this cute pizza tee we found on Etsy.
MORE FOOD FEATURES FOR KIDS
PIN IT!
Use Pinterest to save your favorite recipes. Be sure to follow our Kid Food Pinterest board here.
This is not a sponsored post. All opinions are our own.