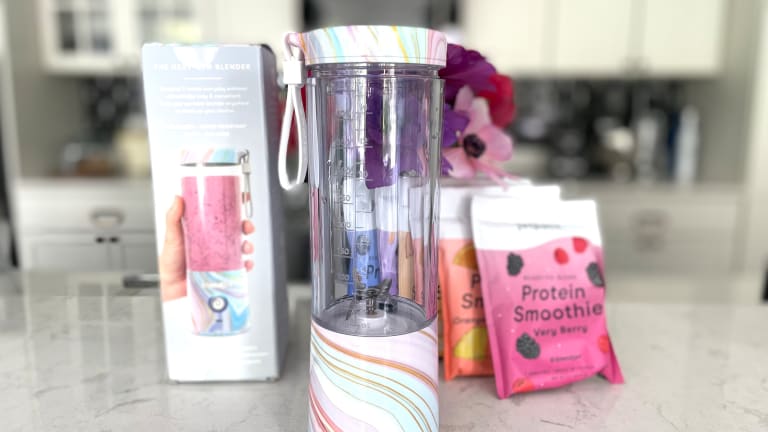 We Found The Best Portable Blender for Smoothies
BlendJet 2 makes perfectly blended smoothies, shakes, margaritas, baby food and more on the go — and was even recently launched into space
Our family runs on smoothies. The whir of a blender is our morning serenade. With a house full of athletes, we need a blender that can keep up with us. I'm thrilled to say we found the best portable blender for smoothies--you've got to check out the BlendJet 2.
Related: Brain boosting purple smoothie recipe
Why We Love the BlendJet 2 for Our Smoothies
The BlendJet 2 is a reliable portable blender that's got power and style. My tester is 13 and couldn't wait to get mixing. After a week of testing, I can give this the Momtrends seal of approval. 
BlendJet 2 is a powerful little machine thanks to BlendJet's patented TurboJet technology. It uses offset stainless steel blades to create a tornado effect that blasts ingredients into the back of the jar 275 times per second. In the mornings, this means my girls can power up fast. It's ideal for a dorm room or desk as it's small and efficient. 
It's a lot quieter than our good old-fashioned blender and less messy than immersion blenders. It's also light and portable (coming in at 1.34 lb).
Get the BlendJet 2 at Bed, Bath and Beyond (please note this is an affiliate link) for $49.95.
How to Use the BlendJet 2
All you need to do is load it up with your favorite ingredients. With a double-press of the power button, BlendJet 2 pulverizes all the goodness in just a few seconds. At 16 oz, the jar holds 33% more than the original BlendJet and has measurement markings to ensure ingredients are perfectly portioned.
On the blender base, you'll see the power button. It lights up to alert you on low battery and charging status. The light will also animate to indicate the blending mode, pick from: Blend, Pulse, or Lock Mode.
Once charged the BlendJet will give you 15+ blends (about an hour per charge). 
Check it out in action with our video
What do you want to make with your BlendJet 2? You can mix up protein shakes, mixed drinks, creamy frozen lattes, milkshakes, slushies, baby food, dips, dressings, sauces and so much more.
Cleaning the BlendJet 2 is easy. It's water-resistant, so you don't have to worry about getting liquid in the USB-C port or accidentally submerging your BlendJet 2 in the sink or pool. Just add a few drops of dish soap and blend for a few seconds to rinse it out.
The Best Portable Blender for Smoothies
Now that I've convinced you this little gem works, you can pick your color. BlendJet 2 comes in 16 vibrant colors plus a few cool patterns. We picked the swirly Geode. This makes a great gift for teens as it looks cool on a desk or countertop. Head here to see all the colors.
Trying BlendJet JetPacks
When you're on the run, you don't always have access to fresh ingredients, which is why BlendJet created JetPack Ready-to-Blend Smoothies. For the mornings when we are in a mad dash, these come in VERY handy.
We added oat mild and were able to create a protein shake in a flash. The packs work with any milk or water. They were developed in partnership with culinary experts and each single-serving JetPack is loaded with the freshest fruits and veggies. 
You can store the packs in your pantry (no fridge required) making them perfect to stash in a locker, dorm room or office drawer. Options include Banana Blueberry, Mocha Chia, Green Peach Ginger, Raspberry Dragon Fruit, Mango Matcha and Tropical Blue. Get the protein packs here blendjet.com/marketplace#jetpacks
More Smoothie recipes
Ready to take your smoothies to the next level? Try one of the 50 original recipes specially created for your BlendJet with this blender recipe book to reinvent your routine. Get the recipe book here.
We've been using the book to help inspire our mornings and love this new addition to the very busy kitchen.
MORE FOOD FEATURES FOR YOUR FAMILY FROM MOMTRENDS
PIN IT!
Use Pinterest to save your favorite recipes. Be sure to follow our Kid Food Pinterest board here.
Momtrends was not paid for this post. We were gifted a unit for testing. This post contains affiliate links.