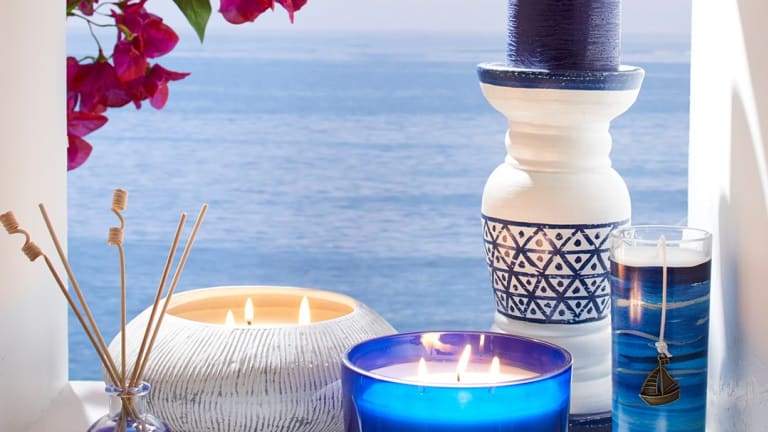 Transform your Outdoor Space with Pier 1 Imports
Upgrade your outdoor living space with some gorgeous coastal chic pieces.
You can have a beautifully landscaped outdoor space, but it just doesn't seem quite finished in my book without a living space incorporated. I love being outside, so when I had the opportunity to transform an outdoor living space with some gorgeous coastal chic pieces, I was thrilled! Today I'm sharing the before and after photos of my project, so you can see just how much oomph furniture can add to your own yard.
Related: 5 tips to creating a budget friendly outdoor space
Ready to transform your outdoor space?
First, I looked for just the right outdoor furniture. I knew I wanted to create a cozy little area that my family and I could relax in, but that wouldn't necessarily take up a huge portion of the backyard. 
The San Mateo line at Pier 1 Imports was the perfect fit. It's big enough to make an impact, but doesn't dominate the area. The Deluxe Settee and Dining Chair go perfectly together. I just may add another chair and an ottoman in the future if my family takes to our new space like I think they will!
Adding Accessories to Your Outdoor Space
As far as accessories go, I added coastal pops of color via throw pillows, specifically the Cabana pillows in citrus and cobalt. Colorful pillows are an inexpensive way to upgrade your outdoor space. These coastal hues are pretty classic, they go beautifully with the striped lumbar pillow. I just had to include a pretty print in the mix! I also picked up some pieces that would be perfect for entertaining because clearly I'll need to have a rockin' party in the very near future to show off this revamped space. Haha!
Why the Coastal Vibe?
I'm a Florida girl through and through, so I naturally gravitate toward coastal inspired decor. I don't live on the beach, but it's less than an hour away, so I've always worked a beachy vibe into my home...and now it's part of my favorite outside space too! 
We Love Beachy Serving Pieces 
Now that I have the big pieces set, it's time for finishing touches, the little pieces that make this space inviting and make things look festive when we entertain. Here's what else I added:
A pretty galvanized tray
Clarity acrylic goblets 
A centerpiece bowl 
I used the centerpiece bowl to create a focal point.  As far as that centerpiece goes...I used the Pier 1 Imports Carmelo dinner bowl, seashells that we found on our last beach trip and an LED pillar candle to create my EASY centerpiece. I love using things in unexpected ways like that! Don't you?
Momtrends Tip: Don't forget the lanterns. A few carefully placed lighting pieces can illuminate your yard. I love the ones I found at Pier 1.
Stay tuned for my next post on how I've been entertaining in this new coastal chic space…
Find what speaks to you. See our Outdoor Living collection in stores or at pier1.com/outdoorliving.
More Outdoor Living Inspiration from Momtrends
PIN IT!
Use Pinterest to save your favorite ideas for summer fun. Be sure to follow our Summer Fun board here.
Images via Marissa Stratton Photography. This is not a sponsored post.