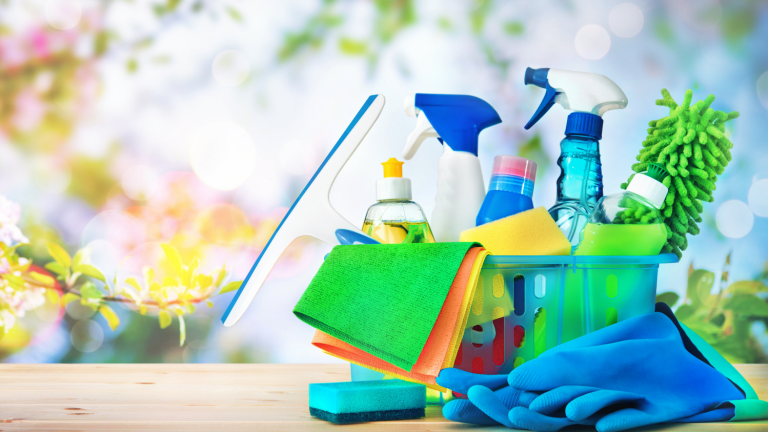 Top Spring Cleaning Tips
Check out our top spring cleaning tips to keep your home fresh and organized.
March has finally arrived! Can you believe it? Spring is on its way and that means one thing...It's time for spring cleaning! I'm always inspired to clean out the cluttered areas of my home, get more organized etc. with the arrival of each new season. And that goes double for spring. Once spring's here, I want everything to be, to quote one of my favorite jams from the year 2000, so fresh and so clean clean.
Top Spring Cleaning Tips
Whether that means I clean out my makeup drawer, or even just have a cleaning lady come in to do a proper deep clean, I'm all about freshening things up. And I bet I'm not the only one with a spring cleaning itch, so I've rounded up some of our top spring cleaning tips!
Try Out New Products
I'm loving Babyganics' plant-based, non-allergenic cleaning products. They have everything from fragrance free detergent, to floor cleaner, hand sanitizer, tub and tile cleaner, multi purpose cleaner, all surface wipes and more. As the mama of children who have allergies and very sensitive skin, I'm always looking for products that won't irritate them. Head here to learn more about Babyganics.
Clean up your makeup habits
How often do you clean your makeup tools? I've definitely been guilty of not cleaning them often enough, especially my brushes. If you count yourself in the same camp, you're going to want to check out our tips for how to clean them and when! Don't worry...The process is super fast and easy! Find out how we clean up our makeup here.
Bring in help
There is nothing wrong with calling in the big guns to give your home a proper deep cleaning. This busy mama does it regularly. I can keep up with the small stuff, but I just don't have the time to give my home the full attention it deserves. Handy.com can help with that! Check out our experience with a housecleaning service. 
MORE CLEANING HACKS FROM MOMTRENDS
PIN IT!
Use Pinterest to save your favorite tips and life hacks from Momtrends. Be sure to follow our Cleaning and organizing board here.