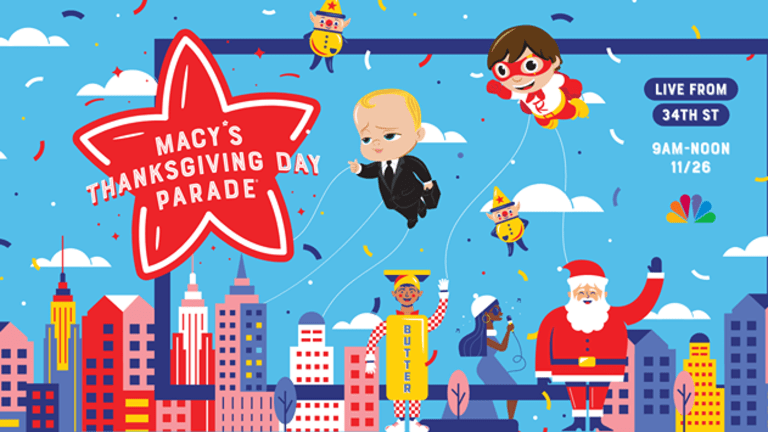 Tips for Viewing NYC Macy's Thanksgiving Parade
Reinvented to safely keep spectators in New York City at home and families nationwide glued to their televisions, the 94th edition of the iconic event
Each year, more than 3.5 million people in NYC and over 50 million people at home watch the Macy's Parade. 2020 will be different. Due to COVID-19, the parade will be viewed only via screens to keep everyone safe and make sure there are no crowds gathered.  
Related: Thanksgiving gratitude free printables
2020 Macy's Thanksgiving Day Parade Details
The 94th Annual Macy's Thanksgiving Day Parade® kicks-off the holiday season on Thursday, November 28 at 9 a.m. ET.  Savannah Guthrie, Hoda Kotb and Al Roker will host.
To safely bring the spectacle to millions of viewers nationwide during this unprecedented time, the annual production will forgo marching down the traditional 2.5-mile route in Manhattan in order to avoid gathering large crowds. Instead it will be reimagined over the course of several days as a television-only event leading up to the live Thanksgiving Day broadcast that will feature the breadth of its signature elements. 
To give the nation a dose of the lost magic of some of these beloved events, this year's Macy's Parade will feature a selection of performances representing a sampling of the annual traditions that had to scale back, cancel or indefinitely postpone their events or performances. The best of Broadway will once again be featured in the Macy's Parade with performances from the casts of Ain't Too Proud - The Life and Times of The Temptations, Hamilton, Jagged Little Pill, and Mean Girls. In addition, the show-stopping Radio City Rockettes® will bring their signature magic to Herald Square.
Stars on Parade
Featuring a mix of musical genres from Pop and R & B to Country and Latin music, the Parade will be the ultimate television party destination this November. Joining the festivities will be AJR, Lauren Alaina, Ally Brooke, Sofia Carson, CNCO, Jimmy Fallon and The Roots (opening the show), Karol G, Goo Goo Dolls, Tori Kelly, Patti LaBelle, Darlene Love, Miss America 2020 Camille Schrier, Matthew Morrison, the cast and Muppets of Sesame Street, Keke Palmer, Dolly Parton (on behalf of Cracker Barrel Old Country Store), Pentatonix, Bebe Rexha, and Brett Young; with an extra special appearance by the one-and-only Santa Claus
To keep the kids busy, Macy's has added coloring sheets to download and STEM projects on their website. 
New Parade Floats
Conceived and crafted by the incredible artisans of Macy's Parade Studio – a design and production facility that includes carpenters, engineers, electricians, painters, animators, balloon technicians, sculptors, metal fabricators, scenic and costume designers – this year's line-up of floats sets an unparalleled stage for entertainment.
While they may seem to float as three stories tall and several lanes of traffic wide stages, the magic is truly in the design as these floats are built to collapse to no more than 12 ½-feet tall and 8-feet wide in order to travel safely from the New Jersey home of the Parade Studio to the Manhattan starting line via the Lincoln Tunnel for the annual celebration. This year four new floats will debut including Big Turkey Spectacular by Jennie-O (Bebe Rexha), Christmas in Town Square by Lifetime® (Tori Kelly), Her Future Is STEM-Sational by Olay (Karol G), and Tom & Jerry's Tourist Trap by Warner Bros. Pictures.
New Balloons
New giants joining the line-up this year include The Boss Baby by DreamWorks Animation's "The Boss Baby: Family Business" and Red Titan from "Ryan's World" by Sunlight Entertainment and pocket.watch. 
The newest balloon stars will take flight without the traditional 80-100 handlers, instead employing an innovative, specially rigged anchor tether framework of five specialty vehicles field tested and approved by the relevant agencies in the City of New York. Their Thanksgiving Day flights will be manned by a smaller vehicle team helping to safely reduce the overall number of people needed underneath each balloon. 
Macy's Thanksgiving Parade Origins
The annual Macy's Thanksgiving Day Parade in New York City is the world's largest parade. The parade started in 1924, tying it for the second-oldest Thanksgiving parade in the United States. 
In 1927, character balloons first joined the revelry, the inflatables have become a signature element featuring some of the world's most beloved characters.
PLAN YOUR NYC VISIT
Check out our NYC page for things to see and do in NYC and don't miss these highlights.
Head here for reviews of current Broadway shows
PIN IT!
Use Pinterest to save your favorite NYC outings. Be sure to follow our New York City board here.
Momtrends was not paid for this post. Images provided courtesy of Macy's for News Purposes Only. Photo credit: Eugene Gologursky/Getty Images for Macy's