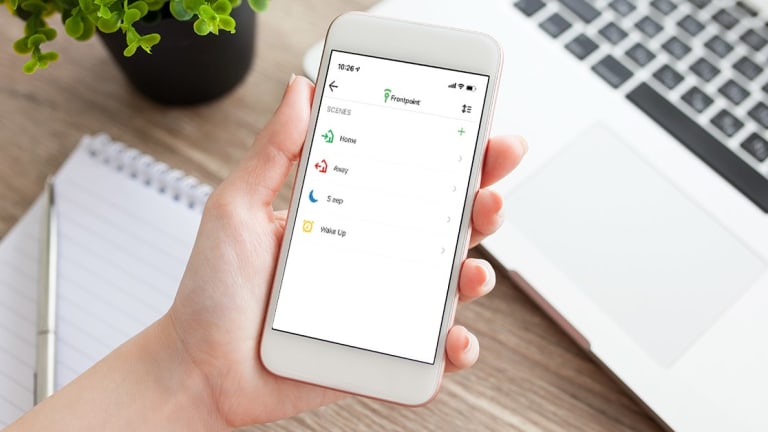 Tips to Feel Safe and Secure in Your Home
Take the initiative to safeguard your home this holiday season. Frontpoint security combines a self-setup system with professional monitoring.
We have a home that inherited a security system. It's old and clunky and has technology that is neither intuitive nor helpful. Since I've been home more than ever this year, and feeling less than secure with everything that's happening in the world, I've decided to do what I can to make sure I feel safe and secure in my home. It's as easy as an updated system from Frontpoint Security.
Click here for Cyber Monday Offer - Packages starting at $99 + Free Doorbell Camera + 35% Off Add Ons + Free Shipping
Holiday Tips Tips to Feel Safe and Secure in Your Home
If you are feeling vulnerable right now I completely understand. This year has to go down as one of the least enjoyable. But as we gear up for a very different holiday we can do a few things to stay safer.
Don't share plans on social media. If you are a rare family that's planning to travel, don't broadcast your trip on social media. My advice? Share photos after the trip so no one knows where you are in real time.
Track deliveries. Camera systems can help, but even better is to track deliveries so you know when your gifts are arriving. I keep a separate tab on my email labeled "orders" to track incoming and outgoing packages.
Don't click weird links. If in doubt, delete it. Whenever the economy takes a hit, scammers double down. If an email or phone offer looks too good to be true, it probably is. Don't give out personal information to unsolicited salespeople.
Get a safe. We have a good, old-fashioned fire safe for our important papers.
Update your smarthome security system. Invest in a Frontpoint system that combines the latest technology with exceptional customer service.
A Better Security System
Frontpoint keeps families safer and more connected. It makes a great gift for grandparents or new parents or really ANY parents that want a little more control in this out of control world.
The founders of Frontpoint have been shaking up the industry for over a decade. My security old system is circa 2004, and it's about as good as my puppy at scaring off intruders. Frontpoint has always used technology to outsmart the bad guys. They were the first company to use cellular technology in every system.
It's a system that works with an app and can be customized for any size home. Frontpoint combines a self-setup system with professional monitoring.
No More Waiting for Appointments
One of my biggest complaints about the old system was how clunky it was. I needed a technician to come to my house whenever something went wrong (and there were a lot of issues). Frontpoint is a DIY system. You decide what parts of the home to cover and install everything yourself. 
Home security packages start as low as $99, which make them a great gift. For recent college grads and grandparents, I love the Safe Home Starter kit. It's a 7-piece system, and the perfect home security starter package. Kit includes:
1 X Frontpoint Hub & Frontpoint Keypad
2 X Door/Window Sensor
1 X Motion Sensor
1 X Yard Sign
1 X Window Decals (Set of 3)
1 X Door sticker
With Frontpoint you can expand your system as your home grows to include more sensors. Start with downloading the Frontpoint App. Then unbox your system. After you set up the system (it's ready to go out of the box), Frontpoint communicates with you via the app. 
Exceptional Customer Care and Support Service
Frontpoint has a spotless privacy record. We all worry about hacking and cyber attacks, the tech team at Frontpoint is working 24/7 to stay ahead of the curve.
Shopper alert: Many of the DIY security systems on the market only work if you are monitoring them on your phone or laptop. Frontpoint offers award-winning, professional monitoring so you don't have to self-monitor because in an emergency, every second counts.
Head here to get safer, smarter home security. Discover more at Frontpoint Security!
In a world where so much is out of our control, it's nice to know there's a simple way to give the gift of security to your family.
This is a sponsored post.