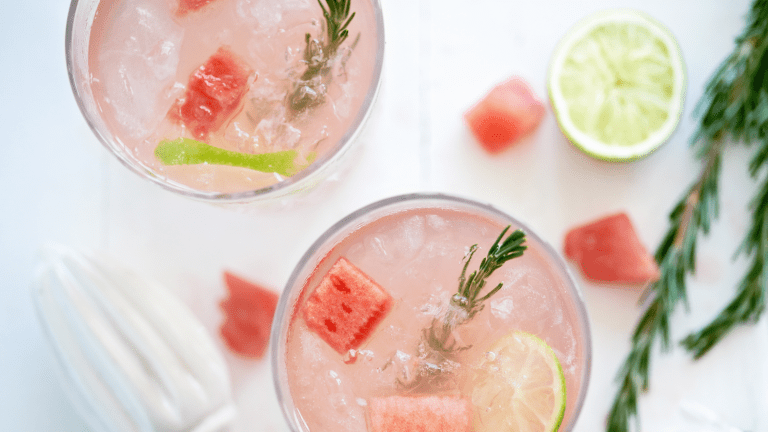 Tips for Making Your Mocktails More Fun
Three ideas to make a simple mocktail feel like more than just seltzer water.
We interrupt your normally scheduled alcohol to bring you.....a mocktail. I know, I know - it's the weekend. And if it's been one of those weeks, well. we get it. But, perhaps, you've been having that nagging feeling that you need something healthier. Something that will make you feel special tonight but not retched in the morning. Today, ladies, I present the almost-like-a-cocktail mocktail.
Why Mocktails Matter
Don't get me wrong - I love a good rosé or gin & tonic. But there are some days that I know I need to lay off the booze and give my liver a break. Still, by 5pm, I want something different than the coffee, tea and water I've been drinking all day. I need something that says, "Hey, you! Congrats! You made it through work/homework/laundry/parenting/dinner prep - cheers to you!" Here's how I tricked my myself out with a mocktail.
Great Mixers
I started with this Trader Joe's Spindrift, a flavored seltzer water. It's the first time I've tried it and so far, I'm impressed. Spindrift is available in a 4-pack of cans and comes in raspberry/lime, cucumber, grapefruit, watermelon and lemon. This seltzer has just 10 calories and 2 grams of sugar (at least for the raspberry/lime).
Tips for Making Your Mocktails More Fun
The tricks to making this mocktail feel like more than just seltzer water are simple.
Pour it into a fun glass. Martini, wine, margarita - just not your basic water cup.
Jazz it up a bit. I opted for some fresh-cut limes and a spring of rosemary. It's all about the garnish.
Add some color. A splash of juice or colored seltzer will make your drink more festive.
Add fresh fruit. Toss in some fresh berries or watermelon to make it even more summer fresh.
The stemless wine glass made my seltzer water feel fancy and between the bubbles and the blend of flavors I almost might have believed there was some vodka mixed in there too. Which you could do. Tomorrow night.
Cheers!
Want more from Momtrends?
PIN IT!
Use Pinterest to save your favorite cocktail ideas. Be sure to follow our Drinks board here.