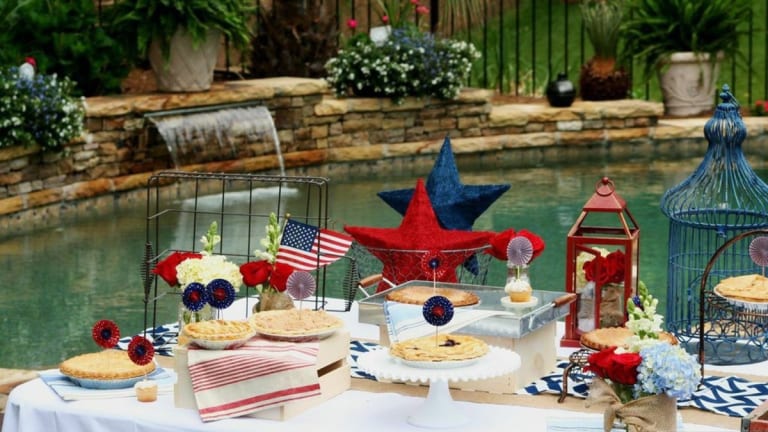 Throw a Rustic 4th of July Family Party
Party ideas for a perfect 4th of July Party. Set up a dessert bar by the pool--it's easy, festive and patriotic. Party fun for the 4th.
We love the traditional 4th of July parties, but let's admit it sometimes they can be kind of dull. Invite the neighbors, throw some meat on the grill and boom, it's a party, right? With simple store bought desserts and easy styling tips, any busy mom can jazz up a tired party by adding some red, white and fabulous!
Related: Macy's 4th of July fireworks
Throw a Rustic 4th of July Family Party
Combine red, white and blue with burlap fabric, galvanized metal and wire baskets for a rustic look. Stick with the Americana vibe by arranging flowers in mason jars and tying with burlap ribbon.
American Pie Dessert Table
Forget about whipping up homemade desserts, who has time for that? Spend more time relaxing and buy store bought desserts for your shindig. Perching pretty pies on cake stands and wooden crates of differing heights makes for a tablescape that looks like it took hours to create!
The Ceramic Berry Basket from home goods mecca Birch Lane is perfect for holding fresh berries and makes a great accent piece.
Angel food cake, berries and whipped cream in mason jars are a ready-made treat that anyone can whip up in no time. Serve with wooden forks adorned with the newest patriotic patterns from Duck Tape. Available in more than 250 colors, designs and licenses, Duck Tape® provides plenty of inspiration and bright designs for your Fourth of July celebration! It's an easy, inexpensive way to embellish existing party decor and make your own unique decorations and crafts, especially with new prints U.S. Flag and Red Bandana at hand.
Cocktails
Duck Tape also makes for crafty drink flags! Spiff up a stirrer by making drink flags out of Duck Tape. Refreshing Vodka Sodas are displayed in these classic Jubilee Highball glasses from Birch Lane.
Add a pop of color and flavor to your cocktail by adding Lifeice cubettes - an all natural bite sized ice cube that comes in several delicious flavors and is packed with Superfoods and health boosters. The bright berry mini popsicle-esque Lifeice cube has a variety of berries including the superfruit Yumberry and was the perfect (nutritious!) addition to a simple vodka soda.
Display your cocktails on a versatile tray like this Boardwalk Square Tray from Birch Lane. With rope handles and a white wooden finish, this tray combines rustic with nautical and is an essential piece for any home entertainer. We all know that wine is an absolute must-have on any bar cart.
Video Inspiration of the Rustic Party
The galvanized wine caddy also from Birch Lane is a great entertaining tool that holds 6 bottles for guests to choose from!
Kids Activities for 4th of July
Keep the kiddos entertained by playing using Duck Tape. Make games like Four Square or Hopscotch by taping grids down on the driveway or patio. The kids will be occupied and the clean-up is a breeze!
Making your 4th of July party extra fabulous is simple with these shortcuts! So sit back and enjoy the fireworks this year - you deserve it!
For more party tips and tricks, head over to Jackie Fogartie Events' blog!
MORE 4TH OF JULY IDEAS FROM MOMTRENDS
PIN IT!
Use Pinterest to save your favorite ideas for summer fun. Be sure to follow our 4th-of-July board for more inspiration.
For even more Momtrends, follow us on Facebook, Twitter, YouTube, Pinterest and Instagram