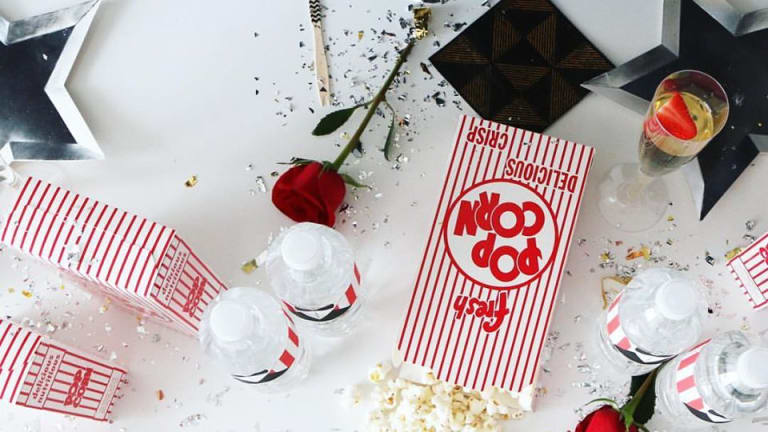 Throw a Popcorn and Prosecco Red Carpet Party
Popcorn and Prosecco if you are inviting friends over to watch the big show take our party tips for hosting a casual and fun Oscar Night Party.
It's time to roll out the red carpet. One of my favorite at-home party themes is the red carpet party. From the Oscars to the Golden Globes, I love a chance to see the stars dress up and deliver inspiring speeches. We've teamed up with the pros at Little Miss Party to come up with a tips for you to throw a popcorn and Prosecco Red Carpet Party.
Related: How to make the best cheese charcuterie board
Throw a Popcorn and Prosecco Red Carpet Party

As badly as we'd love to spend the night amongst the stars in Hollywood showing off our hot dresses on the red carpet, the reality is…we're watching it all happen on TV. So we created a festive table and hung tissue decorations which can be found in our Little Miss Party in a Box and will be inviting friends over to watch the big show.
What to Eat at Your Red Carpet Party
Keep the menu simple so you can enjoy the company of friends and not worry about what's in the kitchen. Some salty snacks are what's called for. Start with these great popcorn recipes. They've got some creative toppings.
We also whipped up a spread with a zesty appeal. This dip is made with rosemary mixed with shredded parm and sun dried tomatoes mixed with fresh thyme. Let your guests help themselves to the toppings of their choice.

For more dip ideas, try these
Prosecco Drinks for Your Red Carpet Party
When it comes to what to wear, you can of make your friends get dressed up, but we tend to go the cozy route. Invite your pals to come in jammies and ready to watch.
Just because we are in PJ's doesn't mean we can't drink something fancy. To sip, we served Prosecco mixed with pomegranate juice, our favorite mixer in the winter.
Here are our top three Prosecco drinks:
Desserts for Your Red Carpet Party

And to cap off the night, just in time for the big awards, we served star shaped sugar cookies with an edible gold glitter dusting, that you can find at NY Cake, made by our friend, Clarelicious. Check out our favorite sugar cookie recipe here. 
Now, of course, don't forget the ballots and pencils! Ask your guests to fill one out when they arrive and then trade ballots to score for each other throughout the show. Everyone can throw a few bucks into a jar to make it interesting or you can just play for fun!
For more tips on entertaining and styling ideas check out the Little Miss Party Blog.
MORE PARTY IDEAS FROM MOMTRENDS
PIN IT!
Use Pinterest to save your favorite recipes ideas. Be sure to follow our Everyday Entertaining board here.