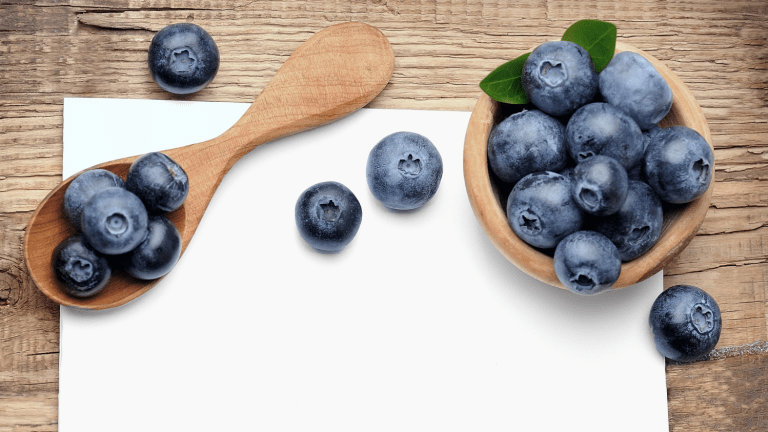 3 of Our Favorite Summer Blueberry Recipes
From cake to cocktails, these summer blueberry recipes are easy, yet totally delicious!
There is not much I enjoy more than than whipping up my favorite recipes with all the delicious produce you can find in the summertime. I, admittedly, am more of a baker than a cook, so fruit filled recipes are kinda my jam. And if we're talking about cocktails...they're really my jam. Haha!
Related: Frozen blueberry breakfast bars
Among my favorite fruits to play around with are blueberries. They're simply delightful in both desserts and drinks and that's why some of my very favorite blueberry recipes are for cake and cocktails! So, if you've been looking for some easy ways to use up the blueberries in your icebox, look no further...
Summer Blueberry Salad
 This salad is quick to make and brings together a great combination of flavors. Diced mango and red onion partner with blueberries and flecks of fresh mint in this colorful, lemony couscous salad that stands out on the table and the palate.
Get the Blueberry Couscous salad recipe here.
Blueberry Wine Spritzer
There is nothing more refreshing on a hot summer day than a nice wine spritzer. If you're not opposed to sweet drinks, blueberry wine spritzers are for you! Plus, they only require two ingredients...Score!
Get the Blueberry Wine Spritzer recipe here.
Blueberry Pound Cake
I think we so often hear about lemon pound cake, blueberry is overlooked. It actually pairs quite nicely with pound cake and I love how Take Time for Style lightened up their pound cake recipe with olive oil!
Get the Blueberry Pound Cake recipe here.
Spiked Blueberry Lemonade
You just knew I had another adult beverage for you right? Now I've added vodka to my strawberry lemonade before, but spiked blueberry lemonade? That has to be amazing! And that fact that it Sunny Sweet Days' recipe contains bubbles just seals the deal for moi!
Get the Spiked Blueberry Lemonade recipe here.
Why we Love Blueberries
It's no secret that blueberries offer noteworthy nutritional benefits. Vitamin C, manganese and fiber are just a few. You can find fresh blueberries in grocery stores nearly year round. Better yet, frozen blueberries are great for smoothies and baking. Enlist the kids' help in freezing blueberries at home, or look for them in the freezer section of your grocery store.
So, if you love your blueberries as much as I do, you're going to want to try your hand at these delicious blueberry recipes! I daresay you won't be disappointed...
MORE FOOD FEATURES FOR YOUR FAMILY FROM MOMTRENDS
PIN IT!
Use Pinterest to save your favorite recipes. Be sure to follow our Kid Food Pinterest board here.
Momtrends was not paid for this post.