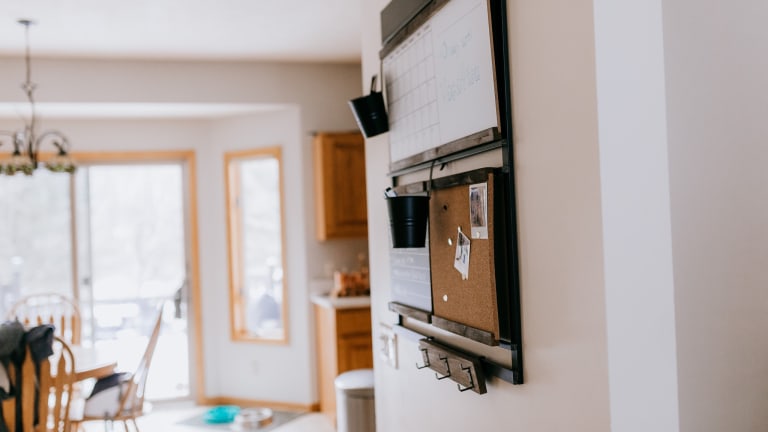 Three Must-Have Home Organization Products
It's a challenge to find the very products that work best to fit your family's space as well as your budget, we've come up with the essentials.
With so many of us working from home, we're struggling to keep up with the mess and clutter. Thankfully there are organizational tools and products on the market, to help parents get a grip on the situation. To get you started on the path towards a tidy home, we've come up with three essential (or as we say must-have) home organization products. 
Diving into organization, be sure to check out this post about setting up your family calendar.
Three Must-Have Home Organization Products
Here are three important tips to follow when shopping for functional and stylish home organizational products:
Label Maker/Labels: You can invest in all the cute baskets, bins, file folders, boxes and trays, but if you don't label them, your system will never work. It is one thing to remain neat and tidy but if the organizational products are not labeled, suddenly, operation organization just became a bit complicated.  If these products are not labeled, you may not remember how the items are stored which will cause you to waste time opening every lid and file folder to choose the things you need. Save time by labeling each product and you'll always have what you need in a moment's notice. Start with a customizable set from Mabel's Labels or order a Brother label maker like this one (which is addictive once you get the hang of it).
Home Command Center: Getting a home command center might just change your life. It will literally get everyone on the same page. Using a home command center (a wall calendar plus, plus) will immediately help to generate more desk space. We adore the 1Thrive home-office organizer as it provides plenty of different areas and levels of organization. There is a dry erase board, calendar, places to hang various items, as well as different compartments to hold other important elements. Plus, we love maximizing counter and desk space by utilizing wall space. 
Hooks: You've got to get as much debris as possible off the ground. It's easier to vacuum and clean when you can see the floor. And I'm realistic, most kids are not going to actually put things on hangers. Get a solid supply of command hooks and then get some more. Once you start getting things up on hooks, it's completely addictive. Get the Command Hook variety pack here.

When shopping for products to help you on the quest for that organization makeover or transformation, remember to choose colorful and textured products that will help you organize your items and provide you with adequate work space, while remaining both functional and stylish in the process.
MORE DESIGN TIPS FROM MOMTRENDS
PIN IT!
Need more ideas on what to do with the kids? Be sure to follow our Organization board on Pinterest here.
This is not a sponsored post.