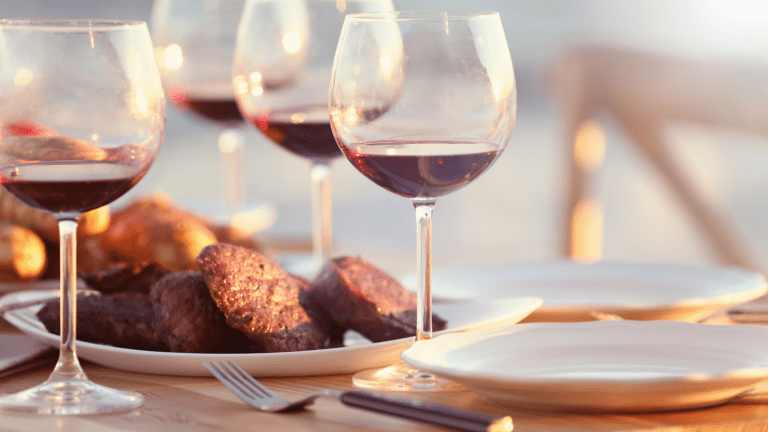 Things That Pair Beautifully Beaujolais and Burgers
Try this duo for your next summer date night or party to bring out the flavors of a pair of classics.
Coffee and donuts; beer and pizza; Beaujolais and burgers. Wait, what? Yes, Beaujolais and burgers. A perfect pair that deserves to set its union into the ranks of coupledom. Stick with me here as I defend this duo of wine and protein perfection.
Want something a little different? Try this Veggie burger recipe.
Red wine and protein are made for each other
America has indulged in a love affair with burgers for some time. Let's look at the numbers: Ninety five percent of American adults say they 'like' (51 percent) or 'love' (44 percent) burgers*, and Georges Duboeuf Beaujolais-Villages is a perfect complement to that amour as the wine's fruitiness and soft tannins enhance the burger's flavors. Try this duo for your next summer date night or party.
A Little About Beaujolais
The Duboeuf Beaujolais-Villages, made from 100% Gamay grapes, is approachable with ripe red fruit character suggesting strawberry and black currant with a touch of cinnamon that brings out the grilled flavor of the burger. When the wine is served slightly chilled, Duboeuf Beaujolais-Villages is appropriate for any season. And at $9.99 a bottle, it's the ideal dinner date.
Les Vins Georges Duboeuf conducted a national survey* to get to the heart of America's love affair with burgers. The top five reasons Americans cite for being keen on burgers underscore the versatility and American chic of these tasty morsels.
Why We Love Burgers
You can customize a burger to your taste (63 percent)
Burgers are so American (60 percent)
Burgers can be simple or fancy and gourmet (55 percent)
Burgers are perfect everywhere from outdoor barbecues to gourmet restaurants (50 percent)
Burgers are easy to eat on-the-run (48 percent).
Also, more than one in 10 adults who drink wine (12 percent) say they 'love burgers with wine.' This number doubles in the West, where 25 percent say that they do. Similarly, eight percent of all adult wine drinkers believe that burgers and wine are a 'perfect' or' near perfect pairing.' In the West, this sentiment jumps to 15 percent. Twelve percent of adults in the West claim that Beaujolais and burgers are a 'perfect' or 'near perfect pairing' as compared to six percent of adults nationwide.
Summer's Perfect Duo
Speaking of perfect, everyone knows summer means firing up the grill and there's no better way to celebrate the season than with a burger hot off the grill. Pair that burger with a chilled glass of lively Georges Duboeuf Beaujolais Villages and you've got yourself a match made in food heaven. Go ahead and kick things up a notch -- try your favorite burger with a glass of Georges Duboeuf Beaujolais Villages and you'll discover that there simply is no better pair!
If you want to make it even more fun, why not create a burger bar like we did a few summers ago. 
MORE WINE LOVERS FUN FOR MOMS
PIN IT!
Use Pinterest to save your favorite cocktail ideas. Be sure to follow our Wine Time board here.
Momtrends was not paid for this post.