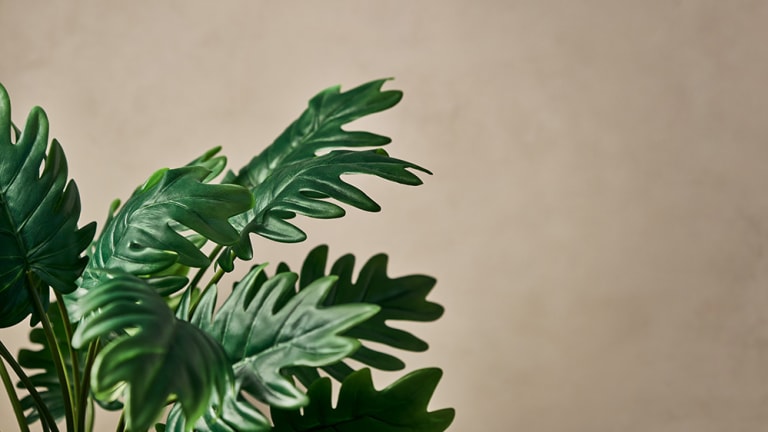 The Most Amazing Faux Plants for Your Home
Update your home with a plant that you can't kill with a new collection from Hilton Carter for Target.
I'm thrilled the plant trend is taking hold. Plants bring the outdoors indoors and help us all breathe a little easier. But for some of us, keeping a plant alive is a challenge. Me. I'm talking about me. I'm a plant killer. I can keep my garden alive with the help of professionals to water and weed, but my indoor plants suffer at my hands, yes, even succulents. That's why I'm thrilled to share the most amazing faux plants for your home. 
Related: Get organized with a home command center
The Most Amazing Faux Plants for Your Home
The Hilton Carter for Target collection gives plant lovers another reason to head to Target. There are 65 products included and if you've got a green thumb, there's something for you too! The collection included both live and faux plants plus there are loads of cute home accessories and gardening gear. Like all limited runs at Target, don't wait you don't want to miss out on getting your hands on these items.
The beauty of these plants is that they are low maintenance and high impact. I just dust them when I do my regular housekeeping. 
More Reasons to Love Faux Plants
No watering required. Making them perfect for families that travel or have far too many other details to track.
Pet friendly. Many live plants can be toxic to pets (yep, babies too).
Low cost. These plants start at $10, making them affordable for everyone. 
Easy to transport. If you move around a lot, you'll know how hard that can be on living things. These are easy to wrap and go.
No light requirements. Don't worry if your home isn't flooded with light, these plants thrive anywhere.
Why Plants?
"As people have spent more time at home over the past year, our guests are increasingly looking for ways to add more comfort and personality to their surroundings. Searches for plants on Target.com have increased by more than 300% over the last year — a clear indicator that guests want to bring some of the outdoors inside to brighten up their space," says Jill Sando, executive vice president and chief merchandising officer, Target. "We wanted to deliver a collection that allows guests to easily and affordably refresh any room in their home. This partnership with Hilton Carter does just that, while celebrating the arrival of spring with a renewed sense of optimism."
Meet Hilton Carter
Celebrated for his love and advocacy of plants and greenery, Hilton brings his expertise (he has more than 200 plants in his own home) and design eye to this curated collection. "For me, the inspiration started with a color palette. I knew I wanted the collection to bring on the colors of the natural world, including earth tones that would help elevate the greenery in and around them." 
Hilton is from Baltimore and is known for his vibrant home and his infectious love for growing things (you definitely need to follow him on instagram @hiltoncarter and check out his book Wild Creations. In his book, Hilton gives us all inspiration to step up our interiors. From creating a paint by numbers jungle mural, to how to create a plant chandelier, to something as simple as how to create the perfect vibe in your home, Wild Creations will have something for everyone.
The guru of green wants us all to live better and his HIGHLY affordable collaboration is the perfect way to get newbies started. 
What I Picked from the Collection
My home got the addition of two new plants from the collection.
Artificial Alocasia Portora Plant: This plant has big glossy, scalloped foliage held upright by thick leaf stalks. It's potted in a chic ribbed ceramic pot and is brightening up the entryway in our home. It works with our blend of farmhouse/mid-century modern decor. ($50)
Artificial Peperomia Obtusifolia Plant: This sits on a kitchen cabinet to brighten up the kitchen. This plant has a shiny mid-sized leaf and looks so happy in my home. ($10)
This limited-time-only collection with plant enthusiast and interior stylist, Hilton Carter is available now on Target.com and in select Target stores, while supplies last. Guests can shop select items from the collection via Target's contactless same-day pickup options, Drive Up and Order Pickup. Prices range from $5-$130, with most items under $30.
The full collection is available at Target in-stores and online
MORE DESIGN TIPS FROM MOMTRENDS
PIN IT!
Need more ideas on what to do with the kids? Be sure to follow our Home Style Inspiration board on Pinterest here.
Momtrends was not paid for this post.