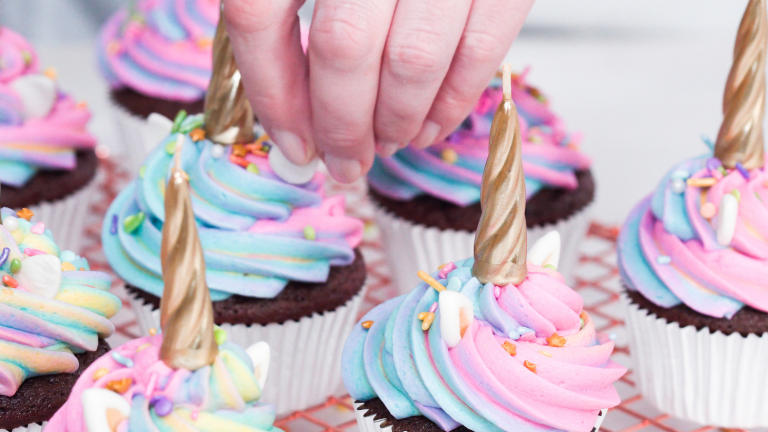 Publish date:
The Big Book of Cupcakes Review
We're loving the new cookbook that's devoted to all things cupcake.
We're loving the new cookbook that's devoted to all things cupcake.
Much like pink is the new black, cupcakes are the new cake! They're cute, they're versatile, they are perfectly sized in individual portions, and they come with a handy wrapper! We're loving the new cookbook that's devoted to this baked treat and think you'll love adding The Big Book of Cupcakes to your kitchen library.
Related: How to make healthier rainbow cupcakes
The Big Book of Cupcakes Review
Presented by Southern Living, the Big Book of Cupcakes by Jan Moon take a foray into the art of cupcake making, featuring 150 delicious recipes for the perfect treat. Moon is the proprietress of Dreamcakes Bakery in Alabama and a cupcake connoisseur, who shares amazing ideas and recipes for bakers of all levels.
The Big Book of Cupcakes features four groupings of recipes, with flavors, colors and themes to reflect the changing seasons. From light Strawberry Milkshake cupcakes to ward off Spring Fever to Pumpkin Patch cupcakes with Cinnamon Cream Cheese icing for the fall follies, Moon has a recipe for every season and every occasion.

Dinner with a View Brooklyn Bridge Park Estuary
Brooklyn keeps its cool vibe by continually updating the landscape. The constant flux of restaurants and entertainment keeps our community vibrant and one of my favorite things about where I live is getting the chance to explore. My latest adventure was for a dinner with a view ...read more
Get Ready for Summer Tea Collection Sale
Even if we all have to stay local, summer is going strong. As you head to the pool or day camp you might have noticed your kids GREW during the past year. Just in time for summer, Tea Collection is rolling out a big deal on swimwear and graphic tees for kids. I've enlisted some ...read more
The Key to a Great Overnight Oat Recipe
Working moms know the importance of meal planning. I'm getting ready for busy few weeks and I've been perfecting my fast breakfast options. I've been using Bob's Redmill Organic Steel Cut Oats to prepare my overnight oats for a nice, cold breakfast in the morning and I'm going to ...read more
The introductory section is entitled Cupcakes 101 and provides plenty of advice for the baker, including what to buy, where to buy it, what tools to use, and, most importantly, how to make the icing look as pretty as cupcakes bought at the store.
Our initial taste test from the Big Book of Cupcakes resulted in 2 dozen Pink Lemonade Cupcakes, perfectly frosted in pink, and shared by my 8 year old helper for an end of the year party. She's already paging through the book and marking the next recipes to try. Blackberry Summer? Peaches and Cream? Or maybe, a Mojito cupcake for moms.
The Big Book of Cupcakes is available on Amazon.com for $19.95
MORE Baked Goodies FROM MOMTRENDS?
PIN IT!
Use Pinterest to save your favorite recipes ideas. Be sure to follow our Sweet Treats Board here.
Momtrends was not paid for this review. We did get a book for review purposes.