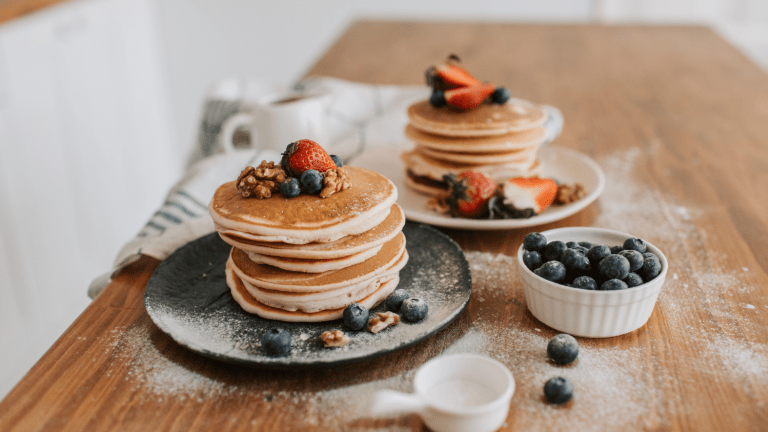 Pancake Party: 7 Ways to Celebrate National Pancake Day
From books to pajamas to recipes, we've rounded up seven delightful and delicious ways you can celebrate National Pancake Day.
Sundays were made for pancakes… and pajamas… and an endless cups of coffee. Yes, that pretty much describes my ideal weekend scenario. Throw in an afternoon nap, and I'm a happy mama.
Related: five ways to improve your avocado toast
While my kids don't always (or ever) cooperate with the nap portion of my Sunday plan, I'm pleased to report that pancakes are a regular part of our routine—and probably one of the only meals we can all actually agree on. (Besides pizza, of course.)
Whipping up a big batch and tall stack of pancakes on a Sunday morning makes me feel downright domestic. Add lots of butter (it's cheat day!), maple syrup, and freshly squeezed (okay, bottled!) orange juice, and my family has a morning feast to fuel our day of play and relaxation.
Of course, pancakes are not exclusive to Sundays. In fact, National Pancake Day falls smack in the middle of the week—on Wednesday, March 7.
So let's be honest—those of us who are busying "momming," might not have time, during the hustle and bustle of the school-and-work morning rush, to make a homemade pile of desserty breakfast treats.
Fret not, we have a few other nifty ways you can celebrate... so now you can have your (pan)cakes and eat them too!
Breakfast for Dinner

Who says you have to pancakes for breakfast? Declare March 7th "opposite day," and make a giant breakfast for dinner, complete with eggs, bacon, and, why yes, pancakes! We did this a few nights ago, and my little guy was totally tickled... Better yet, turn it into a pancake pajama party, and have everyone get ready for bed before dinner—after all, it is opposite night!
Pancake Reading

Snuggle up and read this hilarious book about two besties: Lady Pancake and Sir French Toast (note: this is an Amazon Affiliate link). When they discover there's only drop of maple syrup left, their lifelong friendship turns fiercely competitive.
Pretend Pancake Playset

Your kids will flip like pancakes over this super cute pancake play set from Melissa & Doug. (What, you don't give your kids toys on National Pancake Day?!?). (note: this is an Amazon Affiliate link)
Go for an iHop Date

Keep your griddle nice and clean, and bee-line your breakfast-loving babes to your nearest International House of Pancakes. From 7 AM to 7 PM (and until 10 PM at select locations), iHop will offer guests a FREE short stack of original buttermilk pancakes. In return, they ask you make a donation to one of their charitable partners, helping them, ultimately, reach a goal of raising $3.5 million for children battling critical illnesses. Pancakes for a cause? Now, that's a sweet deal!
Take Your Pancake Game Up a Notch

Turn your pancakes into works of art with this easy-to-use pancake art kit... or just use cookie cutters and get creative! (note: this is an Amazon Affiliate link)
Try a New Recipe

Experiment and try a new recipe, like this one for espresso-chocolate-chip pancakes courtesy of Dessert for Two, to celebrate National Pancake Day. They look simply scrumptious... for breakfast, for dinner, or even for dessert!
MORE FOOD FEATURES FOR YOUR FAMILY FROM MOMTRENDS
PIN IT!
Use Pinterest to save your favorite recipes. Be sure to follow our Kid Food Pinterest board here.
This is not a sponsored post. All opinions are our own.