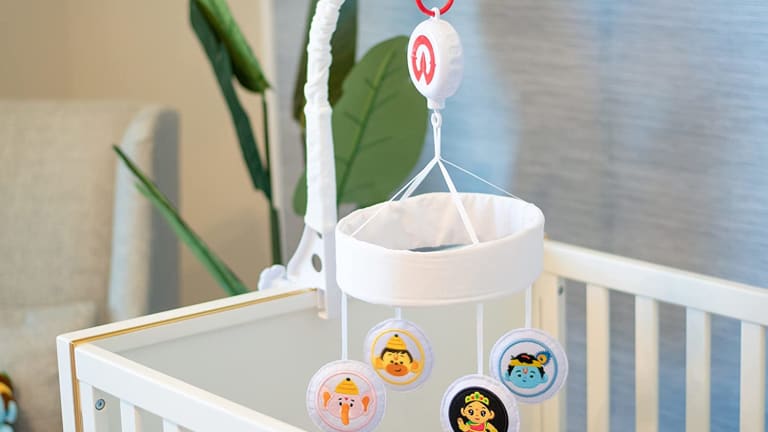 Momtrends MVP'S: The Best Baby Mobiles
Take your pick from artistic to educational baby mobiles in this nursery-ready roundup.
I remember when I was designing my first baby's nursery, the mobile was one of the first pieces of baby gear I selected. The sweet sea creature mobile came with tiny little whales in soothing shades of blue and green and ended up determining the whole nautical theme. So, I have a soft spot for baby mobiles.
And little did I know that baby mobile and the sweet songs it sang would help soothe my baby nightly. That being said, we also had to get a white noise machine because that mobile didn't last as long as my kiddo stayed awake, bwah! Luckily, mobiles have come a long way!
These days baby mobiles are even more beautiful and functional. Some of them can practically serve as art in your baby's special space. And while there are certainly a slew of decorative mobiles available to you, that doesn't mean you have to sacrifice function for form.
Take a look at any of my previous baby gear Momtrends MVP'S and you will see that I fully believe in seeking out gear that is pretty, sure, but it also has to work! So, you can bet that any of the baby mobiles I share today will check both boxes!
Do You Need A Baby Mobile?
The answer to do you need a baby mobile is not necessarily, but why not? That's my take on it. There are lots of soothing products out there for babies, but what I love the most about baby mobiles is just what I already mentioned, it both decorates the nursery and serves as something for a baby to look at and listen to while she's in her crib.
And that is why I rounded up some of my favorite mobiles on the market. If you're at the beginning stages of designing you nursery you just might find some more design inspiration like I did way back when.
On that note, let's talk about the best baby mobiles for your nursery...
The Best Wooden Baby Mobile
You probably already know how much we love wooden toys here at Momtrends. On that note, you should check out our wooden stacking toys and puzzles article if you haven't already, but I digress...We're here to talk about nursery mobiles.
This first mobile is a goes with pretty much everything kind of piece. The rainbow balls could tie in with so many different nursery vibes. Plus, wooden crib mobiles have such a simple charm to them. 
And while I obviously love the aesthetic of this Haba mobile, the design is really genius. It is made up of wooden rods that serve as balancing weights and movable bands that keep the balls in place. No motors, no batteries. It's simplicity at its finest. And because of this smart design, parents only have to lightly touch and it will move for baby up to fifteen minutes!
Get the Haba Wooden Mobile Rainbow Balls on Amazon here. (note: This is an Amazon Affiliate link)
The Best Mobile for Baby Brain Development
When my daughter was a baby she had several toys from Manhattan toys that she loved to look at and clutch. The Winkel (note: This is an Amazon Affiliate link) was her absolute favorite, but I digress...
I have trusted this brand as one to turn to for baby brain development for years, so it was a no-brainer to include one of their infant mobiles in this baby gear Momtrends MVP'S roundup.
The Wimmer-Ferguson Infant Stim-Mobile uses interchangeable cards with specially designed graphics to foster your baby's brain's development. AND you can easily adjust the cord on the cards so you can adjust the distance as needed as their vision changes too.
I just love how you the cards are designed to be changed as your baby's vision develops.
Get the Manhattan Toy Wimmer-Ferguson Infant StimMobile on Amazon here. 
(note: This is an Amazon Affiliate link)
The Best Natural Baby Mobile
I find it really hard not to include greener options in most of my articles these days. So many of us want to know how we can do more to take care of our planet and making conscious choices in our homes is one of those ways.
This Sorrel + Fern mobile is non-toxic, chemical free and made from hypoallergenic eco-felt and a lightweight wooden hoop.
It is important to note that this mobile is just for looking, not playing. But it would make a gorgeous inspiration piece for nature lovers. I'm an avid hiker and would absolutely consider a nursery design that focused on my happy places, the mountains!
Get the Sorrel + Fern Starry Woodland Night Mint mobile on Amazon here. 
(note: This is an Amazon Affiliate link)
The Best Portable Baby Mobile
If your child is soothed by a mobile at home, it's probably a good idea to have one you can easily take on the road too. 
Nurture Smart's Portable Crib Mobile was created in partnership with healthcare professionals. I love this because a travel mobile that can attach to things like portable bassinets and travel yards will be much closer to your baby, so safety is priority!
This mobile has engaging rotating images, plays soothing music and even has a playback feature that allows you to record your voice than can then be played back to soothe your baby even when you aren't in the room!
Get the Nurture Smart Portable Crib Mobile on Amazon here.
(note: This is an Amazon Affiliate link)
The Best Soothing Baby Mobile
If you live for your daily yoga flow, this mobile from Modi Toys is for you. It doesn't play your typical baby music. I know my practice really helped keep me balanced during those early parenthood years!
And on that note, the Shhhanti Musical Crib Mobile actually plays over an hour of continuous instrumental hymns, mantras and aartis. 
And the best part about the Shhhanti Musical Crib Mobile is that the music box is detachable so you can take those soothing sounds on the go!
(note: This is an Amazon Affiliate link)
The Best Artsy Baby Mobile
If you love art, you probably know about MOMA. But did you know they have a super cool mobile that would be beautiful in your baby's space, as well as down the road when your child is older?
The Birds in Harmony Mobile is made up of simple, yet lovely birds in a soothing rainbow of colors who virtually look like they're dancing together when moved gently.
I just love how something simple can be so beautiful. Consider it baby's first piece of art!
Get the Birds in Harmony Mobile here.
The Best Night Light Baby Mobile
Some babies love a quiet, dark room. That was my sister. Me, however, I always felt more comfortable with a night light. My babies were the same way. 
You can check off both the mobile box and the night light box with the Kiddo Lab Star Projector Night Light Musical Crib Mobile. 
This adorable mobile comes with brightly colored animals who move, it plays music and it also can project a light show filled with the moon and stars!
I also love that it is BPA free and safe for babies to touch. Some mobiles are made for decoration and some are made to be explored. We have options friends! I know I am not the only mom who appreciates options!
Get the Kiddo Lab Star Projector Night Light Musical Crib Mobile on Amazon here.
(note: This is an Amazon Affiliate link)
The Best Heirloom Baby Mobile
Some baby gear is the kind you pass down. It's the kind you will give your kids and hopefully their kids will someday use it too. An heirloom baby mobile fits the bill here. 
This is another mobile that should be hung out of your baby's reach as a beautiful piece of art. The Luna Moth Mobile is so visually stunning and well-made, it makes a perfect heirloom piece!
I love that each Luna Moth Mobile is hand painted, making it truly one of a kind! I can so see this mobile becoming a family heirloom that goes from baby to baby.
Get the Baby Jives Luna Moth Mobile on Maisonette here.
The Best Musical Baby Mobile
We have featured a few mobiles that play music in this roundup of baby mobiles, but not one that plays this many songs! I'm talking about 18 different melodies! That's how many songs you will find in the Tiny Love Meadow Days Sooth n' Groove Mobile!
The controls are baby activated so your little music aficionado can select his or her favorites. They might be like me and need their tunes to match their mood, bwah!
I obviously love how many choices this mobile offers, but I also can't get over how it transitions to a stand-alone music box, so the musical fun can continue when your baby is bigger!
Get the Tiny Love Meadow Days Soothe n' Groove Mobile on Amazon here.
(note: This is an Amazon Affiliate link)
And those are my top picks for the best baby mobiles on the market. It is important to note that we update these MVP'S articles frequently, so you should be able to find Momtrends recommendations for almost any piece of baby gear you're looking for!
Momtrends MVP's Winners
And for more of our favorite picks for baby gear follow the links below:
Pin It!
Don't forget to save your fave baby gear and ideas on Pinterest and follow along with our Gear for baby and kid board!
Momtrends MVP's is a non-sponsored series. Brands must meet our strict standards to be included. When naming winners we take several factors into account, including expense, convenience, and style.
We make our picks annually based on editors' research. In some instances, we may request and receive samples so that we can more thoroughly assess products. Our opinions are our own, and our goal is to help our community of moms make more informed decisions on everything from baby gear to beauty products to vacation destinations and more. We scour the abundant options and painstakingly hand-pick our favorites, so you don't have to. Our hope is that our most valuable players become your most valued purchases.