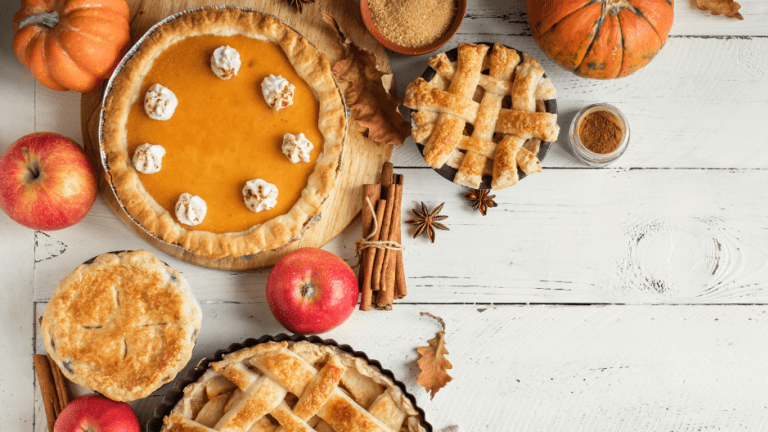 The 10 Hidden Secrets to Saving on Your Thanksgiving Meal
Tips on the hidden ways you can save on shopping for your Thanksgiving meal.
We are so excited about Thanksgiving as a way to slow down, spend time with our families, and of course, enjoy some delicious food. If you are serving Thanksgiving dinner, though you will probably find that everything from the food to the wine costs a lot of money. To help us save this time of the year, we are sharing some tips from Personal Savings Expert, Jeantte Pavini, on the hidden ways you can save on this family meal.
Related: How to de-bloat after Thanksgiving
One of the easiest ways to save money, don't overdue it. Search online for a meat calculator. Enter the number of kids and adults, whether you're light or heavy eaters, and find out exactly how many pounds you will need. It will even tell you how much gravy and stuffing you will need. 
If you're only serving a few, don't feel obligated to buy the whole turkey, a turkey breast will do the job.
Stick to inexpensive bottles of wine and just pour into a decorative decanter.
Price matching can apply to turkeys too. For example, Safeway guarantees the lowest price on frozen turkeys and will match a competitor's price when you show their ad or coupon.
Apply tried and true money saving strategies to your Thanksgiving meal. Check store ads, coupons.com, and manufacturer's website to get the lowest price combination. For example, on the Butterball website I found $1 off on a Butterball Fresh Turkey with the purchase of one package Pillsbury Crescent Rolls. I then went on Coupons.com and found a 50-cent coupon when you buy any two Pillsbury Crescent Dinner Rolls. I also found a mail in rebate for $5 in coupons with the purchase of a fresh or frozen whole turkey on the Butterball website. Combine that with a store ad and you've saved 4 ways – manufacturer's coupon, Coupons.com, rebate and store circular.
Be flexible about your menu. The price of certain foods have gone up this holiday season, but grocery stores have loss leaders – items on sale at below cost that they use to lure you into the store. Plan your menu around these. The good news is turkey is often a loss leader this time of year
Ask for a rain check even if a sale item won't be restocked by Thanksgiving Day. You still need to eat in December, so why not take advantage of those Thanksgiving deals.
Raid the freezer. Dig into the depths of your frozen food stash and see if you have any leftover rolls or sliced bread like the often neglected end pieces. Thaw it out for Thanksgiving and use this bread hodgepodge to make stuffing.
Frozen fruits and vegetables are still full of nutritional value because flash freezing preserves the nutrients. So compare prices in the fresh and frozen aisle for items like green beans and cranberries. You may save buying frozen in bulk, so if you're feeding a crowd, this could be the way to go.
Use social media! Be sure to check out the Facebook and Twitter accounts for your favorite coupon sites, stores and manufacturers. Many times you will hear about upcoming sales and promotions before they are announced, plus get special insider coupons!
MORE THANKSGIVING INSPIRATION FROM MOMTRENDS
PIN IT!
For more Fall crafting fun, be sure to follow our Fall Thanksgiving & Halloween board here.
Momtrends was not paid for this post. 
For even more Momtrends, follow us on Facebook, Twitter, YouTube, Pinterest and Instagram!